Found August 22, 2012 on Fox Sports Wisconsin:
PLAYERS:
Aaron Rodgers
,
Cedric Benson
,
Brett Favre
,
James Starks
,
Brandon Saine
,
Alex Green
,
Alex Smith
TEAMS:
Green Bay Packers
,
Chicago Bears
,
Cincinnati Bengals
,
Minnesota Vikings
,
San Francisco 49ers
GREEN BAY, Wis. -- Aaron Rodgers has not forgotten what it was like sitting in the green room during the 2005 NFL draft, waiting around as 23 other players were picked before the Green Bay Packers finally called his name. Cedric Benson, recently signed by the Packers, was one of the players Rodgers had to watch take the stage, shake the commissioner's hand and put on the hat of his new team. Benson wasn't on the draft board for long; the Chicago Bears selected the University of Texas running back with the fourth overall pick. Not until 20 spots later was it Rodgers' turn to take a deep breath and realize his NFL dreams. Seven years later, Rodgers and Benson are teammates, their football paths crossing once again. Rodgers is known for using falling far and fast in the 2005 draft as motivation for making him one of the league's top quarterbacks. "I've always kind of watched his career from afar," Rodgers said of Benson, who will get his first action as a Packer on Thursday night in a preseason game against his last team, the Cincinnati Bengals. "Being drafted in 2005, I've followed the guys I was drafted with and the guys in the green room. It's fun to see a lot of us still playing and playing at a high level. "It's fun to get Cedric in here. He's a very talented guy." Benson recalled what it was like immediately after getting drafted and going back to the area that he and his family and friends were seated at near Rodgers that day. "I was surprised that he hadn't gone earlier," Benson said. "I can remember when I was getting picked to go up there, I can remember looking back at him and giving him a nod like, You're up next,' or I know it's coming. Be positive about it.' "But strangely enough, what I remember most is him just sitting there." With a big smile, Rodgers quipped: "He was lucky to get out of the green room as fast as he did." As is the case every year with most players invited to the green room, Rodgers and Benson got to know each other fairly well leading up to the draft. "We had a lot of fun in those couple days," Rodgers said. "I knew he was a big-time player, and I enjoyed spending a little bit of time with him." From what Benson has seen of Rodgers so far in his 10 days with the Packers, the only thing different about the NFL's Most Valuable Player now is the trophy that came with that honor and the Super Bowl ring that's also part of his collection of recently won hardware. "What I recall of Aaron is just that he was a good, humble guy," Benson told FOXSportsWisconsin.com. "He's a good dude. Same guy he is now." Though Rodgers has had the more successful career of the two, it took him three full seasons before he started his first game. Brett Favre was still in Green Bay at the time, and Rodgers had no choice but to wait until the Packers' front office decided to move in a new direction. Benson, meanwhile, was squandering his opportunity in Chicago. Beginning his time with the Bears in a five-week contract holdout, Benson ran for only 272 yards as a rookie and never rushed for more than 674 yards in his disappointing three years that ended with his release. Rodgers has spent his entire career playing with a grudge, constantly wanting to prove to the 23 teams that passed on him in the draft that they made a huge mistake. Considering Benson could not get an offseason contract offer from the Bengals, the team that he had given three consecutive seasons of 1,000-plus rushing yards, Rodgers and his new running back both have an added edge now. "He's been through a lot," Benson said of Rodgers. "He's had a tough road, always having to prove himself. It's pretty cool (because) you want a guy like that. Those guys are the best guys because they've been through hardship. They know what it's like." To show just how much this opportunity means to Benson, he's been sitting next to Rodgers in all of the Packers' quarterback meetings. "I love how much it means to him, and I love the chip he's got on his shoulder," Rodgers said of Benson. "It's great. That's what I think you appreciate. I don't know if this is a second chance for him and he's viewing it like that and he wants to do some of the things that he hasn't done in the past, or maybe this is normal for him. But we love it. "Because this offense a lot of times turns into best-play scenarios at the line of scrimmage with me making some checks, him and I being on the same page is going to be important for us." Benson was signed by Green Bay more than two weeks into training camp, a move necessitated by the list of injuries suffered by Packers running backs, including projected starter James Starks. Not only is Starks out with turf toe, but Brandon Saine is sidelined by an injured hamstring. Plus, second-year running back Alex Green is still on a limited snap count as he recovers from a torn ACL that occurred midway through last season. So it's very likely Benson will be the Week 1 starter when the San Francisco 49ers' No. 1 run-stopping defense travels to Lambeau Field to begin the regular season. "There's high expectations for him," Rodgers said of Benson. "But we have no doubt he can come in and meet those expectations." That Packers-49ers game will also be a battle between Rodgers and the No. 1 overall pick in the 2005 draft, quarterback Alex Smith. Though 2011 was a good season for Smith, he has not been nearly as good as Rodgers over the past seven years since that draft. And even back then, Benson couldn't help but try to figure out what it was that Smith did to earn the top pick over Rodgers. "It's curious ... I wonder what made him any less than Alex Smith, or Alex Smith any better than him," Benson said. "You're always curious to what those scouts like about players." Follow Paul Imig on Twitter.
Original Story:
http://www.foxsportswisconsin.com/08/...
THE BACKYARD
BEST OF MAXIM
RELATED ARTICLES
Aaron Rodgers ran everywhere, including the end zone. Twice. The MVP quarterback led Green Bay to a big first half Thursday night, running for 52 yards and two touchdowns during a 27-13 preseason victory that got the Packers' offense moving at full speed. The Packers (No. 1 in the AP Pro32) wanted to look crisp coming off a drubbing by Cleveland. Rodgers led the way, going...
Cedric Benson makes debut for Packers against Bengals.
Didn't anyone else watch the Packer game and have that Aaron Rodgers smirk titlebelt game thing going last night?  Yeah, me too.   Packer Game 3 playoff pre-season analysis:  Attention deficit disorder edition. Last week Aaron Rodgers threw a touchdown in practice and broke out the titlebelt.  I blame THAT and not the Giants or our defense why they lost last year.  The titlebelt...
GREEN BAY, Wis. -- If Aaron Rodgers is forced to miss any games this season due to injury, clearly the Green Bay Packers would not be the same team no matter who the backup quarterback is. After all, Rodgers is the NFL's Most Valuable Player and is the biggest reason why the Packers led the league in scoring last season. But in recent years, Green Bay was in reliable hands in...
Whether it is for purposes of fantasy football or simply because you want to know who might be catching an Aaron Rodgers 60-yard touchdown pass, understanding and keeping up with the depth chart is very important.As a fantasy football fan, I like to know what receivers, tight ends, and running backs are going to see the most time on the field.The depth chart can help you decided...
TE Rankings The WMFL team brings you their tight end rankings and also discusses the discrepancy in some of their rankings. Jermichael Finley Rizzla (3): I am in love with Finley's monster upside with Aaron Rodgers at the helm. Rodgers has a lot of mouths to feed but knows his athletic tight end poses the most matchup problems for opponents when healthy. Aside from Graham and Gronkowski...
GREEN BAY, Wis. -- The Packers are 0-2 so far this preseason and have yet to look very good in many areas. This week, however, when the team travels to Cincinnati to take on the Bengals, Green Bay's starters will see much more action than they have in preseason games to this point.Picking up a win is not the main goal, but a strong performance is needed from the Packers on offense...
In Indianapolis, and the general NFL community, expectations for Andrew Luck are extremely high. They were high as soon as he chose to enter the NFL Draft, with scouts calling him the best prospect since John Elway.  With Luck replacing the possible greatest of all time in Indianapolis, and playing extremely well in both of his first two games, the expectations and projections for...
Very rarely does a team go 15-1 in the NFL. Any team posting a record that good has a chance to get a little cocky and maybe even think that they don't have much room for improvement.In the case of the Green Bay Packers, there is clearly a great deal of improvement needed in both the ground attack and the running game and they are aware of both.The Packers did their best to address...
NFL News

Delivered to your inbox

You'll also receive Yardbarker's daily Top 10, featuring the best sports stories from around the web. Customize your newsletter to get articles on your favorite sports and teams. And the best part? It's free!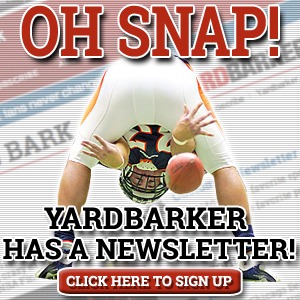 Latest Rumors
The Backyard

Today's Best Stuff

For Bloggers

Join the Yardbarker Network for more promotion, traffic, and money.

Company Info

Help

What is Yardbarker?

Yardbarker is the largest network of sports blogs and pro athlete blogs on the web. This site is the hub of the Yardbarker Network, where our editors and algorithms curate the best sports content from our network and beyond.