Found July 22, 2012 on Fox Sports Detroit:
It's time for the Detroit Lions to make a statement and release cornerback Aaron Berry. That's provided, of course, that the latest reports are accurate and that Berry has been arrested for the second time in less than a month. This time, Berry, 24, reportedly was charged with three counts of simple assault for allegedly brandishing a firearm after being arrested early Saturday morning in his hometown of Harrisburg, Pa., according to the Detroit Free Press. The incident was originally reported, but not confirmed, by ProFootballTalk.com. "We are extremely disappointed by the reports involving Aaron Berry," the Lions said in a statement released Sunday morning. "We are currently gathering more information and will have further comment when appropriate." Berry also was arrested June 23 in Harrisburg for driving under the influence of alcohol, among other charges, after hitting two parked vehicles with his BMW. He had reached a deal on those charges only a few days ago in which he was scheduled to enter a diversionary program for first-time offenders and perform community service. Upon completion of the terms, the charges against Berry would have been removed from his record. However, the latest incident puts that agreement seriously in doubt. For the Lions, this marks the seventh arrest in less than six months. Two of Berry's teammates also were arrested twice during that time -- running back Mikel Leshoure (both for marijuana possession) and defensive tackle Nick Fairley (first possession of marijuana and then driving under the influence). Offensive tackle Johnny Culbreath was charged with marijuana possession in January. What's more, a report came out in the last week that defensive tackle Corey Williams had been arrested a year ago on a drunken-driving charge in Arkansas. How much bad publicity can one organization take before making a more serious stand? It's become unquestionably clear that whatever forms of discipline the Lions have attempted this off-season have failed. NFL players are completely out of control right now, none more so than the Lions. Slaps on the wrist aren't working. Threats of suspensions and fines aren't working. Peer pressure isn't working. These guys simply aren't learning from their own mistakes, much less the mistakes of others around them. An example needs to be made, and it needs to be made now before this gets any worse. No more apologies accepted. No more excuses about young players simply having to mature. Berry has put himself in a position where he's the one who has to pay a serious price. That seems to be the only way to try to get through to these guys and put an end to the widespread nonsense. Berry -- 5-foot-11, 180 pounds -- isn't a standout player by any means, but he was being projected as a starting corner to replace Eric Wright, who left the Lions as a free agent and signed with Tampa Bay. The Lions have other options, including Chris Houston, Jacob Lacey and three draft picks, who can help fill the void if Berry is dismissed. Berry has been a feel-good story in that he made it in the league as an undrafted free agent after playing in college at Pittsburgh. He was injured for much of his first two years with the Lions but had showed promise when healthy. The coaching staff felt it all came down to whether Berry could avoid injury and stay on the field, but you have to seriously wonder whether Berry will even get on the field now. The Lions begin training camp in a few more days. Aaron Berry, unless falsely accused, shouldn't be there. He has worn on his welcome.
Original Story:
http://www.foxsportsdetroit.com/07/22...
THE BACKYARD
BEST OF MAXIM
RELATED ARTICLES
This time, the Detroit Lions really didn't have much of a choice. The police reports kept piling up this offseason to where the NFL club simply had to make an example of someone. You can only threaten for so long. At some point, you need to follow through with action. Otherwise, the threats of discipline have no meaning. The Lions took that type of harsh action Monday with...
Many have speculated about the future of Aaron Berry with the Detroit Lions following his 2nd arrest of the offseason this past weekend, and the Lions have made their move, cutting the troubled cornerback due to personal conduct. While the move to cut Berry is likely met with little to no resistance from fans, it can't be ignored that such a move weakens an already deplorable...
English: Aaron Berry, a player on the National Football League. (Photo credit: Wikipedia) Here we go again, the season can't get here soon enough.  Roger Godell will need to restructure the off-season to give the players less free time.  It seems that the NFL players these days have too much free time on their hands.  This has been the theme of the 2012 pre-season and this...
Aaron Berry was cut from the Lions today for breaking the golden rule–a man's talent must outweigh his foolishness. Berry was popped for simple assault but drug abuse offenses are far more common than violent ones. Berry received his own DUI charge last month. In a show of something akin to transparency the NFL has released a list of NFL players arrested thus far in 2012. I have...
The Detroit Lions released cornerback Aaron Berry today after he was arrested for the second time this off-season (Credit: AP Photo/Carlos Osorio) Yesterday, the Lions released a statement saying "We are extremely disappointed by the reports involving Aaron Berry". Today, they took action. The Detroit Lions released cornerback Aaron Berry after his second off-season arrest. Dave...
Detroit Lions cornerback Aaron Berry was arrested Saturday morning in Harrisburg, Pa., and charged with three counts of simple assault. The arrest, which was first reported by Pro Football Talk.com, was the second of the off-season for Berry and sixth among Lions players. The undrafted free agent from Pitt was no longer in custody, according to Harrisburg police. Officials did...
This piece is also featured on Lions101.com Another offseason weekend brought yet another Detroit Lions arrest. This time, it was another repeat offender. Aaron Berry, he of the recent DUI troubles, was busted in Pennsylvania for assault and brandishing a … Continue reading →
The Detroit Lions have cut cornerback Aaron Berry, two days after he was arrested for the second time this offseason.
Detroit Lions fans- Welcome to training camp! Today, rookies and injured players report to the Detroit Lions Training Facility in Allen Park, Michigan, with the rest of the team reporting Tuesday.  We have waited all through our Super Bowl hangover, the combine, the NFL Draft, and of course endless police blotter to lead up to [...]
Lions News

Delivered to your inbox

You'll also receive Yardbarker's daily Top 10, featuring the best sports stories from around the web. Customize your newsletter to get articles on your favorite sports and teams. And the best part? It's free!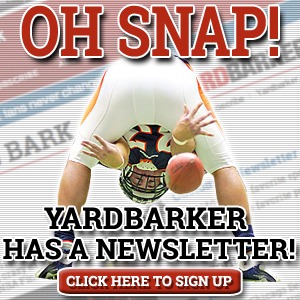 Latest Rumors
The Backyard

Today's Best Stuff

For Bloggers

Join the Yardbarker Network for more promotion, traffic, and money.

Company Info

Help

What is Yardbarker?

Yardbarker is the largest network of sports blogs and pro athlete blogs on the web. This site is the hub of the Yardbarker Network, where our editors and algorithms curate the best sports content from our network and beyond.