Found December 28, 2011 on The Jets Blog:
PLAYERS:
Santonio Holmes
,
Rex Ryan
,
Bill Belichick
,
Roger Goodell
,
Matthew Stafford
,
Mark Sanchez
,
Kellen Moore
,
Greg McElroy
,
Alex Smith
,
Vince Young
,
Jason Campbell
,
Michael Lombardi
,
Matt Leinart
,
Brian Schottenheimer
,
Drew Brees
,
Eric Smith
,
Bilal Powell
,
Shonn Greene
TEAMS:
New York Jets
,
New England Patriots
,
Detroit Lions
,
San Francisco 49ers
,
Philadelphia Eagles
,
Oakland Raiders
,
Houston Texans
,
New Orleans Saints
,
Boise State Broncos
It's time to take a final look back at Saturday's loss to the Giants in BGA Extra – now with limited access to coaches film! After the jump, I respond to your questions from the comments in the original BGA post, which you can access here if you missed it. DontLetSioneWalk: I'm concerned about Santonio Holmes. I saw him jogging out a few routes. I also saw him standing completely still on a play that Sanchez extended with his feet, over to Holmes' side of the field – he wasn't even trying to get open at all. He jogged out of bounds a couple of times at the end of a catch to avoid contact. Basically, my sense is that Holmes isn't really trying very hard. He's joking around on the sidelines during losses. He looks disengaged. When he does make a play he's showboating, including the moronic penalty last week. He's supposed to be a team captain. I'm very disappointed in him, I'm sorry we resigned him. Do you see all this or am I just dogging the guy? I see certain signs of this in te
Original Story:
http://www.thejetsblog.com/2011/12/28...
THE BACKYARD
BEST OF MAXIM
RELATED ARTICLES
Sports Talk looks at what's ahead for the New York Jets QB. (NBC Sports)
In the two days since reporting that the Jets privately intend to explore their options at quarterback for 2012, multiple additional league and media insiders with knowledge of the dynamics in New York have privately communicated corroboration of that fact.  In those same two days, the Jets have loudly denied that Sanchez's job could be…
I t would be the Jets' version of the Dream Team in 2012: Peyton Manning starting at quarterback for their win-now team and Mark Sanchez backing him up, absorbing every little piece of information he could from Eli's big brother.
Ten preliminary thoughts on the New York Jets week 17 match-up against the Miami Dolphins. Can they at least give themselves a shot to make the playoffs? 1. The sad reality of this game is that since these two teams met back in week 6, Matt Moore has been a better quarterback than Mark Sanchez, Reggie Bush has been a better running back than Shonn Greene, Brandon Marshall has been...
Houston, Jets have a problem [ESPN] Giants' Jacobs threatens to punch Rex in the face [NFP] Rex: I won't back down [ESPN] Rex Ryan has 'huge amount of confidence' in Brian Schottenheimer, Mark Sanchez [NJ] Jets coach Ryan: I deserve criticism after loss to Giants [SI] Ryan wants Sanchez over Peyton [ESPN]
Despite the rumors of New York Jets offensive coordinator Brian Schottenheimer and quarterback Mark Sanchez falling out of favor within the organization,  head coach Rex Ryan showed his support during a conference call on Monday. "I have a huge amount of confidence in both guys, there is no doubt," said Ryan. "I have stated it [...]
I'm not here to defend why I should be the quarterback.  When it comes to work ethic, the people in the building know how hard I work and how much I care about playing here and how much I love this team and franchise [...] We'll assess the offseason when that time comes." "[...] I think Coach [Ryan] has a great deal of respect of me and I share that same respect for him...
Apparently Rex Ryan is getting more involved (yet again) in how the offense is run.  After a dismal performance Saturday which saw Brian Schottenheimer call/allow almost 60 pass attempts from QB Mark Sanchez, Rex has vowed to never repeat that feat again. "There's no way we're throwing it 60 times," Ryan said "I don't see us throwing the ball 60 times ever again. I don't...
Jets coach Rex Ryan is putting himself on the hot seat. After Saturday's loss to the Giants (a loss that disproved Ryan's boasts about the Jets being the better team in town), much of the criticism from Jets fans and the media is going toward quarterback Mark Sanchez and offensive coordinator Brian Schottenheimer, whose play…
FLORHAM PARK–The Jets no longer control their own destiny, something that frustrates them across the board, but they are doing their best to stay the course and just focus on beating the Dolphins. A win is the only way they retain any hope of a playoff berth — plus a whole lot of help. According to Mark Sanchez, "The No. 1 overall goal is the ball security issues," he said...
412 LaxWinter Fashion Week: Zima Gear Part Three Zima Gear makes their Winter Fashion Week debut. Do you want to know why they have the American Revolution account now? Today's posts will answer that very question. Stunning sublimation from a company on the rise.  No auto tune necessary. Final day of 2012 previews. The music picks up. Cameras ready…prepare to FLASH. Team Bob...
We'll give a shiny dime to anyone who can figure out the 2011 New York Giants. After 15 games and countless opportunities to define themselves, it remains impossible to come up with any kind of accurate prediction abut what the Giants will do when they hit the field for a do-or-die date with the Cowboys this Sunday. Everything they've done this season defies easy characterization...
NFL News

Delivered to your inbox

You'll also receive Yardbarker's daily Top 10, featuring the best sports stories from around the web. Customize your newsletter to get articles on your favorite sports and teams. And the best part? It's free!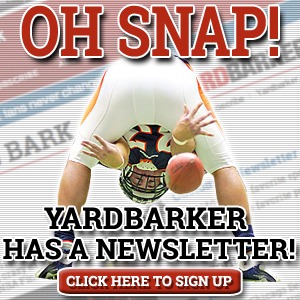 Latest Rumors
The Backyard

Today's Best Stuff

For Bloggers

Join the Yardbarker Network for more promotion, traffic, and money.

Company Info

Help

What is Yardbarker?

Yardbarker is the largest network of sports blogs and pro athlete blogs on the web. This site is the hub of the Yardbarker Network, where our editors and algorithms curate the best sports content from our network and beyond.