Found December 08, 2011 on The Jets Blog:
PLAYERS:
Fred Davis
,
Darren McFadden
,
Reed Doughty
,
Josh Wilson
,
Bryan Thomas
,
Nick Mangold
,
Osi Umenyiora
,
Jason Pierre-Paul
,
David Harris
,
Derrick Johnson
,
Ray Lewis
,
Brian Cushing
,
Vladimir Ducasse
,
Matt Slauson
,
Guy Whimper
,
Eric Weddle
,
Bilal Powell
,
Josh Baker
,
Trent Williams
,
Mark Sanchez
,
Aaron Rodgers
,
Drew Brees
,
Tom Brady
,
Philip Rivers
,
Mike Westhoff
,
Ryan Kerrigan
,
Wayne Hunter
,
Calvin Pace
,
Donald Strickland
,
Nick Folk
,
Tim Tebow
,
Brad Smith
,
Braylon Edwards
TEAMS:
Washington Redskins
,
Oakland Raiders
,
New York Jets
,
New York Giants
,
Kansas City Chiefs
,
Baltimore Ravens
,
Houston Texans
,
Jacksonville Jaguars
,
San Diego Chargers
,
Green Bay Packers
,
New Orleans Saints
,
New England Patriots
,
Denver Broncos
,
Buffalo Bills
,
San Francisco 49ers
It's time to take a final look back at Sunday's win over the Redskins in BGA Extra – now with limited access to coaches film! After the jump, I respond to your questions from the comments in the original BGA post, which you can access here if you missed it. revisfan: No way was Smith supposed to be covering Armstrong down the field. That was his blown assignment on the Fred Davis catch I think. That seems unlikely, because until Davis motioned to the edge of the line, Cromartie was lined up opposite him. That suggests that either he was in man coverage on him or they were in quarters-style zone coverage. Cromartie shifted over so he was opposite Armstrong, but it would be up to Leonhard to tell him whether he was in man coverage on a different guy or still responsible for the outside of the field. As nobody else shifted, this means nobody else's responsibility changed. Smith can't have had man to man responsibilities for Davis, because he lined up 15-20 yards away from him. re...
Original Story:
http://www.thejetsblog.com/2011/12/08...
THE BACKYARD
BEST OF MAXIM
RELATED ARTICLES
I had originally thought that the two biggest defenders and apologists for Mark Sanchez out there were myself and Rob Celletti, with Trent Dilfer not too far behind. However, I have been intrigued by a new Twitter account @SanchezDEFENDER, which is dedicated specifically to defending the "most unfairly criticized quarterback in the NFL." Check out a few of these tidbits - ...
FLORHAM PARK, N.J. -- Mark Sanchez isn't about to give back his paycheck, docking himself for the Jets' offensive struggles early in the second half of Sunday's win over the Redskins.
APNewsNow. Will be updated. With AP Photos. By DENNIS WASZAK Jr. AP Sports Writer In a season of boos and criticisms, Mark Sanchez has been exactly what the New York Jets have needed in the fourth quarter of the last two games. There are still struggles and frustrating moments, but Sanchez again is playing his best with the game - and the season - on the line. He has 10 fourth-quarter...
You couldn't swing a dead cat this summer without hitting someone telling you that it was imperative that Mark Sanchez showed marked improvement as a quarterback this season. Because of that we thought we'd check in weekly to see how the Sanchize is progressing toward that goal. See how the last line of of that introduction references Mark Sanchez progressing? It might...
Sanchez has been through a lot in his three years with the Jets, no one will argue that.  But what might be understated is just how battle-tested and ready the Brian Costello spoke with Chad Pennington about Mark Sanchez, looking for his impressions of whether or not Mark is the genuine article. For all of his stumbles on the field, Sanchez has shown remarkable maturity in the...
Who are the New York Jets? The 2011 season has been quite different from the previous two Rex Ryan years in regards to the identity of the New York Jets. In 2009 and 2010, the Jets were defined by the "Ground and Pound" philosophy, going to two straight AFC Championships behind a power running game and suffocating defense. Yet now-a-days, the Jets are like a ship without...
Dan Shipper is a lifelong Jets fan, current sophomore at the University of Pennsylvania and web entrepreneur. You can find him on Twitter here. I'm going to step up and admit it: I have a love hate relationship with Mark Sanchez. Every Sunday I'm just as likely to rant about how much he sucks as I am to rave about how clutch he is in the fourth quarter. That's because, as...
It's hard to believe that less than a month ago, the New York Jets lost two games within four days…Sunday night against the New England Patriots and then Thursday night against the Denver Broncos. Each loss taught us different things and horrified us for different reasons. For the New England game, the coaching staff was unprepared, the offense could not score to save their...
Looking at the forthcoming game from a statistical point of view, the New York Jets should win their Week 14 matchup against the Kansas City Chiefs pretty easily. On all fronts, the Jets are a stronger team. Kansas City is having all kinds of problems—the biggest would be their quarterback situation. Their back-up, Tyler Palko, is not strong enough to face the Jets defense. Although...
Kansas City @ New York Jets   The Chiefs come off an unlikely win on the road in Chicago; a win they probably wouldn't have gotten if the Bears weren't missing their entire offensive talent base due to injury.  Tyler Palko didn't really look any better than he had the previous two weeks, but he didn't make the same amount of critical errors that submarined his team's...
TOJ took a quick Twitter and Facebook poll this evening, on who the most popular player on the New York Jets currently is, here are the results - *Out of the first 50 responses Aaron Maybin – 40% Darrelle Revis – 40% Mark Sanchez – 8% Nick Mangold – 6% Santonio Holmes – 2% David Harris – 2% Plaxico Burress – 2% A few selected responses from Twitter where Maybin was...
NFL News

Delivered to your inbox

You'll also receive Yardbarker's daily Top 10, featuring the best sports stories from around the web. Customize your newsletter to get articles on your favorite sports and teams. And the best part? It's free!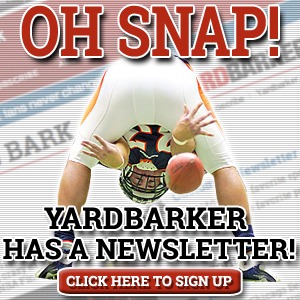 Latest Rumors
Best of Yardbarker

Today's Best Stuff

For Bloggers

Join the Yardbarker Network for more promotion, traffic, and money.

Company Info

Help

What is Yardbarker?

Yardbarker is the largest network of sports blogs and pro athlete blogs on the web. This site is the hub of the Yardbarker Network, where our editors and algorithms curate the best sports content from our network and beyond.