Found September 08, 2013 on Pats 360:
Bill Belichick's Post Game Press Conference Transcript--PatsFans: Here's a look at Bill Belichick's post-game transcript:  OPENING STATEMENT: "They made the plays they needed to make at the end to win, and that's what it's about. Obviously it wasn't perfect, and there's a lot of things we can do better, but they played the last few minutes of the game the way we need to play it and we were able to execute and make the plays so it's always tough to win in the division, on the road, it's good to get off to that start and now we've got a real quick turnaround for the Jets obviously. But it's good to win, and I'm proud of the way our team played today. On his thoughts on the passing game: "We had our moments.  There were times where it was good, there was times when it wasn't so good, it needs to be better. But we'll build on this.  We'll build on it." On his thoughts on the chemistry between Brady and Amendola, especially on 3rd down: "Again, we had our moments.  I thought Danny stepped up and made some big catches in some tough situations, Tom as always competed like he always does and made some great throws in critical times." On if the Bills did anything early that took them out of their rhythm: "They're a good football team.  They're very good defensively, they've got a good front, they play aggressively, have an aggressive scheme.  We let them back in the game with some turnovers, but then we fought our way out of it and we were able to make some plays at the end to win so I'm proud of that." On how tough it was to prepare for a rookie quarterback and a rookie coach and all the unknowns: "There's always a lot of unknowns on opening day.  It's always that way.  Teams have a lot of time to prepare and you haven't seen everything because of preseason and all that so it's always a challenge on opening day.  We had to make a lot of adjustments in all three phases of the game, during the game, but that's normal." On his thoughts on Shane Vereen: "I think Shane stepped up, did a good job for us.  We counted on him a lot, he came through on a lot of plays, that was a huge run he had at the end to get us in field goal range, keep the ball in bounds and force them to use another timeout, that was  good play and that was a smart play." On if he was surprised by all the turnovers by both sides: "Yeah, well, I mean that's the NFL.  We've got to take care of the ball.  We've got to take care of the ball better.  We were fortunate to come up with them defensively but we've got to take care of the ball better.  That's all there is to it." With all the new players he has on offense if it's going to take a while to get them in sync: "We've got a couple of new players over there, but I mean that's everybody in the league.   A lot of guys we've seen out there a lot before.  All the offensive linemen, quarterback, running back, there's a lot of guys that have played a lot of football for us out there."
Original Story:
http://pats360.com/post/60696613266
THE BACKYARD
BEST OF MAXIM
RELATED ARTICLES
Patriots win! New England: 23 Buffalo: 21 After an incredibly sloppy game on both sides, the New England Patriots were able to escape Buffalo with a victory. Tom Brady marched his Patriots down the field as Stephen Gostkowski drilled the game-winning field goal with just five seconds left.  Team leaders: Tom Brady: 29-52, 288 yards, two touchdowns and one interception Shane Vereen...
Leon Washington was a notable signing for the Patriots during the offseason. Shortly after making the  53-man roster, Washington was cut. However, it appears that the void left by Washington's departure in the kick return game is not something that could be filled internally by candidates such as Shane Vereen and even 250 lb. back, LeGarrette Blount. After working out for a...
According to ESPN's NFL Insiders,  Patriots tight end Rob Gronkowski likely won't play on Thursday night against the Jets. INSIDERS UPDATE: Patriots TE Rob Gronkowski not likely to play Thursday vs the Jets (forearm, back) — NFL on ESPN (@ESPNNFL) September 9, 2013 This isn't a surprise at all.  I don't expect Gronk back for another two weeks.   Need NFL Tickets? ...
Patriots undrafted rookie tight end Zach Sudfeld built up a lot of well deserved hype in preseason. However, the tight end has not done well recently. The last two passes Tom Brady has attempted to throw at him have turned into takeaways. Furthering Sudfeld's problems, he now has a pulled hamstring. To further brighten your day, I'm told Zach Sudfeld pulled a hamstring...
Big hit for patriots, RB Shane Vereen broke a small bone in his wrist on 1st play yesterday, scheduled for surgery today. Out few weeks — Jay Glazer (@JayGlazer) September 9, 2013 For this to happen on the very first place, this is just a testament to how tough Shane Vereen is. 
The Patriots' 23-21 win over the Bills certainly was not pretty. And Buffalo was not exactly the most difficult Week 1 opponent, but there were still some positives to take away from the last-second victory. The impressive performances from Danny Amendola, Shane Vereen and Kyle Arrington were obvious and already noted. The Patriots could not have won without Amendola and Vereen...
Typically 74 catches, 900 yards and four touchdowns earns you a raise in the NFL, not a one-way ticket to retirement. Brandon Lloyd appears to be the exception to that rule. After an impressive season with the Patriots in 2012, Lloyd was released by the team in March and remains without an NFL team as the season gets underway. The lack of interest this offseason left the 32-year...
Just in case you'd forgotten how much of a hypocritical bag of **** Ray Lewis, here he is on ESPN to remind you. Lewis was on a panel during ESPN's Sunday NFL Countdown when the subject of Aaron Hernandez and crime in the NFL came up. Here are his incoherent thoughts. "I want to make sure we clear something up because we have to do this for our brand of the National...
Big hit for patriots, RB Shane Vereen broke a small bone in his wrist on 1st play yesterday, scheduled for surgery today. Out few weeks — Jay Glazer (@JayGlazer) September 9, 2013   Vereen played entire game with injury but experienced numbness afterwards as bone sits on nerve — Jay Glazer (@JayGlazer) September 9, 2013 A.B. An already depleted New England Patriots offense ...
The 2013 NFL season is finally here, and we are well underway with a slew of 1pm games. Tom Brady has hit Danny Amendola for a touchdown on the Patriots first drive, while Adrian Peterson took off on a 78-yard…Read more →
Bills fans honor Aaron Hernandez, Lane Kiffin's in trouble, and an NHL player has pissed off some people...
Patriots News

Delivered to your inbox

You'll also receive Yardbarker's daily Top 10, featuring the best sports stories from around the web. Customize your newsletter to get articles on your favorite sports and teams. And the best part? It's free!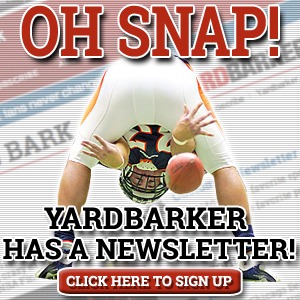 Latest Rumors
Best of Yardbarker

Today's Best Stuff

For Bloggers

Join the Yardbarker Network for more promotion, traffic, and money.

Company Info

Help

What is Yardbarker?

Yardbarker is the largest network of sports blogs and pro athlete blogs on the web. This site is the hub of the Yardbarker Network, where our editors and algorithms curate the best sports content from our network and beyond.