Found January 31, 2012 on The X's & O's of Basketball:
The Super Bowl is coming up this coming Sunday and one of the coaches roaming the sidelines will be Bill Belichick of the New England Patriots. I've long looked up to Belichick and have done a lot of research as to what makes him so good at what he does. And one of the aspects of coaching he is most known for is situational practices. The idea that clutch situations are won and lost by those who are the most prepared. Confidence is gained by those who eliminate the unknown. Do your players know what to do in every critical situation that presents itself?
Like many of you out there, playoff basketball looms on the horizon, and we are always looking for that extra competitive edge. One of those in my opinion is to come up with and have players go through critical situations in practice. When I draw out my practice plan, I come up with a scenario: say starting unit vs 2nd unit, starters down by 4, 1 minute left, both teams in bonus. Most of the time, the players screw it up, and then you have to back it up and scheme it out for them, for example, down 4, we don't need to take a quick 3 pointer, lets work for an easier 2 pointer because it is a 2 possession game anyways.
I try to come up with scenarios to practice. Here are some I've used and plan to use this season:
- Up 3, 30 secs, other team has the ball at their own baseline.
- 5 secs on shot clock, 20 secs left on the game clock, down by 1, other team has the ball on your baseline.
- Down 10, 4 minutes to go, after 2 minutes, tell them starting point guard has fouled out.
- Up 5, 1 minute to go, every offensive rebound given up is an automatic score.
- Up 3, 3 secs to go, shooting 1 FT.
- Down 1, 5 secs to go, other team just scored.
"You just never know what set of plays [will determine the winner] this week and what situations are going to be the key situations in this game or any other game in the future. You just try to cover all your bases on that stuff and react to [situations] as they come along." -- Bill Belichick.
For some more situational ideas, check out Coach Morgan Wooten's DVD on Coaching to Win in Special Situations. Coach Wooten is the winningest high school coach in the history of basketball.
Original Story:
http://coachingbetterbball.blogspot.c...
THE BACKYARD
BEST OF MAXIM
RELATED ARTICLES
Bill Belichick's 10 most unconventional moves as coach of the New England Patriots - ESPN Boston
Over his illustrious professional football coaching career, Bill Belichick has devised clever schemes in the Super Bowl.  Does he have yet another one up sleeve in this upcoming Super Bowl?Back when Belichick was defensive coordinator for the New York Football Giants, his defensive game plan in Super Bowl XXV is legend.  Remember, the Bills under quarterback Jim Kelly ran the...
Gronkowski hauled in a league-leading 17 TD catches this season
Even the usually dour Bill Belichick was joking around as the New England Patriots arrived in Indianapolis for Super Bowl week. At his opening news conference Sunday night, Belichick was asked if he expected some Hoosier hospitality.
Even the usually dour Bill Belichick was joking around as the New England Patriots arrived in Indianapolis for Super Bowl week.
Tom Coughlin isn't the only Super Bowl coach who seems to be enjoying this experience more than usual. Turns out Bill Belichick is also showing a softer side to the media and the players. Today, for example, he spoke touchingly about the role his father played in developing his love for football and even gave a self-deprecating comment about his experience so far with Hoosier Hospitality.
Patriots coach Bill Belichick and Giants coach Tom Coughlin will be coaching in Super Bowl XLVI, but they won't be alone. No, both will take the lessons they've learned from legendary Bill Parcells along with them. Like a proud parent, Parcells is crowing about another Super Bowl with two of his prized proteges. He spoke with Herald columnist Ron Borges about the experience,...
PFT: Bill Belichick has seen a lot of players come through the NFL in his 37 years of coaching. There haven't been many quite like Giants defensive end Jason Pierre-Paul.
By Brian MacPhersonINDIANAPOLIS -- Normally famously tight-lipped about his players' injuries, Bill Belichick said there was "a possibility" right tackle Sebastian Vollmer could play in the Super Bowl -- and then elaborated. Vollmer, who has not played since Nov. 27 with foot and back injuries, had his foot in a cast until the week before the Patriots' Jan. 14...
Bill Belichick and Tom Coughlin were assistants on the same Giants' coach staff from 1988-90, like minds who worked together to rise from the rank the file, writes Len Pasquarelli from Indianapolis.
INDIANAPOLIS (AP) - Quick, Wes Welker, spell Bill Belichick. Hey, Osi Umenyiora, know any other Elis besides that Manning guy? Rob Gronkowski, what's your favorite song by Madonna?Not exactly challenging questions about Sunday's Super Bowl between the New York Giants and New England Patriots. But that's media day, the NFL's ...
Patriots News

Delivered to your inbox

You'll also receive Yardbarker's daily Top 10, featuring the best sports stories from around the web. Customize your newsletter to get articles on your favorite sports and teams. And the best part? It's free!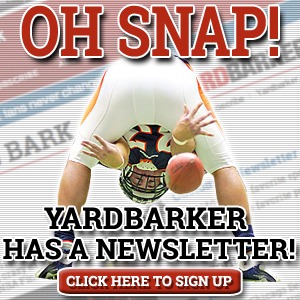 Latest Rumors
Best of Yardbarker

Today's Best Stuff

For Bloggers

Join the Yardbarker Network for more promotion, traffic, and money.

Company Info

Help

What is Yardbarker?

Yardbarker is the largest network of sports blogs and pro athlete blogs on the web. This site is the hub of the Yardbarker Network, where our editors and algorithms curate the best sports content from our network and beyond.