Found July 02, 2013 on Buddy Nixon:
PLAYERS:
Marcus Dowtin
,
Bryan Scott
,
Jerry Hughes
,
Alex Carrington
,
Aaron Williams
,
Duke Williams
,
Kiko Alonso
,
Buddy Nix
,
Scott Chandler
,
Chris Gragg
,
Mike Pettine
,
C.J. Spiller
,
Dan Marino
,
Stephon Gilmore
,
Leodis McKelvin
,
Ron Brooks
,
Justin Rogers
,
Crezdon Butler
,
T.J. Heath
,
Nickell Robey
,
Rashean Mathis
,
Jairus Byrd
,
Tom Brady
,
Jake Ballard
,
Danny Amendola
,
Michael Jenkins
,
Aaron Dobson
,
Donald Jones
,
Julian Edelman
,
Kamar Aiken
,
Brandon Lloyd
TEAMS:
Buffalo Bills
,
Jacksonville Jaguars
,
New England Patriots
The Buffalo Bills Stock Watch (also known as the BUFFALO BILLS STOCK WOOWTCH) is a space for me to talk about some recent news and trends coming out of practices and Bills media. I won't be writing this every week, but every so often when I feel like we need to check in on some things. These will probably include plenty more actual information and analysis of the team as we get closer and into the season, but at this point in time there is so little to talk about it's painful. Alas…   TRENDING UP 'Tweeners' -The rise of the Tweener has come amongst us! No, I'm not calling them much more NFL-acceptable terms like 'hybrid' or 'scheme versatile'; TWEENER is much more fun to say! Anyways, tweeners have received the spotlight this week in Buffalo after Chris Brown wrote an article about how this coaching staff has embraced them. Tweeners are generally players who are too small, big or slow for a position, and therefore don't really have an ideal position in a traditional defense. But we love these guys! Marcus Dowtin, Bryan Scott and Jerry Hughes could all be described as such. Also, if you stretch the definition, Alex Carrington, Aaron Williams, and Duke Williams have also received significant practice time at multiple positions. In general, I've always been a proponent of versatile defensive players, or at the very least, utilizing players that wouldn't particularly fit in more one-dimensional offenses. I think it's a great way to integrate useful football players/athletes that other teams passed over because they weren't a perfect "fit" (the highly-ranked Pittsburgh defenses in the recent past were always very good at this). Kiko Alonso – On draft day, the pick of Alonso made a few people scratch their heads. He was mostly projected to go a round later in the third round (who cares), and he had a spotty past, particularly with underage drinking (some people care, I don't, Buddy Nix made it clear he didn't). At this point, it looks like he could potentially get more playing time than any of our rookie draft picks. He's consistently on the first team defense during practices, and Head Coach Doug Marrone made a comment this week that they drafted Alonso to be a three-down linebacker. Alonso is tall with long arms, has the speed to go sideline-to-sideline, and displayed terrific pass coverage instincts at Oregon. He could significantly upgrade the team's pass coverage abilities at the linebacker position, something that the Bills have been struggling with for the past couple of seasons. Scott Chandler's Injury Rehab – A sneaky-huge worry of mine for the 2013 season was that Chandler would not be ready for it after ACL surgery, creating a Scott Chandler-sized gap in the tight end depth chart. It now appears that he will be ready for training camp, and is already doing some light practicing with the team. Although it seems that they will bring him along slowly in camp (Chandler himself was talking about a schedule where he'd rest every third or fourth practice day), practicing that early will give him an opportunity to be fully ready for the regular season. Marrone-Hackett offenses in the past have made good utilization of multiple tight ends as pass catchers, so any good news about Chandler is good news for the team. Also, watch out for seventh-round pick Chris Gragg to see targets early in the season, as he seems to have a skill set apt for filling in on receiving downs. The BuffaloBills.com Coaching Staff Sit Down Interviews – This could also be called 'Jason Shannon's Irrational Optimism About The Buffalo Bills New Coaching Staff'. First off, a second consecutive Tuesday shout out to Chris Brown and John Murphy for being great hosts for these sit-down interviews. Although Head Coach Doug Marrone was pretty tight-lipped about team specifics, Nathaniel Hackett and Mike Pettine were very open about their philosophies for their respective offense and defense. And boy were they exciting. Hackett wants to push the pace, tire out defenses, and most importantly, GIVE THE BALL TO CJ SPILLER! Pettine wants to attack quarterbacks with relentless pressure, and utilize players in multiple positions that are going to give the Bills' defense the opportunity to put the best eleven on the field at any given time. Well said, guys. The Unintentional Comedy of Jim Kelly's Post-1983 Draft Interviews – I happened to come across the ESPN '30 for 30′ documentary 'Elway to Marino' again the other day. First off, it's great. Watching Dan Marino cringe for a couple hours is comedy at its finest. But the quotes from Jim Kelly post-draft were also interesting. Let me say first, I love Jim Kelly, he was my idol growing up, I've met him numerous times, and I'm incredibly thankful that he is cancer-free. That said, I still found myself saying 'F YOU JIM' at the television when he said "Where would you rather play, Houston or Buffalo?" As someone who was born in '88 and didn't get to see the rise and fall of the USFL, it's still laughable to me that someone would choose anything over playing in the NFL. But I suspect that's probably an honest answer that almost anyone who isn't from Buffalo would say. But the good thing is that we won you over Jim! And look at you now, you're this city's ambassador and most important athlete (and maybe person, in general). And you love it. Makes me proud to be a Buffalonian.   HOLD The Cornerback Situation – I'm going to reserve judgement for a few weeks because the Bills coaching staff seems much more confident in this situation than us fans do. We have Stephon Gilmore, but the rest of the depth at the position is noticeably shaky. Leodis McKelvin (who isn't practicing), Ron Brooks, Justin Rogers, Crezdon Butler, TJ Heath, and Nickell Robey round out the group. You can make your own judgement here. I still think signing a veteran option may be a possibility. The fading Rashean Mathis seems to be a popular choice to add some competition to the group. Again, I'll wait a few weeks.   TRENDING DOWN The Jairus Byrd Situation – This is officially starting to scare me. New England Patriots – You guys all know the specifics by now, so I won't go any further into the player they lost last week. But Gronkowski had 97 surgeries this offseason, potentially leaving Tom Brady with just Jake Ballard as a tight end option for the foreseeable future. We're about to see how much of an effect Brady has on a receiving corps, with Danny Amendola, Michael Jenkins, Aaron Dobson, Donald Jones, Julian Edelman (and Kamar Aiken!) as his receivers. I have a suspicion that if things aren't working out they'll bring back Brandon Lloyd, who was decently productive for them last season. The post Bills Stock Watch #1 appeared first on Buddy Nixon.
Original Story:
http://www.buddynixon.com/opinion/bil...
THE BACKYARD
BEST OF MAXIM
RELATED ARTICLES
Three reasons for concern as the Bills enter the 2013 season: 1. New Offensive Coordinator Nathaniel Hackett I like the hiring of Doug Marrone as head coach, and I love the hiring of Mike Pettine as defensive coordinator.  Admittedly though, I am taking a very cautionary approach to new offensive coordinator Nathaniel Hackett.  I'm not saying this is a bad hire.  Hackett certainly...
The Buffalo Bills have released UDFA wide receiver Kevin Norrell. Norrell, who played for Stony Brook recording 63 receptions for 1,388 yards last season, was signed by Buffalo at the end of April. Doing a quick search for Norrell led me to this highlight reel on YouTube. It's pretty impressive and something tells me that he gets another shot elsewhere in the NFL. I hear the Raiders...
QUARTERBACK It's a two way race in Buffalo between first round rookie E.J. Manuel and veteran addition Kevin Kolb. No fantasy owner should be relying on either one of these quarterbacks. Kolb is a very mediocre and injury prone quarterback, while Manuel could end up not starting. Even if Manuel does start, I'd expect him to have some rough weeks early on. If you have...
While the quarterback position for the Buffalo Bills is uncertain, one thing that is certain is whoever their signal caller is, could use a 6'7″ security blanket. Scott Chandler fits that bill and says he will be ready to go at the beginning of training camp. Chandler had ACL surgery and was projected to come back to the Bills at the beginning of the regular season, at the earliest...
Welcome to DJ's Chalk Talk: Off-Season Week 2! This week, we focus on one of the most dynamic players in the NFL, Buffalo Bills running back C. J. Spiller. The question is: Can C. J. Spiller surpass Minnesota Vikings running back Adrian Peterson as the best running back in the league this season? Let's find out! When Spiller wasn't originally selected to the Pro Bowl last season...
BY NICK ST. DENISIn a Buffalo Bills defense that is expected to improve under new coordinator Mike Pettine, cornerback remains a question.New Bills coach Doug Marrone is confident there will be answers sooner than later. (photo: Angelina Purpura, Flickr)"I am (satisfied) with the depth there," Marrone recently told Buffalobills.com. "I think we have competition there. I think...
BY DAN BEGNOCHEIt's been three years since the Buffalo Bills selected Alex Carrington out of Arkansas State in the draft. The defensive tackle thinks Year 4 will be the year he shows the league why. (photo: Doug Kerr, Flickr)Since his third-round selection in 2010, Carrington has been stout contributor to the team's defensive line -- when given the opportunity. Despite participating...
Retired Colonel Carl Pfeiffer has followed the Buffalo Bills since the late-70′s. Carl recently joined the ranks here at Queen City Sports where he'll be contributing to our Bills coverage. Find Carl on Twitter @BuffaloSomeday. I love the Bills like one might love an alcoholic uncle.  Every weekend I invite them over and most Sunday's they do something that makes me scream...
BY DAN BEGNOCHEAt 6-foot-7, 260 pounds, tight end Scott Chandler is as reliable (and as deadly) over the middle as any of the Buffalo Bills' receivers. Now he's just trying to prove it to a new signal-caller. In 2011, 65 percent of his 389 receiving yards came in the center of the field, and in 2012, that rate was nearly identical with an increase in receptions and yards...
Throughout the years there have been so many players that have signed with the Bills and I thought, "Great! This guy is really going to help us," only to realize that their best days were behind them or their potential was just that…potential. The NFL has taught me that potential should never be confused with production. Here are some big name players (by position) who came...
NFL News

Delivered to your inbox

You'll also receive Yardbarker's daily Top 10, featuring the best sports stories from around the web. Customize your newsletter to get articles on your favorite sports and teams. And the best part? It's free!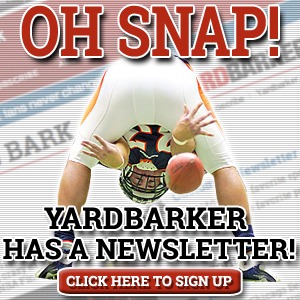 Latest Rumors
Best of Yardbarker

Today's Best Stuff

For Bloggers

Join the Yardbarker Network for more promotion, traffic, and money.

Company Info

Help

What is Yardbarker?

Yardbarker is the largest network of sports blogs and pro athlete blogs on the web. This site is the hub of the Yardbarker Network, where our editors and algorithms curate the best sports content from our network and beyond.