Found February 07, 2013 on State of the Texans:
More than usual, it looks like Houston Texans' Owner Bob McNair has been making the rounds and making his voice heard. Mr. McNair does not talk often but when he does it usually has validity. Since the Texans' season ended, he has been talking to numerous outlets and being put on record on what he feels the team should be looking for this off-season. There has been little change from his interviews and all say the same topic when it comes to personnel the team is looking for heading into the 2013 season. We looked at two interviews and one audio interview to see what Mr. McNair is thinking moving forward with this off-season  The good thing about McNair's quotes is that it seems to be right in line with what was seen by die-hard fans saw throughout the 2012 season, which is encouraging. We pulled some quotes from Mr. McNair and we analyze each quote a little closer and see if we can shed some thoughts on them.   "We need another playmaker (at receiver). We want more speed at receiver. Andre (Johnson) had a great year, but we can't expect him to carry the load for all the receivers." This has been an issue for the Texans since Andre Johnson was drafted by the Texans in 2003. The need has been there and right now the team does not have a player who has speed and can help with the workload in the passing game. Where the Texans find this player is another story, but it is good to see Mr. McNair point out an obvious issue that has been a long-standing issue. "If we say we're going to run the ball better, we need to make sure we've got depth in our offensive line." Look no further than the right side of the offensive line, and depth was a big issue especially with the youth on the line. It feels that the team wants to bring in some quality depth to push the youngsters and find some continuity on the right side of the offensive line. We are still convinced there is plenty room to grow for Ben Jones, Brandon Brooks and Derek Newton, but an insurance plan is needed. "Do we need something on offense? We know we need another wide receiver to add some more speed there. We got an offensive line that we want to see improve, and our young guys are gonna improve. At running back we're in good shape, we have good depth. We think we're in good shape at quarterback. At tight end I think we're in good shape there." It is interesting to see him say they are content at quarterback and tight end. I understand running back, which leads us to believe Ben Tate will be back in 2013. The tight end situation could be decent if the Texans bring back James Casey strictly as a tight end to help in that position group.  It still leads us to believe the Texans are going to look hard at the quarterback situation and see if they can find Matt Schaub's eventual replacement. "We need more depth at linebacker. We can always use another cornerback. We don't have a glaring weakness." The linebacker issue came back to haunt the Texans in 2012, and this is probably the one position where the biggest face lift needs to occur. They need to get younger, faster and cheaper and get some player who can help on defense and special teams.  The corner backs on the Texans are pretty good especially if they find a way to bring back Brice McCain, and with the emergence of Kareem Jackson the position group is pretty solid. "Do we need another defensive back, so when we're playing nickel defense we're stronger? If people are gonna do this dinkin' and dunkin' on these short passes, we need to be able to cover those better. Do we need more speed at linebacker? Do we need a little more pass rush? Do we need a little better ball catching ability in the secondary?" This is probably the most telling of all the quotes we could find and it shows the glaring weaknesses in the defense. Underneath passes ate up the Texans with linebackers covering back out of the backfield. Linebacker, pass rush and ball hawks in the secondary are parts the defense lacked in 2012. The defense had more faults than people realized and the unit under achieved compared to the 2012 success they had. It will take some key acquisitions to correct these issues and get the defense back to being more aggressive.     You can see the Bob McNair interviews from the Chronicle here, the Houston Texans website and his audio interview with MaD Radio here.  You can follow Patrick on Twitter.  He is the Editor of State of the Texans.    
Original Story:
http://www.stateofthetexans.com/?p=10260
THE BACKYARD
BEST OF MAXIM
RELATED ARTICLES
SWEET TREAT
We noticed a tweet this afternoon from @bdeoff mentioning something about a J.J. Watt wedding cake. Being such big fans of sports themed cakes naturally this tweet caught our attention. After checking it, out this baby didn't disappoint. It's detailed down to the Nike logo on the jersey and even looks like it's close to life size rendition. All in all, very impressive cake...
According to Pro Football Talk and the Houston Chronicle's, John McClain, Houston Texans nose tackle Shaun Cody had back surgery late last week in Los Angeles. Cody had "microscopic lumbar discectomy surgery for a lumbar disc herniation" , which is nothing more than fancy name for a back surgery. Shaun Cody has been with the Texans since 2009 when he signed as a free agent...
The 2013 NFL salary cap number has not been set yet, but the cap number has been estimated to be in the $121 million range. This being said the Texans are in better shape than they were entering the 2012 off-season. Below is the cap space for the AFC South and despite the lowest number is decision the Texans are in decent shape to make necessary moves to improve their 2013 team...
According to Nick Scurfield of HoustonTexans.com, Texans' owner Bob McNair says that linebacker Brian Cushing is ahead of schedule with his rehab after tearing his ACL this past season. This is great news.  It also helps Cushing that he tore his ACL in the middle of the season rather then later on.  It gives him a better chance of being able to participate in training camp.  ...
  JJ Watt, the Houston Texan linebacker, sent out a Twitter yesterday saying he didn't care if you were a 5 star recruit or not and that it's all about how much work you put in. Watt was a 2 star recruit and now plays in the NFL. Good advice that some recruits could take to heart. Watt is a star for the Texans and is giving a great advice. Congrats to all recruits signing today...
Houston Texans linebacker Brian Cushing suffered a torn ACL in October, and although the team had a successful season and made the playoffs, the injury was big blow to their defense. Texans owner Bob McNair is optimistic about Cushing being ready for next season,
It was not supposed to end like this for the Houston Texans. This was the year they were going to win the Super Bowl. With a healthy Matt Schaub, Arian Foster and defensive player of the year J.J. Watt there was no reason to worry. Instead, their 2-4 finish to the season, and an eventual loss in the Divisional Round of the playoffs would leave fans upset due to the lofty expectations... Read more
HOUSTON (AP) -- Houston Texans nose tackle Shaun Cody is out of the hospital after undergoing back surgery. Dr. Robert Watkins says he performed successful microscopic surgery for a lumbar disc herniation on Cody on Jan. 29. Cody was released from the hospital the day after the surgery. The 6-foot-4, 307-pound Cody missed three games last season in November with a back injury....
Houston Texans linebacker Brian Cushing tore his ACL during a game against the New York Jets on Oct. 8. While the injury caused Cushing to miss the remainder of the 2012 season, Texans owner Bob McNair told Nick Scurfield of HoustonTexans.com that the linebacker is "ahead of schedule" in his rehab. Bob McNair cautioned that ACL injuries take time to fully heal but said @briancushing56...
We already know he's sweet enough to pretend marry a little girl, but this is in the more literal sense. This picture of a fan's groom's cake was tweeted to the Defensive Player of the Year, Houston Texans defensive end J.J. Watt. While the craftsmanship is admirable, you know if the Cake Boss had built this sucker the arms would be swatting at little footballs...
If you're not following this on Twitter, you are missing a HIGHLY entertaining twitter war.  Here's what you're missing between the always entertaining Iron Sheik and Houston Texans star running back Arian Foster. Foster was looking for someone funny to follow and, well, the Iron Sheik feels funny enough that Foster should give his Twitter a read. Here is the argument in...
Hot News for QB Matt Schaub
Texans News

Delivered to your inbox

You'll also receive Yardbarker's daily Top 10, featuring the best sports stories from around the web. Customize your newsletter to get articles on your favorite sports and teams. And the best part? It's free!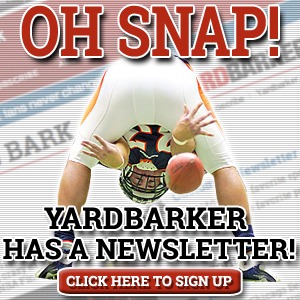 Latest Rumors
Best of Yardbarker

Today's Best Stuff

For Bloggers

Join the Yardbarker Network for more promotion, traffic, and money.

Company Info

Help

What is Yardbarker?

Yardbarker is the largest network of sports blogs and pro athlete blogs on the web. This site is the hub of the Yardbarker Network, where our editors and algorithms curate the best sports content from our network and beyond.