Found August 22, 2013 on Fox Sports North:
EDEN PRAIRIE, Minn. -- Bobby Felder became the instant sensation during the Minnesota Vikings preseason game last week at Buffalo with, splashing with four big special teams plays in the second half of a loss.Felder had two punt returns and downed two punts inside the 5-yard line to gain attention. Felder had caught the attention of Minnesota's coaches long before one preseason game that is anything but meaningless to Felder and others on the roster bubble.Coaches had seen ability in Felder last summer, or more specifically, instincts."I think Bobby's an instinctive football player, but also, Bobby's still learning," were the first words out defensive coordinator Alan Williams's mouth Thursday when asked about Felder.A day earlier, coach Leslie Frazier's described Felder like this: "He's a pretty instinctive guy. He can kind of feel things and it doesn't have to be just like you drew it up on the board because rarely does it happen that way when people start moving around on the football field."Felder's instincts, and his play, are getting noticed a year after he spent the entire 2012 season on the Vikings' practice squad. Felder, 22, has a chance to make the move from the practice squad to the active roster this season with versatility as a cornerback -- particularly as a slot corner -- and on special teams, where he flashed last week."I feel like the coaches got a feel to see how instinctive I was with me being on scout-team defenses and plays like that," Felder said. "We go against the first team on offense, they're not going to design a play for us to get out there and make a play on the offense. You have to go out there and react to what they are doing. Being that we were game planning for other teams and me just getting out there and making plays, they took notice of that and they saw the type of player that I can possibly be."He showed his progress and potential last week.Felder downed two of punter Jeff Locke's end-over-end punts within the 5-yard line last week by getting in good position. He also had three punts for 62 yards. He took his first attempt -- his first punt return in a game since college -- for 21 yards. He later added a 37-yard return, fielding the ball at the 6-yard line and giving Minnesota good field position on its final drive of the game."He plays bigger than he is," special teams coordinator Mike Priefer said. "He's about 200 pounds, but he plays like a bigger guy, in terms of being physical in the return game, especially. The plays he made the other day were exciting for him and for us. He did a great job downing the punts down inside the five, and just releasing and getting downfield and understanding where he was. That's not an easy thing to do; that's why we work on it a lot. And, of course, his returns were great."Coach Frazier has been on me about giving him an opportunity to be our punt returner, and he responded to the challenge."Felder, 6-foot-1 and 200 pounds, is getting his opportunity to be the punt returner. Priefer called Marcus Sherels, Minnesota's main punt returner the past two seasons, and Felder as the top two players fighting to win the punt return job.Felder, who was among the Vikings' final cuts last season before signing to the practice squad a day later, was an undrafted free agent out of Nicholls State. But he had the on-field credentials. He had 12 interceptions, which ranked fourth in school history and had five interceptions as a senior. On special teams, he blocked three kicks and had 12 punt returns."You need some guys who can have instincts to make plays and recognize things as they occur, and he's one of those guys," Frazier said. "He's a very instinctive player who has very good awareness when it comes to football. That was one of the things that struck us when he was on the scout team. He did a good job for us then, so we were anxious to see how he would play once we got him into some game situations."Frazier said the third preseason game will be important for Felder, who the team wants to take a close look at on defense and special teams. Versatility will an important factor on making the final roster.Felder did get beat for a touchdown in the first preseason game. He appeared to have good coverage on Houston rookie receiver DeAndre Hopkins, but Hopkins came away with a 34-yard touchdown as both players jumped for the ball."This is still Bobby's first year, so to speak, being able to get live reps," Williams said. "So, I'm not going to put too much on his plate, but I have high expectations for Bobby. He's a good football player and he's a physical football player also. He has extremely good ball skills. So, I'm just waiting to see how he's going to do in the live situations. I'm a wait-and-see guy. So I'm just going to wait and see how he plays, but in the back of my mind I do have high expectations for Bobby."Williams likely built those expectations while watching Felder on the practice squad last year."Being out there every day being on practice squad, you get to go against the starters every day," Felder said. "Those are the guys out there on Sunday. The same guys you see are the same guys I was practicing with and just being able to practice against those guys every day, that just made me better. Come my second time around, I'm a lot more familiar with the terminology, the things that the coaches talking about and I just feel a lot more comfortable than I did last year." Follow Brian Hall on Twitter
Original Story:
http://www.foxsportsnorth.com/nfl/min...
THE BACKYARD
BEST OF MAXIM
RELATED ARTICLES
Viking wide receiver Jarius Wright has officially been cleared after his August 16th concussion. Wright won't play in this Sundays game versus the 49ers, and is most likely done for the preseason. All signs point to him taking his spot as the number 3 receiver on the team come week 1, when the Vikings travel to Detroit. This is great news as the Vikings are heavily relying on Wright...
MINNEAPOLIS -- As of Friday morning, the notion the Wilf family's legal issues may affect construction of the Minnesota Vikings' new stadium is no longer hypothetical. Groundbreaking on the project, originally slated for October, has been pushed back a month. Negotiations between the team and the Minnesota Sports Facilities Authority have ceased for the time being. If disconnect...
EDEN PRAIRIE, Minn. -- The Minnesota Vikings have largely avoided the catastrophic injury situations some teams are dealing with around the NFL, and they might have lucked out Thursday as well.Linebacker Erin Henderson, making the move to middle linebacker from the weakside, had his heel stepped on during a play and had to leave practice. Athletic trainers helped Henderson, who was...
EDEN PRAIRIE, Minn. -- Adrian Peterson must be itching for more work. The Minnesota Vikings MVP running back hasn't played in a game in the preseason and is expected to get his first game action this Sunday when Minnesota travels to San Francisco for the third preseason game. He'll get more time Sunday, but probably not a lot of it. "We've discussed that with Adrian...
EDEN PRAIRIE, Minn. -- Greg Jennings reached veteran status in his seven years with the Green Bay Packers and didn't look forward to each year's four preseason games. Like many of the league's established players, Jennings preferred to get his work in during practice and leave game action to those fighting for roster spots or their NFL careers. Jennings knew the Green...
Kyle Rudolph has some of the surest hands in the NFL, with a 6-foot-6, 260-pound frame fit for the type of tight end who can be one of his team's best passing targets. As long as he plays for the Minnesota Vikings, though, his potential is probably not on track to become the next Tony Gonzalez. No matter how much ability Rudolph has as a receiver, run blocking must be an equally...
It's about that time again. Cool breezes blowing away the summer heat, kids going back to school, and football, glorious football. Unfortunately, the rise of social media has paved a very dangerous path to mar this brilliant time of the year: The unofficial, and sometimes official, team songs that pop up almost daily paying tribute to a team or school and range from cringeworthy...
When Minnesota Vikings middle linebacker Erin Henderson suffered his ankle injury during Thursday's practice session, he told Dan Wiederer of the Star Tribune that he immediately assumed the worst considering the intense pain he was experiencing. However, following the initial shock and pain of the injury, Henderson realized it "wasn't too bad." "Really, really painful...
Welcome to the Christian Ponder edition of our new Minnesota Vikings mailbag.For the second time this preseason, I'm answering your questions before the ever-important third preseason game for Minnesota on Sunday at San Francisco. We will be doing a weekly mailbag during the regular season to answer your questions about the Vikings.The starting quarterback, his present and future...
After retiring from football before the 2005 season, Rich Gannon began a career in sports broadcasting. Currently, Gannon is an analyst for NFL on CBS and co-hosts the radio program The Sirius Blitz on Sirius XM NFL Radio. In the NFL season opening week, Rich Gannon, paired with Marv Albert on CBS, will call the Oakland Raiders at the Indianapolis Colts. The Raiders are the very...
Vikings News

Delivered to your inbox

You'll also receive Yardbarker's daily Top 10, featuring the best sports stories from around the web. Customize your newsletter to get articles on your favorite sports and teams. And the best part? It's free!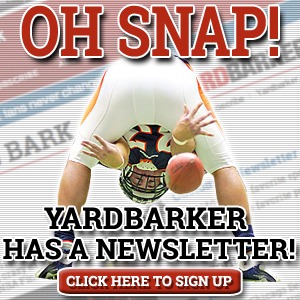 Latest Rumors
The Backyard

Today's Best Stuff

For Bloggers

Join the Yardbarker Network for more promotion, traffic, and money.

Company Info

Help

What is Yardbarker?

Yardbarker is the largest network of sports blogs and pro athlete blogs on the web. This site is the hub of the Yardbarker Network, where our editors and algorithms curate the best sports content from our network and beyond.