Found December 11, 2012 on Fox Sports Ohio:
NEW ORLEANS (AP) -- More than nine months after the NFL first disclosed its bounty investigation of the New Orleans Saints, four players will finally get a ruling on whether their initial suspensions are upheld, reduced or thrown out. Former Commissioner Paul Tagliabue, who was appointed to handle a second round of player appeals to the league, has informed all parties he planned to rule by Tuesday afternoon. His decision could affect whether two current Saints -- linebacker Jonathan Vilma and defensive end Will Smith -- get to play out the season. If the sanctioned players find Tagliabue's decision palatable, that could finally bring the bounty saga to an end. If not, it will be up to a federal judge to either disqualify Tagliabue or let his ruling stand. Even if Tagliabue maintains the suspensions, any punishment will delayed a week, allowing Vilma and Smith to at least play this Sunday at home against Tampa Bay, a person familiar with the decision said. The delay is aimed at giving U.S. District Judge Ginger Berrigan in New Orleans time to review Tagliabue's ruling and decide if she still believes she must take the unusual step of getting involved in a collectively bargained process in order to protect the players' rights, the person told The Associated Press on condition of anonymity Monday because no ruling had been announced. If Vilma, Smith, Cleveland linebacker Scott Fujita and free agent defensive lineman Anthony Hargrove get the ruling they seek, it would discredit an NFL probe -- overseen by Commissioner Roger Goodell -- that covered three seasons and gathered about 50,000 pages of documents. The probe concluded that Vilma and Smith were ring-leaders of a cash-for-hits program that rewarded injurious tackles labeled as "cart-offs" and "knockouts." The NFL also concluded that Hargrove lied to NFL investigators to help cover up the program. None of the players has served a game of their suspensions yet and have been allowed to play while appeals are pending, though Fujita is on injured reserve and Hargrove is not with a team. Shortly before the regular season, the initial suspensions were vacated by an appeal panel created by the league's collective bargaining agreement. Goodell then reissued them with some modifications. Meanwhile, the players have challenged the NFL's handling of the entire process in federal court. Vilma received a full-season suspension, while Smith was docked four games. Hargrove initially received an eight-game suspension that was later trimmed to seven games, but for practical purposes, was reduced to two games because he was given credit for five games he missed as a free agent after being cut by Green Bay before the regular-season opener. Fujita had his initial suspension reduced from three games to one, with the league saying that he failed in his duty as a defensive leader in 2009 to discourage the bounty program run by former defensive coordinator Gregg Williams. Goodell also suspended Williams indefinitely, while banning Saints head coach Sean Payton for a full season. Tagliabue's ruling comes after a new round of hearings that for the first time allowed Vilma's attorneys and the NFL Players Association, which represents the other three players, to cross-examine key NFL witnesses in the probe. Those witnesses included Williams and former Saints assistant Mike Cerullo, who was fired after the 2009 season and whose email to the league, accusing the Saints of being "a dirty organization," jump-started the probe. Also for the first time, the NFL allowed players' attorneys to review all of the documents the NFL had collected, including some in which people stated that the players never did what they were accused of, the person who spoke with AP said.
Original Story:
http://www.foxsportsohio.com/12/11/12...
THE BACKYARD
BEST OF MAXIM
RELATED ARTICLES
Jonathan Vilma has asked a federal judge to allow him to move forward with his defamation case against NFL Commissioner Roger Goodell. In a motion filed Wednesday, Vilma drops his case against the NFL's disciplinary process, now that his suspension has been lifted. However, he continues to pursue damages from Goodell for harm he alleges was done to his reputation by the NFL...
Jonathan Vilma has asked a federal judge to allow him to move forward with his defamation case against NFL Commissioner Roger Goodell. In a motion filed Wednesday, Vilma drops his case against the NFL's disciplinary process, now that his suspension has been lifted. However, he continues to pursue damages from Goodell for harm he alleges was done to his reputation by the NFL...
You know the details of the bounty accusations, the appeals process, and very likely by now you know all about Paul Tagliabue's ruling. It isn't my intention to rehash any of those things here because frankly I'm tired of it all at this point. There is a humorous silver lining in Paul Tagliabue's ruling today; involving Gregg Williams' use of the Microsoft Office Suite...
Even though former NFL commissioner Paul Tagliabue has overturned the player suspensions from the Saints bounty scandal, linebacker Jonathan Vilma still plans on going through with his defamation law suit against Roger Goodell. Jonathan Vilma's attorney says he will continue the defamation lawsuit against Roger Goodell to reclaim his reputation. — Eye on Football (@EyeOnNFL)...
The Bounty Gate saga may be nearing it's end after all. Paul Tagliabue has vacated the suspensions of Jonathan Vilma, Will Smith, Anthony Hargrove and Scott Fujita in their entirety. Wow. I figured Vilma may get the last 3 games as punishment, and the others might have some reductions, but this I did not anticipate. Of course, having their suspensions vacated is a far cry from...
After months of legal recourse and hand-wringing, the BountyGate scandal has seemingly been put to rest. NFL spokesman Greg Aiello confirmed on his Twitter account that the four players involved in the case have been cleared of any discipline despite engaging in conduct detrimental to the league. https://twitter.com/gregaiello/status/278562485492146176 https://twitter.com/gregaiello...
Tuesday afternoon, the former commissioner of the National Football League vacated the bounty punishments for Saints players Jonathan Vilma, Anthony Hargrove and Will Smith.
The New Orleans Saints' bounty ordeal likely will move a step closer to finality Tuesday, when arbitrator Paul Tagliabue is expected to issue his verdict on the players' appeals, multiple media outlets reported. However, Tagliabue's verdict is expected to be delayed for a week so the players can ask the U.S. District Court in New Orleans to validate the ruling. Jonathan...
I'll be honest, I was shocked that former NFL Commissioner Paul Tagliabue vacated the suspensions of four former and current New Orleans Saints players. The players must have felt the same way, because when it was announced last month by current commissioner Roger Goodell that Tagliabue would hear their appeal, they fought to have him to recuse himself. Lucky for them he didn't...
Paul Tagliabue still wants to reprimand the Saints coaches and organization for the bounty program that occurred in New Orleans, but so far as discipline goes, Scott Fujita is completely off the hook while the other players get to skate on the penalties. Good enough for me. In other words, HAHAHAHAHAHAHAHA GOODELL. Jonathan Vilma is triumphant! And The Ginger Hammer is dealt another...
  King Solomon solved a thorny legal question with a decision to split a baby in half. It was the stuff of Biblical legend. Retired NFL Commissioner Paul Tagliabue split the baby today by giving all sides in the New Orleans Saints Bountygate scandal a face-saving way to claim a win. Tagliabue deserves a paragraph when they re-edit Scripture. Current NFL Commissioner...
NFL News

Delivered to your inbox

You'll also receive Yardbarker's daily Top 10, featuring the best sports stories from around the web. Customize your newsletter to get articles on your favorite sports and teams. And the best part? It's free!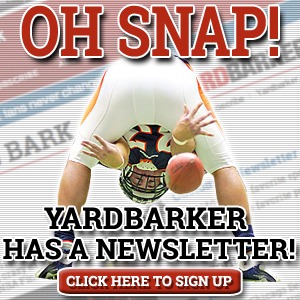 Latest Rumors
The Backyard

Today's Best Stuff

For Bloggers

Join the Yardbarker Network for more promotion, traffic, and money.

Company Info

Help

What is Yardbarker?

Yardbarker is the largest network of sports blogs and pro athlete blogs on the web. This site is the hub of the Yardbarker Network, where our editors and algorithms curate the best sports content from our network and beyond.