Found July 11, 2013 on State of the Texans:
Brandon Harris at OTAs In the 2011 NFL draft, the Houston Texans traded back into the second round to get corner back help and that help was Brandon Harris from Miami. Fast forward three years later, Harris is still learning his craft behind a very skilled corner back position group. Appearing in 15 games in two seasons with his rookie season mainly on special teams, Harris in 2012 was the starting nickel corner back after Brice McCain went down for the season with a foot injury. Harris played the last six games of the regular season and the two playoff games as an important piece of the Texans defense. He played in 239 defensive snaps and was thrown at 28 times with 14 completions, and it was apparent he was still learning the way the NFL passing game worked. His best game of the season came at the right time of the season in the Wild Card playoff game against the Cincinnati Bengals where he helped blanket the middle of the field on an impressive Texans defensive performance. Harris talked about his playing time in 2012: "It has been huge to play in 6 games with 2 playoff games. It is a huge confidence boost for me. You get the feel of the game and I played against top competition last year week in and week out. I played against New England and Indianapolis twice. You play against playoff caliber teams." It is apparent that Harris has used that playing time and picked up where he left off. His confidence on the field and with the defensive scheme is evident as he worked mainly at the nickle position during OTAs. There has been an extra emphasis on technique with his footwork and hand placement in coverage. During OTAs and Mini-Camp, Harris looked much quicker in tight spaces and was around the ball more times than not on intended passes his direction. He is constantly working hard on the field working on his game and he understands there is a log jam of corner backs in front of him on the depth chart. "Even on this team, you have to compete to play."   Competition With Johnathan Joseph, Kareem Jackson and Brice McCain the top three corner backs on the team, Harris is the next guy in the rotation. He can fill in at any of the three spots and understands what it takes to crack the top three for playing time. "You know when you come out here to get back to that playoff level you have to compete even harder." The playoffs are already on the Texans' minds and they understand what it takes to get there, and Harris knows it starts in practice against the players he competes against on a daily basis. His biggest competition comes from his best friend and teammate Roc Carmichael, who just like him was drafted the same year (2011) at the same position. Just like Carmichael, both push each other to the limit and work on and off the field with each other. "That is my brother. We have been watching each other since college, him at Virginia Tech and me at Miami. Playing the same position in college and trying to be better than him since he was a top corner in the ACC. We have competed against each other non stop and since we were drafted together it hasn't stopped. We are always together and compete in the weight room and we are both pushing to the day when we can both be on the field for the Texans at the same time." Another key piece to the Texans defense is defensive back coach Vance Joseph who knows how to get the most out of his defensive backs. Creating competition is what Joseph does best and, just like other defensive backs, Harris attributes his early career success to him. "He has been huge. He taught me how to be a pro, how to take care of myself and my body, and how to study and get myself ready to play. When I came out my rookie season, I was about 200 lbs. and he got me down to 190 lbs. and it helped me get quicker and faster to compete at the NFL level. I am still young and in my third year and I am looking forward to growing up more under him here in Houston."   Young Wide Receivers With all the publicity surrounding the new look wide receivers that will be on the team in 2013, Harris has been getting work against them and gave some insight on a few that have caught his attention. "(DeAndre)Hopkins is very impressive. I played against him in college so I knew what we were getting with him. I can't wait to play with him on Sundays" Then Harris talked about two that have really increased the speed and competition on the field. "(Alan) Bonner and (Ez) Nwachaku are fast and I can only imagine how easy it was for them in college. They are ones to watch heading into camp."   Brandon Harris will be in the same position he was in 2012 but, with Alan Ball departed, expect Harris to be active for game days and a key part of the special teams unit. There has been questions surrounding Harris and his playing time but when you have three top corners that play at a high level, playing time is slim. Harris understands a large amount of playing time is a snap away and expect him to be ready for a bigger step heading into his third season in the NFL. One thing is for certain, something is going right for the Texans secondary when you are giving a second round pick time to develop the right way to help the team. Patience will be key for Harris but he has all the skills to contribute to this team for seasons to come.   You can follow Patrick on Twitter.  He is the Editor of State of the Texans.  
Original Story:
http://www.stateofthetexans.com/brand...
THE BACKYARD
BEST OF MAXIM
RELATED ARTICLES
Houston Texans linebacker Brian Cushing looks ready for the 2013 season, take a look for yourself.
There are some guys in the NFL that would be fun to hang out with, some that you would love to party with, and others that you would be scared to death something bad might happen with--and than there are some that you wish you could be friends with because they seem so cool and down to earth you know you would get along with them. And of course become fast friends--like Houston...
USC is known for its famous alumni, legendary fight song and numerous national titles in many different sports. On Thursday, USC had another special visitor, reining NFL Defensive Player of the Year J.J. Watt, who was working out at the McKay Center. In 2012, Watt recorded 75 tackles and 22 sacks with the Houston Texans en route to the POY award. Watt visited southern California...
The power went out yesterday at WFAN in the morning, but thankfully order was restored in time for Mike Francesa to entertain the masses with another clip for the blooper reel.  When discussing NFL players behaving badly (which seems like a mandatory topic for the dog days of July, even when there aren't NFL players arrested on murder charges) a caller wanted to shed light on...
Uzoma Nwachakwu, better known as Ez, left Texas A&M University as one of four Aggies with more that 120 catches, 1500 yards and 10 touchdowns in a career. Now Nwachakwu (pronounced WATCH-ah-coo) is looking for more in Houston with the Texans, and he has shown early that his success at College Station has carried over. He finished his college career with 152 receptions, 2,239...
If you have ever wanted to kick it with an NFL star, JJ Watt is giving you your chance. The Houston Texans defensive end is holding a contest to hang out with him for a day.
NFL News

Delivered to your inbox

You'll also receive Yardbarker's daily Top 10, featuring the best sports stories from around the web. Customize your newsletter to get articles on your favorite sports and teams. And the best part? It's free!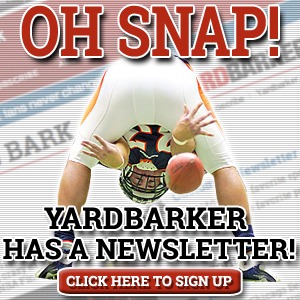 Latest Rumors
Best of Yardbarker

Today's Best Stuff

For Bloggers

Join the Yardbarker Network for more promotion, traffic, and money.

Company Info

Help

What is Yardbarker?

Yardbarker is the largest network of sports blogs and pro athlete blogs on the web. This site is the hub of the Yardbarker Network, where our editors and algorithms curate the best sports content from our network and beyond.