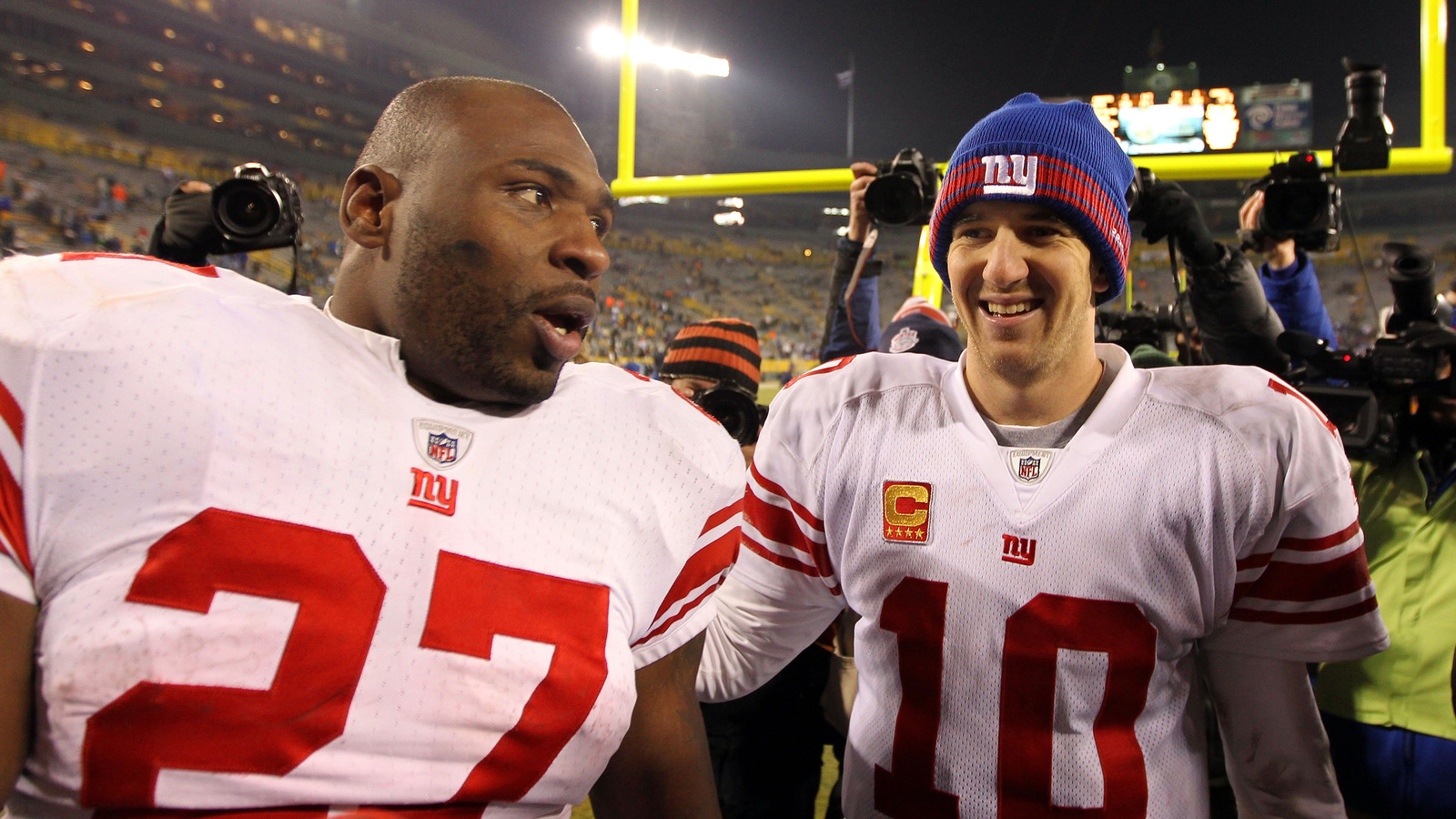 Brandon Jacobs has defended former Giants teammate Eli Manning amid a memorabilia scandal.
Jamie Squire/Getty Images
Brandon Jacobs on Thursday took to social media to defend Eli Manning, saying his former New York Giants teammate doesn't "have a bad bone in his body."
News broke this week that a lawsuit has been filed in which Manning is named as a player in a fraudulent memorabilia scheme.
But Jacobs cannot believe someone as "wholesome" as Manning could ever be involved in such a nefarious plot.
"Don't believe this (horse manure) about (Manning)," Jacobs wrote on Instagram, as transcribed by NJ.com. "Other than some dirty pranks this guy don't have a bad bone in his body. Eli is as wholesome as they come lol. This guy made so much damn money playing football and he still drives a damn free Toyota lol. It's a bunch of (horse manure) lol!!!"
The lawsuit involving Manning alleges the Giants, primarily through equipment manager Joe Skiba, touted and sold items as "game used" when in fact they were not. Manning got embroiled in scandal due to an alleged email to Skiba.
Giants counsel issued a statement denying the allegations in which Manning is lauded as an individual  "well known for his integrity and this is just the latest misguided attempt to defame his character."
Interestingly, Jacobs is also ensnared in a memorabilia controversy involving the Giants. The former running back suspects a jersey from Super Bowl XLII framed in his house isn't the one he wore in the Giants' 17-14 victory over the New England Patriots. Jacobs believes the real one was stolen.
Two Instagram posts from Jacobs this week accuse the Giants organization of being complicit, with the latter seemingly implicating Skiba's involvement.
"SMH, even they screw the ones who put blood on the field. #fakegameworn #realonesoldbythem," Jacobs wrote in the above post. "Ill get my (expletive) back, you better believe it."
"All these memories wiped away when that (expletive) decided to sell my super bowl stuff and give me a fake one," Jacobs wrote. "You guys would be surprised at the (expletive) that has happened. No loyalty to the ones who put blood on the field. This has changed a lot for me and for the higher ups to defend this (expletive) is even more absurd. I'll get my super bowl (expletive) back alone with my TD balls and the other 15 jerseys of mine that they sold."
More developments are sure to come involving the Giants' memorabilia scandal, involving both Manning and Jacobs, to be sure.
MORE FROM YARDBARKER
Giants News

Delivered to your inbox

You'll also receive Yardbarker's daily Top 10, featuring the best sports stories from around the web. Customize your newsletter to get articles on your favorite sports and teams. And the best part? It's free!