From Players View:
San Francisco 49ers running back Brandon Jacobs has been called a lot of things. Now he can be called a genuinely good guy.
You may recall the story of 6-year-old Joseph Armento, a New York Giants fan who was so upset that Jacobs left in free agency to the 49ers, that he mailed his lifetime savings of $3.36 to Jacobs in hopes of keeping his favorite player with the Giants.
There is no word of whether or not it would have counted against the cap had it worked, but Jacobs did the right thing recently.
Jacobs took Armento and his brother to the Jump On In bounce house in New Jersey on Wednesday (Jacobs was on the East Coast to gather some belongings).
According to the Sacramento Bee, Jacobs also repaid his debt to Joseph with interest in the form of a $5 bill and signed Giants helmet.
"He had some interest in there just for being a good kid," Jacobs said, according to the Bee. "He's worth a lot more than that $5 bill I gave him."
As much as Jacobs has meant to the child as a player, the child has meant more to Jacobs as a person.
"I'm at a point in my career when people have stopped believing in me and not believing that I can still play. But that's not the case. Joe believes in me, gave me a lot of confidence and a lot of want-to. And I'm ready to go. I can't wait until the season starts."
After receiving the initial letter, Jacobs reached out to Joseph's mom, Julie, to set something up so that he could do something special for his biggest fan.
"When we first spoke, he said that he was genuinely touched by the letter, that it almost brought him to tears," Julie said. "He said it came at just the right time for him."
"He told me he really wanted to get out there with the kids," she said. "He really wanted to enjoy it, and he did. It was amazing."
According to Jacobs, it was indeed a good time.
"It was just us in the whole place and we were just going room to room – just bouncing and flipping all over the place, hitting each other with balls, sweating, our shirts filthy. We were just dirty, stinky boys, you know?"
Whom will Joseph root for when the Giants and the 49ers square off?
Also from Players View
T.O. to speak at NFL Rookie Symposium
Photo: Eli Manning works drive-thru window at doughnuts shop
Vikings WR wants to be traded?
Photo via Brandon Jacobs
MORE FROM YARDBARKER
NFL News

Delivered to your inbox

You'll also receive Yardbarker's daily Top 10, featuring the best sports stories from around the web. Customize your newsletter to get articles on your favorite sports and teams. And the best part? It's free!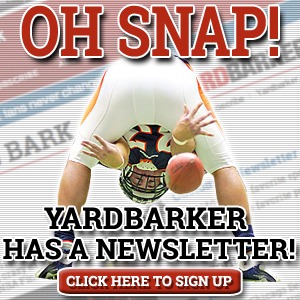 Latest Rumors
Best of Yardbarker

Today's Best Stuff

For Bloggers

Join the Yardbarker Network for more promotion, traffic, and money.

Company Info

Help

What is Yardbarker?

Yardbarker is the largest network of sports blogs and pro athlete blogs on the web. This site is the hub of the Yardbarker Network, where our editors and algorithms curate the best sports content from our network and beyond.