Found December 08, 2011 on The Other Paper:
Brandon Jacobs agrees with Cowboys Mike Jenkins that "he is a bully" and because the Dallas cornerback said it, the Giants running back thinks the Cowboys are scared.
On Wed., Jenkins said this about Jacobs, "That's him. That's what you get from him. He is a bully."
Jacobs, the 260-pound pile driver, pulled no punches when he said that he doesn't mind the derogatory label.
On Wed., Jacobs proudly claimed "I am a bully" in response to Jenkins dig.
Not exactly politically-correct, but it makes some awfully good bulletin board material.
"I think people who call out bullies are afraid of bullies," said Jacobs on Thursday. "If you call me a bully, that's how I see it. They're just sitting back waiting for us to come there, and we're going in there ready to play football."
Just another one of the controversial tid-bits Jacobs has babbled this season.
Earlier in the season, he criticized the coaches for not using him enough and— after the recent loss to the Philadelphia Eagles— Jacobs commented about the fans who booed him during his 12-carries for 21 yards game.
"I don't take nothing back about what I said about the fans," he crowed.
Jacobs hasn't exactly been bowling over too many opponents this season with bully-like running. His physical running style has been hampered by injuries all season and pulled a hamstring, after gaining 25 yards on two carries, last week against the Green Bay Packers.
It sounds like Jacobs wants to make a statement on the field in this week's critical game in Dallas.
"That's always our plan," he said. "If you go in there and bring it to them and keep doing it all game long, some body's going to break. Either the person who's giving it is going to get tired of bringing it or they're going to get tired of trying to stop the person that's bringing it. Whoever wants it bad enough."
Giants DE Justin Tuck agrees.
"I always tell him 'First they're going to try and face you up,'" Tuck said. "'Second quarter they might slide and ask for their teammate to help them. Third quarter, man, they're going to be jumping out of the way.' I'm hoping that he understands how dominant of a back he can be when he wants to be."
Tuck laughed off Cowboys DeMarcus Ware's assertion that he wants to swap the "NY" on his helmet for a star.
"Me wanting to be a Cowboy? Hmmm," Tuck said. "Well, I don't wear Wranglers. I don't wear cowboy hats or boots or those buckle belts. And I don't need a star on my helmet to tell me I'm pretty good at what I do. I plan on retiring a Giant."
Original Story:
http://ihatelupica.blogspot.com/2011/...
THE BACKYARD
BEST OF MAXIM
RELATED ARTICLES
The Cowboys are right. Brandon Jacobs is a bully.   And the fact that the Cowboys said it, proved to Jacobs that they're scared.   "I think people who call out bullies are afraid of bullies," the Giants' big running back said on Thursday. "If you a call me a bully, that's how I see it. ...
Brandon Jacobs had no problem with the Dallas Cowboys calling him "a bully." To him, that proves only one thing: They're scared. "I think people who call out bullies are afraid of bullies," the Giants' big running back said Thursday.
New York Giants running back's Ahmad Bradshaw and Brandon Jacobs both missed practice for a second straight day on Thursday. Bradshaw has been held out of practice to rest his fractured foot.  And Jacobs was held out because of a hamstring injury he suffered this past Sunday against the Packers. Giants head coach Tom Coughlin [...]
The Giants held a number of players out of practice Thursday, including running backs Ahmad Bradshaw and Brandon Jacobs, according to The Star-Ledger.
After all that has happened to the Giants, after all the injuries and all the soft, passionless, prideless, defense they played at the worst possible time, they assure us that they will show up Sunday night against the Cowboys as Big Blue Bullies. And so when Brandon Jacobs was informed...
The Giants invade Jerry World this week and the Cowboys are a bit nervous. They know the Giants have some momentum behind them and their one-game lead in the NFC East could go poof if they slip up.  At the same time, though, it is no secret the Giants are in desperate need of a victory to stay alive...from Carlos Mendez of the Star-Telegram… There is no mistaking the optimism...
Trash talk is flying back and forth between the Cowboys and the Giants. The Cowboys fired the first salvos Wednesday when Pro Bowl linebacker DeMarcus Ware said Giants defensive lineman Justin Tuck called Cowboys Stadium a dump and wanted to play for Dallas. Cowboys cornerback Mike Jenkins did his part by calling New York running back Brandon Jacobs "a bully." On Thursday, the...
The back-and-forth between the Cowboys and Giants continued Thursday, with Justin Tuck and Brandon Jacobs taking their shots at Dallas.
Rule No. 1 of trash-talking: It's probably not very effective if the target takes it as a compliment. Such is the case with the words Cowboys cornerback Mike Jenkins used to describe Brandon Jacobs on Wednesday, calling him "a bully."
NFL News

Delivered to your inbox

You'll also receive Yardbarker's daily Top 10, featuring the best sports stories from around the web. Customize your newsletter to get articles on your favorite sports and teams. And the best part? It's free!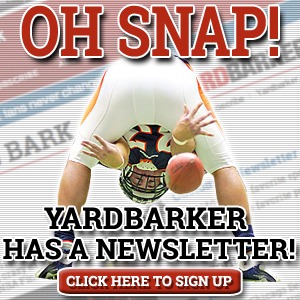 Latest Rumors
Best of Yardbarker

Today's Best Stuff

For Bloggers

Join the Yardbarker Network for more promotion, traffic, and money.

Company Info

Help

What is Yardbarker?

Yardbarker is the largest network of sports blogs and pro athlete blogs on the web. This site is the hub of the Yardbarker Network, where our editors and algorithms curate the best sports content from our network and beyond.