Found September 11, 2012 on Down and Distance:
PLAYERS:
Mark Sanchez
,
Jay Cutler
,
Aaron Rodgers
,
Andrew Luck
,
Peyton Manning
,
Matt Ryan
,
Tim Tebow
TEAMS:
New York Jets
,
Pittsburgh Steelers
,
Buffalo Bills
,
Denver Broncos
,
Chicago Bears
,
Green Bay Packers
,
Indianapolis Colts
,
Atlanta Falcons
,
New York Giants
,
Kansas City Chiefs
With week one now officially in the books, we can finally turn our sights on week two. For fans of some teams, such as myself [Buffalo], week two brings about a chance to see if your team really is as awful as they looked in week one. Buffalo, Philadelphia, Miami, Cincinnati and New Orleans fans I am looking at you. For others, such as New York Jets, Denver, Baltimore, Atlanta and Houston fans it is a chance to see if your team will continue to look impressive. Some might fall this week, while others rise. After one week and plenty of over-reactions, it is time to look onto week two. Want to know which three games you cannot miss? Which three will feature two teams battling it out until the end? Look no further. I present, my top three games of week 2. Big Ben will face off, at home, against the Mark Sanchez led New York Jets in this week's top game (Credit: REUTERS/Jason Cohn) 1. New York Jets at Pittsburgh Steelers – Sunday September 16 – 1pm: After coming off of a week one domination of the Buffalo Bills, the Jets will look to continue their impressive start against a team that has been known for their defense for, well, nearly forever. Quarterback Mark Sanchez looked as though he has improved his arm strength in the off-season and after week one was a top five quarterback in the league. Yes, that is based purely on statistics, but nonetheless he looked like a talented quarterback. The Jets were able to dominate the Bills through the air week one. Something they may not be able to do against the Pittsburgh Steelers in week two. Pittsburgh is coming over a road loss to the Manning-led Denver Broncos. After a slow start, both teams turned it on offensively in the second half and the Steelers looked to be unable to stop Manning and the Broncos. If the team plans to win against New York they will have to do a better job defensively. This game is important for two reasons. First, if the Jets win they will sit at 2-0 and the Steelers will fall to 0-2. With a tough schedule ahead of them with games against Baltimore (x2), Cincinnati (x2), at Oakland, vs Philadelphia, at New York Giants, vs San Diego and at Dallas the Steelers cannot afford to start out 0-2. Second, this game could have Wild Card implications. Yes, I am already talking about the Wild Card. Both teams play in the same conference and both teams could end up second in their divisions. A head-to-head victory would decide a tie breaker between these two teams should it come to that later in the year. Jay Cutler and his new additions at wide out face off against Aaron Rodgers and the Green Bay Packers on Thursday night (AP Photo/Nam Y. Huh) 2. Chicago Bears at Green Bay Packers – Thursday September 13 – 8:20pm: Of course this classic NFC North showdown would be in my top three games for week two and why not? Not only does it feature one of the oldest rivalries in the NFL, dating back to 1921, but it also showcases two teams with Super Bowl aspirations. Green Bay is coming off a hard fought loss to the San Francisco 49ers. For most of the game Aaron Rodgers seemed to be stifled by the 49ers defense. Green Bay's defense, despite giving up 30 points, looked better than last year's unit. Despite losing, the Packers did play one of the better teams in the NFC and most likely a playoff team in the 49ers. If the Packers want to continue their reign as winners of the NFC North they will have to get through Chicago first. In week one, Chicago won the game because of what they do best, defense. While the team's offense does look improved over past seasons, the defense was able to hold Andrew Luck and the Indianapolis Colts to 21 points. The defense also picked off Luck three times and forced two more fumbles. Despite the final score, the offense needs to improve if they plan on winning the NFC North. This game is important, not only because of the rivalry, but also because of the playoff implications. Whoever wins this game will have an upper hand in the race to win the NFC North. Furthermore, if the Packers fall to 0-2 they will put themselves further in a hole. Will the high scoring offense continue for the Atlanta Falcons as they face off against the Denver Broncos and Peyton Manning on Monday Night? (Robert Sorbo/Reuters Pictures) 3. Denver Broncos at Atlanta Falcons – Monday September 17 – 8:30pm: Both teams come off of impressive week one quarterback performances that led them to victory. However, Atlanta is relying on a player trying to prove he is elite, while the Denver is led by a quarterback hoping to show the NFL that he is still elite. One is young (or younger), while the other is old. Both have been considered disappoints in the playoffs and only one can win on Monday night. Matt Ryan and the Atlanta Falcons looked darn right dominant in week one. Granted, they were playing the Kansas City Chiefs but plenty of analysts picked Kansas City to win the West. The hurry up air attack of Matt Ryan led the team to victory. Ryan ended the game with 299 yards, 3 passing touchdowns and a rushing touchdown. Based on week one's performance, Ryan is proving that he is worthy of being considered elite. Of course he will have to continue to show us that he can sustain that level of dominance and, perhaps, win a playoff game or two. Denver came off a great performance as well. Anyone who was worried that Manning might be a bit rusty were wrong. Despite the slow first quarter, Manning quickly looked like his old self and the Broncos defense looked like the same team that helped Tim Tebow stay in games last year. If Manning can stay healthy, the Broncos should be a team that will be hard to beat. This game is significant because it just might show us whether or not week one was just a mirage for both teams. Is Manning really still this good? Is Matt Ryan ready to be elite? Will Denver be able to compete with another potentially elite team? Can the Falcons continue their high flying offense? Can Denver win on the road? All of these answer will be one closer to being answered on Monday night. I hope you are tuning in, because I certainly am. Disagree with this week's picks? Please feel free to leave a comment because I will certainly answer and entertain all viewpoints. Follow us on Twitter @DownandDistance Down and Distance Columnist - Brett Krummenacker @BKrumm_SKThe post Brett's Picks For The Top Three Games of Week Two appeared first on DOWN & DISTANCE.
Original Story:
http://sports-kings.com/downanddistan...
THE BACKYARD
BEST OF MAXIM
RELATED ARTICLES
FLOWERY BRANCH, Ga. Coming off a 19-for-26 performance for 253 passing yards and two touchdowns with no interceptions in an impressive 31-19 victory over Pittsburgh, Denver quarterback Peyton Manning showed the football world last Sunday that while he might have been playing his first game in two seasons, he is no less dangerous a player. On Monday night when he visits the Georgia...
According to a tweet from Cody Crouch, who, according to his Twitter profile, is a "helicopter photographer/reporter for the Denver Colorado TV news stations," what you see above is perhaps the very first ode to new Denver Broncos quarterback Peyton Manning in the medium of cornfield. Obviously, one member of the Colorado agriculture community is pumped up [...]
Making bold moves in the NFL takes courage. Whether it's deciding to send an all out blitz on 3rd and long when you need a stop or it's putting all your trust into a specific player that you feel can help your franchise win, it's the bold moves that make or break a team. The Denver Broncos and the Washington Redskins were two teams who made bold moves this offseason and if...
The Broncos went against the odds and signed Peyton Manning this off-season. The guy went out and played a hell of a game on Sunday night and how does the Greeley, Colorado community reward him? With this corn maze. What is it with corn maze athlete tributes? We showed you the Marshawn Lynch maze earlier in the summer, but this is getting out of hand. Just name a sandwich after the...
Peyton Manning helped lead the new-look Denver Broncos to a big win Sunday night. But while the new quarterback was establishing the start of his era in the Mile High city, one Broncos teammate made sure to pay respects to the team's old signal caller. Von Miller, the NFL's Defensive Rookie of the Year in 2011, picked up where he left off last season on Sunday night. The...
Peyton Manning's Broncos debut attracted one of the largest primetime NFL audiences in recent memory. The Week 1 Steelers/Broncos "Sunday Night Football" game drew a 16.5 final rating and 27.567 million viewers on NBC, up 8% in ratings and 7% in viewership from Cowboys/Jets last year (15.3, 25.766M), and up 10% and 9%, respectively, from Cowboys/Washington in 2010 (15.0, 25...
Peyton Manning's first start with the Denver Broncos arguably exceeded many people's expectations for him. There's no shortage of expectations for Matt Ryan and the Atlanta Falcons following their Week 1 performance. Manning and the Broncos visit Ryan and the Falcons on Monday night, with both quarterbacks looking to lead their teams to a 2-0 start. Returning from...
Peyton Manning is back, and it looks like he never left. If you want proof that he's the greatest quarterback of all time, watch his 4th quarter against the Steelers. He saw everything the defense was planning and he knew exactly how to stop it. The defense had no answer for the adjustments Manning was making on the fly. It sucks to lose on opening weekend, but half the teams...
DENVER -- Peyton Manning returned from a yearlong absence to lead four scoring drives, completing a go-ahead touchdown pass in the fourth quarter, and the Denver Broncos pulled away to beat the Pittsburgh Steelers 31-19 Sunday night. The NFL's only four-time MVP, who missed his final season in Indianapolis after undergoing a series of operations to repair a neck injury, Manning...
If an offense can't move the ball on first down in a football game, it sets the stage for a long night offensively, and it puts more pressure on the quarterback to convert 3rd and long situations. That is exactly what happened to the Pittsburgh Steelers last night in their 31-19 loss to the Denver Broncos in the Sunday night opener. While the game plan was to possess the football...
(Eds: With AP Photos.) By BARRY WILNER AP Pro Football Writer Yes, it's one game in a four-month season. Many teams that sizzle in September disappear in December. Yet the statements made by the 49ers, Cowboys, Redskins, Jets and Broncos cannot be ignored. Their performances screamed for attention in the opening week of the NFL schedule. Sure, their fans could be screaming...
NFL News

Delivered to your inbox

You'll also receive Yardbarker's daily Top 10, featuring the best sports stories from around the web. Customize your newsletter to get articles on your favorite sports and teams. And the best part? It's free!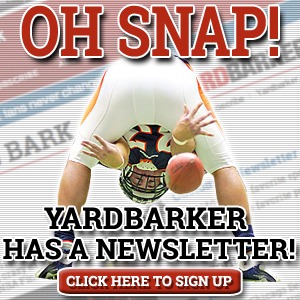 Latest Rumors
Best of Yardbarker

Today's Best Stuff

For Bloggers

Join the Yardbarker Network for more promotion, traffic, and money.

Company Info

Help

What is Yardbarker?

Yardbarker is the largest network of sports blogs and pro athlete blogs on the web. This site is the hub of the Yardbarker Network, where our editors and algorithms curate the best sports content from our network and beyond.