Found November 14, 2011 on BroncoTalk:
PLAYERS:
Tim Tebow
,
Lance Ball
,
John Fox
,
Chris Harris
,
Von Miller
,
Ryan Clady
,
Tamba Hali
,
Chris Clark
,
Britton Colquitt
,
Ryan McBean
,
Brodrick Bunkley
TEAMS:
Denver Broncos
,
Kansas City Chiefs
,
New York Jets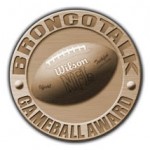 Broncos 17, Chiefs 10 — a hard-fought, rare win in Arrowhead Stadium is worth a lot of game balls, but we only have a handful to give out. Let's do that, BTer's.

Mike McCoy
The emergence of the Broncos' option offense is a direct result of offensive coordinator Mike McCoy doing what so many thought would be impossible for a professional NFL team: molding an offense to the strengths of quarterback Tim Tebow.
But it wasn't just the strengths of Tim Tebow that McCoy saw needed emphasizing: the entire offense was due with an overhaul after they surrendered 13 sacks in Tebow's first two starts. Enter the option, and a run-play ratio of 55:8. The players have bought in.
"It's something we saw," said running back Lance Ball. "We were real confident in our running game, with me, Willis, Knowshon, Tim (Tebow), we were all confident. They were kind of on their heels and didn't know what to expect. We just stayed with it and kept on punching."
I don't think the Broncos have any illusions of running the read option to the Super Bowl. I think they know NFL defenses will catch up with this — starting this Thursday against the New York Jets. But, on Sunday, the Kansas City Chiefs didn't stop it. The Kansas City Chiefs couldn't. Kudos to McCoy and John Fox for putting together a winning gameplan. – Monty

Chris Harris
I've been in love with this kid from the Miami game on. Nothing fancy this week, just 8 solid tackles coming out of a UDFA. The art of tackling is lost in the NFL, especially in the secondary. I've stated it before, Harris keeps 1st level successes by the offense at the 1st level. Watch out Champ, the rookie is gunning for your cornerback tackling title. – Josh Temple

Von Miller
This rookie is the real deal. 4 tackles and 3 assists, and 1.5 sacks…but most importantly, he hit Cassel and disrupted throws at least half a dozen more times. Cassel is going to have nightmares about Von Miller after this game; he couldn't do anything without doing it with our #2 draft pick threatening to hit him, or just flat out hitting him. After 9 games, he's at 8 sacks. With 7 games left, if he keeps up the current pace he should hit 16 sacks. That would be special, indeed, for any player, let alone a rookie. At this time Von Miller is the front runner for Defensive Rookie of the Year. – E. Halsey Miles

Ryan Clady
No sacks allowed, no holding penalties, no penalties period. Ryan had a very solid day against his nemesis Tamba Hali. This is also a bigger bravo for the entire offensive line. Hali is the one player Clady has always struggled against and other than one good tackle we didn't hear a peep. (Editor's note: Clady was replaced by Chris Clark late in the game; hopefully the big guy is healthy because he was definitely having a bounce-back game to that point.) – Josh Temple

Britton Colquitt
It was a battle of the Colquitts on Sunday and Britton did his best to make sure Matt Cassell was starting from inside his own twenty as often as possible. If anyone on the Broncos deserves to go to the Pro Bowl this year, it's Britton. – Mr. East
The Offensive Line
The offensive line as a unit gets a most deserved game ball.
Honorable Mentions:
Lance Ball Ball balled out in the absence of McGahee and Moreno.
Ryan McBean McBean had a solid game and made a number of plays.
Brodrick Bunkley See notes on McBean, above. The defensive line has really become a surprising strength at times for the Broncos.
Note: There is a poll embedded within this post, please visit the site to participate in this post's poll.
Original Story:
http://broncotalk.net/2011/11/26918/b...
THE BACKYARD
BEST OF MAXIM
RELATED ARTICLES
The Tim Tebow Foundation and CURE International are teaming up to build a children's hospital in the Philippines, where the Denver Broncos quarterback was born. The Tebow CURE Hospital in Davao City on the island of Mindanao, a particularly poor area of the Philippines, will be a 30-bed surgical facility focusing on orthopedics. The groundbreaking will be held in January and...
As the Denver Broncos fine-tune the playbook to fit Tim Tebow's style, they have become increasingly reliant on the ground game.
PFT Live: The Broncos ofense is being more taliored to Tim Tebow, so the team is running, running and running the ball only. (NBC Sports)
Does New York Jets cornerback Darrelle Revis think the option offense can work in the NFL?   Yes.Does he think Denver Broncos quarterback Tim Tebow can be successful at it? That's a negative."Yeah [the option can work], if you have … [visit site to read more]Jets Revis doesn't think highly of Tim Tebow - The Jet Press - The Jet Press - A New York Jets Fan Site - News, Blogs...
NFL head coaches do not specialize in being honest and forthcoming. Trying to get candor out of one of them is akin to trying to milk an anvil. This is why John Fox, head coach of the Denver Broncos, is today's hero. The honesty that somehow shot forth from his mouth wasn't even anything we all didn't already know -- but it's so honest, and thus, so refreshing, that...
Tim Tebow only completed two passes against the Chiefs on Sunday. It turned out one was all he really needed. The former Heisman Trophy winner connected with Eric Decker on a 56-yard touchdown pass in the fourth quarter, helping the Denver Broncos beat the Kansas City Chiefs 17-10 despite playing almost the entire game without their top two running backs. Willis McGahee went down...
In his prime, Mark Brunell was one of the league's most mobile quarterbacks. Now the 41-year-old simply plays in practice, performing the Tim Tebow role in drills to help the Jets prepare for Thursday's showdown with the Broncos.
Kansas City _ The Broncos are dressing three quarterbacks for their game against the Chiefs with Tim Tebow the starter and veterans Brady Quinn and Kyle Orton as the backups. Quinn is the first quarterback in if Tebow gets the wind knocked out of him. Orton, the Broncos' starting quarterback from the season opener of 2009 and on through the first five games of this season, has...
NFL News

Delivered to your inbox

You'll also receive Yardbarker's daily Top 10, featuring the best sports stories from around the web. Customize your newsletter to get articles on your favorite sports and teams. And the best part? It's free!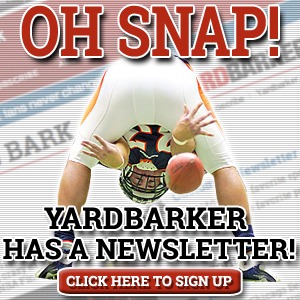 Latest Rumors
Best of Yardbarker

Today's Best Stuff

For Bloggers

Join the Yardbarker Network for more promotion, traffic, and money.

Company Info

Help

What is Yardbarker?

Yardbarker is the largest network of sports blogs and pro athlete blogs on the web. This site is the hub of the Yardbarker Network, where our editors and algorithms curate the best sports content from our network and beyond.