Found August 29, 2012 on Denver Sports Chat:
Denver, CO. The Denver Broncos, their fans, and everyone who follows the NFL at all knows what the plan is for the forseeable future. It's no secret to anyone, this franchise paid $100 million to a certain someone for him to run the show and hopefully take this team to the promised land in early February. "Plan A" for the next five years involves letting #18 do his thing, take complete control of the Denver Broncos offense, and make them legitimate contenders in the AFC beginning no later than now. Denver has obviously pushed all of their chips to the middle of the table, and made it quite apparent that they are committed to doing what it takes to win the big prize at the end of the rainbow. They have invested their immediate future in a QB who missed all of 2011, which is typically a move that would not be recommended for any team to make. But this QB has a unique drive and hunger to still be great, and all indications point to him being plenty motivated to do great things as a Bronco. But as well know, injuries do happen, and something along this 2012 voyage could change the course of the Denver Broncos season. If for some reason Peyton gets nicked up, or even worse, suffers a long-term injury at some point this year, what is "Plan B"? Well, the Broncos front office made it clear that there really isn't a "Plan B". However, if #18 is unable to play for any length of time, who will be the guy under center and the next QB in the chain of command? That answer should be announced in the next few days, but the best option to back up the future Hall of Famer should be rookie Brock Osweiler.




Brock Osweiler was drafted back in April with one real purpose in mind. He was chosen to hopefully be the guy to run the Denver Broncos offense in roughly five years or so. The rookie from Arizona State showed a lot of raw ability in college, and a pro caliber arm as well. Really nobody thought he was ready to be an NFL QB now, as that was the main reason he wasn't a first round pick. At 6'7″, his physical attributes are quite impressive, and being in a situation where he can sit and learn was really ideal. He could not have landed in a situation that is more perfect for what will be best for him long-term. Sitting in meetings, taking practice snaps, and talking the game with Peyton Manning should teach this kid what being a pro is all about. Shortly after signing Manning, the Broncos acquired Caleb Hanie. Obviously the idea here was bringing in a fairly cheap veteran who has taken snaps in real NFL games. Hanie has been in Chicago for a few years, and has been thrust into some very meaningful games the last couple of seasons. His experience was why he was brought here, and if something unfortunate happened to Peyton, Hanie could at least run the offense with some success. But upon watching Hanie in Chicago and seeing what he has done in Denver so far, one thing has become painfully clear. He really isn't very good. Yes, he has experience in the NFL, but quite honestly more often than not, he has looked….awful. When he had to start late last year for the Bears, the team fell apart around him. Backup QB's are not expected to run the offense as well as the starter, but something close is to be expected. Hanie's decision-making has been erratic, and his arm is just ok. The bottom line is, he didn't do anything in the windy city to impress anyone. Has he looked any different in Denver? No, he hasn't. Last weekend, he finally made a few nice plays, including a TD pass to Joel Dreessen versus San Francisco. But too often throughout his brief career, he just looks average at best, and nothing about his game screams that he would be the next best option if Manning goes down.
I do understand that handing the backup job to Brock Osweiler now would be a risky proposition. He won't be 22 years old until November, and that has to scare Denver's men in charge, and their fans as well. But in his brief time on the field in these preseason games, he has already shown why the Broncos selected him four months ago. He has an outstanding arm, is very athletic for being a big guy, and doesn't shy away from pressure in his face. Aside from previous NFL experience, there isn't a single thing that Hanie has over Osweiler at this point. Bottom line is, the Denver Broncos should release Caleb Hanie. For those fans who say we need an experienced backup in case Manning gets hurt, I say look at what happened in Chicago last year. It didn't work. It's not like the Broncos will be serious contenders if #18 is unable to play anyway. With this being said, Osweiler should be the second stringer in Denver, with Adam Weber as the emergency third stringer. If worse comes to worse, and Osweiler has to play at any point this year, it will be some really valuable experience for him down the road. And what if he did play, and the team won some games? His upside and ceiling is so much higher than Hanie's, it's not even comparable. The Broncos know that if Peyton were to get hurt for any serious length of time, the season is probably not going to be a successful one. So why not give the backup job to the rookie, and potentially see what he can do if given the opportunity? By keeping Hanie, Denver is just stunting the growth of the QB who they will be relying upon when Manning hangs up his cleats.
Denver Sports by J Simp





The post Denver Broncos should hand backup QB job to Brock Osweiler appeared first on Denver Sports Chat.
Original Story:
http://feedproxy.google.com/~r/Denver...
THE BACKYARD
BEST OF MAXIM
RELATED ARTICLES
Denver Broncos head coach John Fox pretty much got his Christmas present early in the form of Peyton Manning this off-season. However, Manning alone won't work Christmas miracles, and Fox feels the entire team has a long way to go. After Manning lit up the 49er's defense last week for two first quarter touchdowns, Fox reflected on his entire team's performance. In an interview...
  Well, you know your team didn't cut any recognizable names when the main headline of every news story relating to the Broncos' roster cutdown on Monday starts off with "Long snapper Lonie Paxton released by the Broncos in roster trim." The Broncos cut 12 players, including placing starting LDE Jason Hunter on injured reserve. The players that the Broncos...
The cadence rings out every time Peyton Manning is done decoding the defense and J.D. Walton is about to snap him the ball ''Hurry! Hur-ry!'' Call it the Denver Broncos' unofficial mantra for 2012. They're in quite the rush this year. They're running the no-huddle at altitude. They're mixing the four-time MVP's precision passing prowess with...
Continuing our focus on the least impressive division in the AFC, we now take a peak at the new-look and highly anticipated Denver Broncos.No team in the NFL made a bigger splash in the offseason than Denver, as executive vice president John Elway quickly emptied he wallet in order to bring Peyton Manning to the Mile High City.There is a new sheriff in town, folks, and he has arrived...
Denver Broncos News The Denver Broncos are going to have to send a lot more players packing before opening day.  A quick look at the roster shows they still have six running backs on the roster, even after parting ways with Xavier Omon.  Other positions are similarly crowded, so it will be interesting to see how this plays out. [DenverBroncos.com] The depth on defense may be somewhat...
Denver Broncos News There are four more quarters of play for the Denver Broncos this preseason, then its for real.  Sadly, its also four more quarters for nearly half the current roster, then its unemployment. [DenverBroncos.com & Denver Post] With cut day rapidly approaching this Friday, Week 1 of the 2012 NFL season is also nearly here. Preparations for the Pittsburgh Steelers...
Undrafted rookie Aaron Brewer acknowledges he was surprised to beat out 12-year veteran and three-time Super Bowl champion Lonie Paxton for the Denver Broncos' long-snapping job. Brewer was perfect on 18 snaps in the preseason and displayed his athleticism that allowed him to record 15 special teams tackles at San Diego State, including a-half dozen as a senior last year. That...
Denver Broncos quarterbacks Caleb Hanie and Adam Weber at training camp in 2012. (BroncoTalk.net photo/Kyle Montgomery) It is the making of nightmares. Fouler than any stench, darker than the deepest abyss. Preseason overtime. The Denver Broncos and Arizona Cardinals stood on the precipice of such despair with less than 15 seconds left in the fourth quarter of their 2012 Week Four...
Denver Broncos News Adam Weber has been impressive playing for the Denver Broncos in each of the last two preseasons, but he just doesn't seem to get any consideration upwards on the depth chart.  Meanwhile, Brock Osweiler is continuing to be unimpressive against a bunch of defensive players who will soon be cut from the Arizona Cardinals roster, but he did have that one great...
Broncos News

Delivered to your inbox

You'll also receive Yardbarker's daily Top 10, featuring the best sports stories from around the web. Customize your newsletter to get articles on your favorite sports and teams. And the best part? It's free!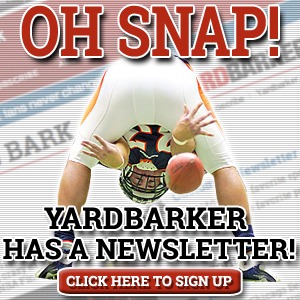 Latest Rumors
Best of Yardbarker

Today's Best Stuff

For Bloggers

Join the Yardbarker Network for more promotion, traffic, and money.

Company Info

Help

What is Yardbarker?

Yardbarker is the largest network of sports blogs and pro athlete blogs on the web. This site is the hub of the Yardbarker Network, where our editors and algorithms curate the best sports content from our network and beyond.