Found March 26, 2012 on Waiting For Next Year:
According to a report from Mary Kay Cabot, the Browns did make some form of an attempt to lure Pierre Garcon to Cleveland. As we all know, Pierre Garcon ended up the same place the second pick in the NFL draft ended up. Also, as we've discussed ad nauseum, it has been a bit frustrating for Browns fans to see their 4-12 team "sit idly by" as the top players in free agency get snapped up. But let's get down to facts. Pierre Garcon is in Washington because they overpaid to get him there. Pierre Garcon is overpaid because his stats don't justify the money he was paid.
Could Pierre Garcon break out and become worth every penny that the 'Skins are scheduled to pay him over the next five years? Sure, but it isn't likely. First, let's look at Garcon's stats. Garcon was 27th in the league in receiving yards in 2011. It was a career high for a horrible Colts team missing Peyton Manning. Garcon was playing opposite Reggie Wayne who was suffocated all year long by opposing defenses. Even still, Reggie Wayne carried the load with his 960 yards and 75 catches. Garcon kept pace pretty well with 70 catches for 947 yards and beat Wayne out for touchdowns 6 to 4.
Garcon could thrive in Washington with presumed new quarterback Robert Griffin III extending plays and tossing bombs over the top to the speedy receiver. Certainly if the Browns landed those two, that's what I'd be pitching as the best-case scenario. At the same time, you don't really want to put all your eggs in a best-case scenario with a career #2 receiver and even the best rookie QB prospect because of the money the Redskins will have to pay Pierre Garcon.
The Redskins gave him an $11 million signing bonus which will count $2.2 million against the cap per year over the life of the deal. The contract will look something like this from a cap perspective. Keep in mind there could be some other bonuses or incentives that I am not showing here.
Salary Bonus Cap # 2012 2.1 2.2 4.3 2013 5.6 2.2 7.8 2014 7.1 2.2 9.3 2015 7.1 2.2 9.3 2016 7.6 2.2 9.8
Now, again, maybe Pierre Garcon will earn every penny of that deal. The Redskins will have a decision to make before the 2014 season whether or not Garcon is worth keeping on. They will either keep him at a cap number of $9.3 million or they will cut him at a cap number of $6.6 million to save $2.7 million. The 2014 cap number is expected to jump because of the timing of NFL TV deals too, but it still seems like a big financial risk.
It is so easy to say that it would be worth the risk because Garcon is still better than any receiver the Browns have had playing for them since 1999 in all likelihood. My eyes opened wide just typing that last sentence because short of Kevin Johnson and one season of Braylon Edwards it isn't even a question. Despite those kinds of realizations, it doesn't make overpaying Pierre Garcon a good idea.
The fact is, right or wrong, the Browns didn't know just how bad their receivers were going into last year with Pat Shurmur's first year at the helm. They all but admitted that giant mistake when they cut Brian Robiskie mid-season, but by then it was too late. No excuse this year though. Tom Heckert has only drafted two wide receivers in his first two years with the Browns between 2nd rounder Greg Little and 6th rounder Carlton Mitchell.
Even if the Browns were smart not to overpay Garcon, this is the year where the Browns must draft a receiver or two. Greg Little dropped some passes his rookie year, but if you project him to take even a marginal step forward, he'll be putting up numbers comparable to what Garcon did a year ago in expanding on 61 catches for 709 yards and two touchdowns.
It is the only way the Browns can absolve themselves to the fans for not overpaying in free agency for known entities. Your move, Tom Heckert.
Original Story:
http://www.waitingfornextyear.com/201...
THE BACKYARD
BEST OF MAXIM
RELATED ARTICLES
The general manager for the Cleveland Browns Tom Heckert started the support yesterday telling the media the Browns "are fine with Colt McCoy as our quarterback." The PR build up of Colt McCoy continued yesterday on Cleveland Browns radio show when Mike Holmgren told Vic Carucci he recently called Colt to offer support and clear up the media speculation about the Browns...
I know how stressful it can be to watch big names fall off the boards with the Browns being so quiet. (Apologies to Frostee Rucker.) I've gotten caught up at various times during the past two weeks trying to balance between my desire to see the Browns get better and not get held up by some player agent for way too much money. I'll admit that I sometimes want to crack jokes on...
Cleveland Browns general manager Tom Heckert confirmed reports that the team has had multiple inquiries regarding a potential trade up to the fourth-overall spot in the upcoming NFL Draft, a position currently in possession. Heckert, via The Plain Dealer's Mary Kay Cabot, stated that while the team will likely stay in their current position, as opposed to trading down for the second...
The 2012 NFL Draft is just around one month away, and the Cleveland Browns currently possess the No. 4 overall pick. While there remains the possibility that they could trade that pick and move down in order to stockpile more picks later in this year's draft as well as next year, it appears as if the Browns would be wise to hold onto this selection. But which route...
A few weeks ago, news broke that the St. Louis Rams and the Washington Redskins agreed to terms on a trade that would send the 2nd overall pick in the 2012 NFL draft to the Redskins. Shortly after hearing that, Browns president Mike Holmgren released a statement on the trade saying it was unfair and unjust because of the relationship that the Redskins staff had with the Rams staff...
After failing to get RG3, the Browns are now circling their wagons around Colt McCoy.
CLEVELAND (AP) -- The Browns have holes all over the field. On Monday, they got four more draft picks to help plug them. The NFL awarded Cleveland four compensatory picks in this year's draft, giving the Browns a total of 13, a baker's dozen of choices to revamp a talent-starved roster with offensive and defensive needs. The club gained two sixth-round picks (Nos. 204 and...
As expected, the Dallas Cowboys and Washington Redskins have formally challenged the NFL by filing a grievance protesting the league's decision to penalize both teams for 2010 salary cap practices, a punishment that will cost the teams a combined $46 million in cap room over the next two seasons. The NFL confirmed Monday that the grievance will be heard by Professor Stephen...
For the seniors like Cameron Saddler and Mike Shanahan, Bobby Engram is their fourth position coach in five years.
NFL News

Delivered to your inbox

You'll also receive Yardbarker's daily Top 10, featuring the best sports stories from around the web. Customize your newsletter to get articles on your favorite sports and teams. And the best part? It's free!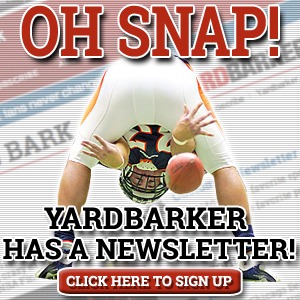 Latest Rumors
The Backyard

Today's Best Stuff

For Bloggers

Join the Yardbarker Network for more promotion, traffic, and money.

Company Info

Help

What is Yardbarker?

Yardbarker is the largest network of sports blogs and pro athlete blogs on the web. This site is the hub of the Yardbarker Network, where our editors and algorithms curate the best sports content from our network and beyond.