Found September 06, 2013 on Waiting For Next Year:
PLAYERS:
Brandon Weeden
,
Jason Campbell
,
Brian Hoyer
,
Trent Richardson
,
Bobby Rainey
,
Dennis Johnson
,
Chris Ogbonnaya
,
Josh Gordon
,
Greg Little
,
Davone Bess
,
Travis Benjamin
,
Josh Cooper
,
Norv Turner
,
Jordan Cameron
,
Gary Barnidge
,
MarQueis Gray
,
Keavon Milton
,
Joe Thomas
,
John Greco
,
Alex Mack
,
Mitchell Schwartz
,
Shawn Lauvao
,
Jason Pinkston
,
Garrett Gilkey
,
Rashad Butler
,
Patrick Lewis
,
Martin Wallace
,
Desmond Bryant
,
Phil Taylor
,
Billy Winn
,
Armonty Bryant
,
John Hughes
,
Paul Kruger
,
Craig Robertson
,
Jabaal Sheard
,
Barkevious Mingo
,
Quentin Groves
,
Tank Carder
,
Brandon Magee
,
Paul Hazel
,
Joe Haden
,
Buster Skrine
,
Leon McFadden
,
T.J. Ward
,
Tashaun Gipson
,
Johnson Bademosi
,
Josh Aubrey
,
Billy Cundiff
,
Phil Dawson
,
Spencer Lanning
,
Mike Holmgren
,
Terry Francona
TEAMS:
Miami Dolphins
,
Cleveland Browns
,
San Francisco 49ers
,
Cleveland Indians
,
Louisiana-Monroe Indians
Welcome to "Keepin' It Real (and sometimes funny)," our new weekly column highlighting relevant events in Cleveland sports, and how we might feel about them; the brainchild of the man behind Twitter's @NotSCCleveland. We will take a dive in to the good, the bad and the downright head-scratching moments that have been the last week in Cleveland sports. Do enjoy, and please do not hesitate to provide feedback. With the preseason now in the rear view, and the Miami Dolphins in our sight, we will jump right in and give some grades to the 53 men who we (for now, anyway) call our beloved Cleveland Browns. GRADING THE BROWNS BY POSITION…………….. Quarterbacks: Brandon Weeden, Jason Campbell, Brian Hoyer The Browns worked hard in the offseason to create depth at the QB position. Mission accomplished. Jason Campbell is a solid backup, and Brian Hoyer might be the best third-string QB in the league. The question remains: can the starter be a viable quarterback in the NFL? This season will most likely be his only opportunity to prove it. Brandon Weeden has an experienced coaching staff and a friendly system to work with. We'll see if that will translate to results on the field. Grade: B- Halfbacks: Trent Richardson, Bobby Rainey, Dennis Johnson, Chris Ogbonnaya After Trent Richardson, it's scary. Ogbonnaya is the team's fullback, but is versatile enough to backup at RB if need be. But then what happens at fullback? Bobby Rainey is a nice name (for an undrafted free agent), but he's still unproven, as is Dennis Johnson. Let's just hope Trent can survive a large workload this season. Grade: B- Wide Receivers: Josh Gordon (suspended first two games), Greg Little, Davone Bess, Travis Benjamin, Josh Cooper With Gordon suspended for the first two weeks, keeping just four receivers is a concern of mine, especially with how much the Browns plan to be in the shotgun in Norv Turner's offense. Jordan Cameron has the versatility to line up at wideout if needed, but depth will still be an issue through the first part of the season. Grade: C+ Tight Ends: Jordan Cameron, Gary Barnidge, MarQueis Gray, Keavon Milton This is a make-or-break season for Jordan Cameron, and conventional wisdom says if he can't make it in a Norv Turner/Rob Chudzinski offense, he can't make it period. I don't mind Barnidge as a No. 2 TE. The other UDFA's? Who knows? Grade: B- Offensive Line: Joe Thomas, John Greco, Alex Mack, O'Neil Cousins, Mitchell Schwartz, Shawn Lauvao (injured), Jason Pinkston (injured), Garrett Gilkey, Rashad Butler, Patrick Lewis, Martin Wallace Solid starting group, even with the slight hole at right guard. Depth will improve with the return of Lauvao and Pinkston, but even so, this is the most talented position group offensively. Grade: B+ Defensive Line: Desmond Bryant, Phil Taylor, Athabya Rubin, Billy Winn, Armonty Bryant, Ishmaa'ily Kitchen, John Hughes. Easily the best position group on either side of the ball. Great depth and a ton of versatility. Grade: A Linebackers: Paul Kruger, D'Qwell Jackson, Craig Robertson, Jabaal Sheard, Barkevious Mingo, Quentin Groves, Tank Carder, Brandon Magee, Paul Hazel Love the OLB's. Shaky on the ILB's, other than D'Qwell. Rushing the passer should be a strength of this unit, but stopping the run (which is the main responsibility of ILB's) could be an issue. Grade: B Cornerbacks: Joe Haden, Buster Skrine, Chris Owens, Leon McFadden An All-Pro leads the group, and then the talent drop-off is staggering. Is Buster Skrine really a starting cornerback in the NFL? Can Chris Owens stay healthy? Will Leon McFadden please look 1,000,000 times better than he did in the preseason? We'll find out this Sunday at 1 p.m.! Grade: C Safeties: T.J. Ward, Tashaun Gipson, Johnson Bademosi, Josh Aubrey I'll make this short: I like the strong safeties and I'm not sold on the free safeties. Grade: C+ Kicker: Billy Cundiff Phil Dawson for Billy Cundiff. Enough said. Grade: D- Punter: Spencer Lanning Lanning has the leg to kick it long, and is also a decent positional punter. Did I mention he kicks long field goals in emergency situations? I'm a fan. Grade: B+ And now, your… Browns Quote of the Week: "I think what Phil (Dawson) did for the organization for years justifies the affection that people have." – Browns CEO Joe Banner on former kicker Phil Dawson. If anything, it certainly magnifies each and every one of Billy Cundiff's kicks this season. Browns Tweet of the Week: Gotta give props to @scheiner_alec, @KevinGriffin425 and @BrentStehlik – fan engagement has improved 1,000,000 percent since their arrival. — NOTSCCleveland (@NOTSCCleveland) September 4, 2013 Have to steal one of my own here. These three individuals, along with their respective staff members, have done a tremendous job reaching out to fans, and bridging the wide gap between fans and the organization that was left over from the Mike Holmgren administration. **** TACKLING THE TRIBE'S ATTENDANCE PROBLEM………… Consider the following fact: The Columbus Clippers, the Indians AAA affiliate, averaged 9,212 fans per home game this season. On Tuesday night, in the middle of a playoff race, facing a team also involved in the same race, the Cleveland Indians played in front of 9,962 fans at Progressive Field. There are certainly many theories on why the Indians can't draw a respectable crowd. Some say that Cleveland is simply not a baseball town. I'll agree with that. If you had to rank the three professional sports, I'd say baseball would probably be the least favorite for most fans. Part of that is a Cleveland problem, part of that is an MLB problem. Still, this is the same franchise that sold out 455 games in a row. I don't care if the Browns weren't in town for the majority of those games … 455 games in a row at 43,000 fans per game is impressive. That's not a stat for a "non-baseball town." To me, there's a very clear disconnect between the Indians and their fans. It's a disconnect that begins and ends with ownership. Since arriving in Cleveland, the Dolan family, right or wrong, has the reputation of being in this thing to make money first. If the team wins, well, that's a bonus. But it's mainly about generating profit on a yearly basis. For a team that hasn't won the World Series since 1948, that just simply doesn't fly with its fans. To be sure, the Dolans enhanced their financial allotment to Mark Shapiro, Chris Antonetti and Terry Francona in the offseason. Still, after selling family-owned television network Sportstime Ohio to Fox Sports for $230 million, the end result was a $10 million bump in payroll. The real challenge, as I've stated before, will be to see if the financial commitment extends to future years, or if this was a one-time deal. Clearly, the fans are apprehensive, at best. Indians Quote of the Week: "Every four or five years, if we can have a shot at the World Series like we did in '07 and compete for the playoffs like we did in '05, that's as good as it gets." – Indians Owner Larry Dolan on August 6, 2009. And we all wonder why there's an attendance problem at Progressive Field. To make it simple, Larry, can the fans simply show up "every four or five years" you expect to contend? Indians Tweet of the Week: Catch the Tribe vs. the O's in a key Wild Card matchup at 7:05PM on @SportsTimeOhio, @WTAM1100, @WMMS, or @MLBTV! pic.twitter.com/XYebm1FdWF — Cleveland Indians (@Indians) September 4, 2013 Two guys and a whole bunch of seats … they believe! 2013 BROWNS PREDICTION………….. If you follow on twitter, you may have noticed that I'm asked this question at least five times a day: "What do you think the Browns record will be this year?" I actually think it's a small accomplishment that my answer has remained the same from the end of the draft, through rookie mini-camp, OTAs, and training camp. I guess that means there haven't been any huge, depth shattering injuries to this point (knock on wood … knock on wood). In short, I believe the Browns are going 7-9. Why 7-9? Well, for a number of reasons. First and foremost, this is another very young team with a brand new coaching staff. Those kinds of teams typically don't march to the Super Bowl in their first season. The Browns will be improved at almost every starting position. Most starters remain from last year, but this is another year into their development, and they're finally in aggressive systems that should take advantage of their various strengths. The issue will be depth, especially at RB and in the secondary. Those are major issues, and the drop off is significant between starters and bench players. I'm honestly taking the Joe Banner approach this season. I want the Browns to win every game, but I'll settle for watching an aggressive, physical team on the rise. That will get me through this year. With plenty of cap room (that they'll have to spend per the CBA) and a number of draft picks, next offseason should be the starting point of when we can expect this team to contend. PHOTO OF THE WEEK: Talk about learning how to look off receivers! That's what I'm talkin' about, Brandon! READER QUESTIONS… Are taking a week off, and will return following the season opener. Let's hope we're all in a good mood by then. Until next week… Adam is a lifelong Cleveland sports fan who has witnessed his share of heartbreak along with the rest of Northeastern Ohio. A Browns season ticket holder who also attends several Indians and Cavs games each year, Adam has developed a mentality that it's better to laugh about it than cry. It's in that spirit, and through his love and devotion to Cleveland, that he's developed a comedic outlook toward our sports teams. Adam is a journalism/mass communications graduate of St. Bonaventure University. You can follow him on Twtter at @NotSCCleveland.
Original Story:
http://www.waitingfornextyear.com/201...
THE BACKYARD
BEST OF MAXIM
RELATED ARTICLES
Trent Richardson. Brandon Weeden. Joe Haden. We know these guys are absolutely critical to any progress the Browns can hope to have this upcoming season. That much is obvious. But, what about the not-so-obvious? As we get ramped up for Miami on Sunday, after watching the four preseason games, reading press conference transcripts, and having a lot of time to think, here are five guys...
The Browns released their injury report Friday afternoon, and there was a new name on the list. Defensive lineman Ahtyba Rubin did not participate in practice with a calf injury. Defensive back Buster Skrine was also listed as questionable with his shoulder injury. Friday's report: - G Shaun Lavauo (ankle) OUT - LB Barkevious Mingo (lung) OUT - DL Ahtyba Rubin (calf) limited participation...
The Cleveland Browns take on the Miami Dolphins at home on Sunday.  Who is in?  Who is out?  Find out, in your Cleveland Browns Week 1 injury report. The Browns will be without their No. 6 overall pick in the 2013 NFL draft, Barkevious Mingo, who is coping with a bruised lung.  Mingo, who injured his lung during the Browns' preseason tilt against the Lions, was limited participation...
Browns rookie linebacker Barkevious Mingo has been cleared to play and is expected to make his NFL debut this week after being sidelined with a bruised lung. Mingo was injured during an Aug. 15 exhibition against Detroit while covering a kickoff. He experienced shortness of breath, spit up some blood on the sideline and was hospitalized for two days. He practiced last week but...
Earlier this week, we heard from Craig on where the bar is set for the 2013 Cleveland Browns. Given that expectations and predictions are undoubtedly different, we here at WFNY provide you with what we feel will happen between today and the conclusion of the regular season. Do enjoy. 1. Fill in the blanks: Trent Richardson will play ___ games and finish with ____ yards and ____ total...
(Eds: With AP Photos.) By TOM WITHERS AP Sports Writer The buildup has almost always been followed by the letdown. The Browns' season opener, treated by Cleveland fans with the same anticipation as kids awakening on Christmas morning to wrapped packages under the holiday tree, has brought mainly misery to this football-frenzied city since the franchise returned to the NFL as...
This is the time of the year when grocery and liquor stores post their best sales since January for food and beer because football is back, baby. Try-outs are no longer the focus for NFL teams as they look towards another goal, the playoffs. There's no question that the ultimate destination is the Super Bowl, but 12 out of the 32 NFL squads must first qualify for the most highly...
Publisher Nick St. Denis, associate editor Dan Begnoche and senior contributor Sean Donovan pick the Miami Dolphins' road battle with the Cleveland Browns.Sean's take:As silly as it is to call a Week 1 game a must-win, considering the next four games on the Dolphins' schedule, a loss to the Browns has the potential to doom the expectation-laden 2013 season before it gets...
The Cleveland Browns and the Miami Dolphins kick off their 2013 seasons against each other in Cleveland on Sunday. Both teams are going into the season with playoff expectations and plenty of hype, so with two similar teams facing off it could come down to a last second field goal or miraculous play. The little things matter in games like this, especially certain matchups on the...
The first week of the 2013 NFL season has finally arrived and the Miami Dolphins will kickoff their campaign with a matchup against the Browns in Cleveland.  Since the schedule was released, there has been a lot of debate in regards to this Dolphins-Browns tilt mainly due to the fact that the outcome will have a significant impact on Miami's season. Considering the four...
Click on the photo for the sexiest NFL WAGs of 2013 From Aaron Rodgers to Jordan Cameron, it doesn't matter if you are a former MVP or a backup TE with the Cleveland Browns, landing a beautiful woman is just something that NFL players do. It is almost second nature to them.  But some do […]
You know I was really trying to hide my exasperation at yet another piece of information with little or no relevance being treated like an earth shattering revelation. How did I do? The more surprising aspect of this news wasn't that former UNC WR Greg Little was given $20,000 by an agent or that Jennifer Wiley was involved. That sort of thing goes on all the time according to...
NFL News

Delivered to your inbox

You'll also receive Yardbarker's daily Top 10, featuring the best sports stories from around the web. Customize your newsletter to get articles on your favorite sports and teams. And the best part? It's free!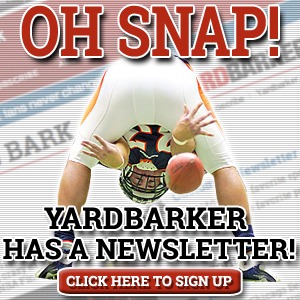 Latest Rumors
Best of Yardbarker

Today's Best Stuff

For Bloggers

Join the Yardbarker Network for more promotion, traffic, and money.

Company Info

Help

What is Yardbarker?

Yardbarker is the largest network of sports blogs and pro athlete blogs on the web. This site is the hub of the Yardbarker Network, where our editors and algorithms curate the best sports content from our network and beyond.