Found September 26, 2012 on Fox Sports Ohio:
PLAYERS:
Trent Richardson
,
Ray Lewis
,
Brandon Weeden
,
John Harbaugh
,
Joe Flacco
,
Ed Reed
,
Ray Rice
,
Joe Thomas
,
Brad Childress
,
Mohamed Massaquoi
,
Alex Smith
,
Pat Shurmur
TEAMS:
Cleveland Browns
,
Baltimore Ravens
BEREA, Ohio (AP) -- Once he's handed the ball on Thursday night, Trent Richardson knows what's next. Hall of Fame-level contact. "Ray Lewis is going to come at me," the Browns rookie running back said, "and I'm going to come right back at him. That's football." Richardson, quarterback Brandon Weeden and Cleveland's other rookies are about to face the toughest test of their budding careers when the winless Browns visit Baltimore, one of the league's most hostile stadiums where the Ravens have won 12 straight, 20 of 21 and where visitors are not welcomed. Play at your own risk. "You have to be on your A' game and be ready to rock and roll," Weeden said Wednesday. Or, get rocked and rolled -- on national TV. It's tough to play on the road in a normal week, but the Browns have only had two days to prepare for the Ravens (2-1), who are coming off a last-second win over New England on Sunday night. Baltimore has won eight straight over Cleveland under coach John Harbaugh and some of the Ravens have posted some of their best stats at the expense of the Browns. Ravens quarterback Joe Flacco has never lost to Cleveland, going 8-0 the past four seasons. Safety Ed Reed has more interceptions (10), return yards (356) and touchdowns on picks (three) versus the Browns than any other opponent, and running back Ray Rice has averaged 118.5 yards per game against Cleveland. And when they're at home, the Ravens are a predatory bird. "It's one of the steeper tests in the NFL when you talk about playing in Baltimore," Browns Pro Bowl tackle Joe Thomas said. "And it's a night game and on national TV, so the crowd is going to be that much louder and more into it. It's going to be difficult to hear in the huddle and on the line. Throw in a great defense and the Hall of Fame guys that they have and it adds up to a tough task." There's no doubt that the odds are stacked high against the Browns, who are 13-point underdogs. But Richardson believes they can hold their own against an AFC North power. "It's another ballgame for us," he said. "People say that we don't have a chance, but I know we've got a chance. If everybody straps up their jersey, step up their pads, we've still got a chance against them. I don't care what they say. Lot of folks sleep on us. When people fall asleep on us, that's when we come with our A-game." Cleveland is coming off a C-minus performance last week against Buffalo. After falling behind 14-0, the Browns rallied but came up short and lost their ninth straight game dating to last season. As the final seconds ticked off, thousands of Bills fans celebrated like they were back home in Orchard Park. Fortunately for the Browns, the short week has allowed them to move on quickly from a stinging defeat. "Physically, guys are a little sore," Weeden said. "Mentally, it's nice because you want to play as fast as you can after a loss. If you win, you'd rather have some time off. If you lose that game it's nice to get out and play as soon as possible. Guys are eager to get back out and compete again." Weeden threw for 237 yards against the Bills, but he had two interceptions in the fourth quarter as he tried to rally the Browns. During his postgame news conference, Weeden said he played a "solid" game, but as he left the podium, the 28-year-old felt realized what he said came across poorly and made him look selfish. Like one of his errant throws, he made a comment he'd like to have back. "I thought about it before I even walked out the room," he said. "First and foremost, the most important thing is winning the game. I didn't do enough to win the game, so I didn't play well enough. I shouldn't have said I played well. I didn't play well. I felt comfortable. I felt good. I just didn't do enough to win the game. If we won by one, I would have said I played all right. I should have started with, No, we didn't win the game, so it doesn't matter.'" Richardson, too, wishes he had played better. After rushing for 109 yards the previous week at Cincinnati, he managed just 27 on 12 carries against the Bills, who made it a priority to stop him. He's sure to get the same treatment from the Ravens and their cast of hard hitters led by Lewis and Reed. Richardson has respect for the Ravens, not fear. "It's going to be an honor just to be on the same field with Ray Lewis," he said. "I looked up to him for years. I still look up to him, especially to his leadership and how he handles stuff. But you know, it's going to be like another game. I'm going to play like it's my last game and go out and give all I can." Richardson is saying all the right things, but he's never been lined up in the backfield with No. 52 staring back at him or Baltimore's No. 20 waiting downfield. As Browns offensive coordinator Brad Childress pointed out, there's no substitute for playing the Ravens. "You don't get it until one of those guys gets right in your grill and then you get it," he said. "Ray himself, you've got to witness that to experience it." Thomas has been there. He hasn't won against Baltimore since his rookie season in 2007 and has seen young players unravel at the sight of Lewis and Reed. "They are phenomenal Hall-of-Fame guys," Thomas said. "You've just got to be careful not to let their names beat you. They're great players and you've got to respect them, but you can't go out there and be afraid of them. Brandon and Trent understand that." NOTES: WR Mohamed Massaquoi did not practice because of a hamstring and it's unlikely he'll play Thursday. TE Alex Smith also remains sidelined with a concussion. ... S Ray Ventrone was chosen as the Browns' fourth captain for Thursday. Ventrone returned and played last week for the first time since undergoing surgery for a broken thumb, which was fixed with pins and screws. ... Incoming owner Jimmy Haslam III attended practice and spent several minutes talking with coach Pat Shurmur.
Original Story:
http://www.foxsportsohio.com/09/26/12...
THE BACKYARD
BEST OF MAXIM
RELATED ARTICLES
Rick is still the man with the film room pieces, and I believe he might still have one this week. But I watched the beginning of the Browns game again yesterday and wanted to share a couple things about the Bills' defensive gameplan. The Bills, not surprisingly, committed resources to stopping Trent Richardson from hurting them. It is a rational plan to stop the biggest threat...
Through four games, Browns running back Trent Richardson has 222 rushing yards on 64 carries, 122 receiving yards on 15 catches and four total touchdowns.Fantasy Spin:Richardson is only rushing for 3.5 yards per carry but he's been a solid fantasy contributor due to his ability to find the end zone. He had 104 total yards and a score Thursday against the Ravens.
While Greg Little is preening and posing amidst a 14-point deficit and a shower of hashtags, Browns running back Trent Richardson is mostly stoic and calculated. Certainly, when Richardson crosses the goal line as he has twice in his very young career, he exudes a level of energy that is matched only by Cleveland fans watching the plays as they unfold. But until that moment when...
Welcome to the NFL, Trent Richardson. Welcome to the NFL, Brandon Weeden. This ain't Alabama. And this ain't Oklahoma State.The two former college all-stars were drafted onto possibly the worst team to end up on. Richardson came from Alabama, where he lined up behind lines full of four and five star recruits. Now they're lining up behind guys that are fairly new to the...
In Baltimore, God Is Always Crying 10) Trent Richardson has some skills and all, but this is probably another year in which PK Phil Dawson is the Browns' best offensive player 9) Shockingly, Ray Lewis obliged the media's request to have his likeness on video, and his voice on audio 8) From the relative lack of WR puling and after the whistle shoving, this actually resembled...
The coordinators discuss the Baltimore Ravens as well as what the Browns can improve upon. Rookie Trent Richardson and Brandon Weeden talk about the start of the season and what they can do better.
The 0-3 Browns will return to primetime with a visit to Baltimore to take on the 2-1 Ravens. This game will be the first following the end of the NFL referee lockout, with real referees on tap to officiate tonight. So this means no more complaints, no matter how valid, can be attributed to poor officiating! Cleveland Browns After a terrible performance in Week 1, it looked like...
This just in, the 2012 Baltimore Ravens defense starring Ray Lewis, Ed Reed and Haloti Ngata can make anyone look good, even Cleveland Browns quarterback Brandon Weeden. On Thursday night the Baltimore Ravens narrowly escaped at home versus the Browns with a 23-16 victory to improve to 3-1.Once again the swiss cheese Ravens secondary got sliced up again, but they stunk more like...
Welcome to the latest edition of Xs and Os with the Bros by Xs and Os editor @rodofdisaster. This feature represents a basic attempt to dive deeper into the game of football, learn something about the X's and O's that make it go, and better appreciate the games within the game. It's called Xs and Os with the Bros because you don't have to be a player, coach, or rocket surgeon...
Granted, the Cleveland Browns aren't exactly top-shelf material in the NFL. Even so, they're a professional football team, so the ease with which the Buffalo Bills pushed around their offensive line is impressive. After being stymied in Week One against the New York Jets, the Bills' front four has had two very good games. The Kansas City Chiefs were held to less than...
Cleveland Browns at Baltimore Ravens September 27, 2012 Brian  Ravens 24 Browns 10 Thankful there's enough beer at Oktoberfest in Munich (where I am) to dull the pain. Tom  Ravens 31 Browns 13 Things we will learn tonight: -How great Ray Lewis is -How...
Ravens vs Patriots Review Torrey Smith played an inspirational game last night. Ravens 31 – Patriots 30 Sunday night's match-up between the Ravens and Patriots sure didn't disappoint. It was a battle from the opening kickoff all the way to the final buzzer that left the Ravens sitting stop the AFC North at 2-1 and the Patriots boasting a losing record (1-2) for the first...
NFL News

Delivered to your inbox

You'll also receive Yardbarker's daily Top 10, featuring the best sports stories from around the web. Customize your newsletter to get articles on your favorite sports and teams. And the best part? It's free!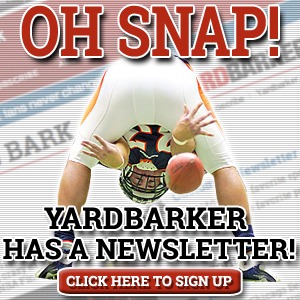 Latest Rumors
The Backyard

Today's Best Stuff

For Bloggers

Join the Yardbarker Network for more promotion, traffic, and money.

Company Info

Help

What is Yardbarker?

Yardbarker is the largest network of sports blogs and pro athlete blogs on the web. This site is the hub of the Yardbarker Network, where our editors and algorithms curate the best sports content from our network and beyond.