Found December 19, 2012 on Fox Sports Ohio:
PLAYERS:
Tom Heckert
,
Josh Mcdaniels
,
Pat Shurmur
,
Bill Cowher
,
Jon Gruden
,
Eric Mangini
,
Bill Belichick
,
Ryan Mallett
,
Brandon Weeden
,
Matt Cassel
TEAMS:
Cleveland Browns
,
New England Patriots
,
Kansas City Chiefs
Before proceeding, I would emphasize what follows is a rumor, and has not been confirmed. But it comes from the Boston Globe and its excellent NFL writer Greg Bedard. He was one of the first guys who reported that Joe Banner would hire Mike Lombardi as the teams new GM, after Banner let Tom Heckert go. Bedard attributed that report to two independent sources he calls influential. Today Bedard repeated the rumor, and fueled another one, that Patriots offensive coordinator Josh McDaniels would be the coach provided Nick Saban and Chip Kelly do the expected and turn down the Browns. McDaniels is an Ohio guy with head coaching experience, albeit failed experience. He started a two-year career in Denver with four wins in a row, then finished 4-8 that season and 3-9 the next before he was fired. Those are numbers that should make McDaniels jealous of Pat Shurmur. McDaniels didnt even finish his second season. Why McDaniels is a step up from a guy who has two years into the team is beyond me, but maybe some people think he is. Who knows, he may be. But hes clearly not someone who jumps out of the gate and catches immediate attention the way a Bill Cowher or Jon Gruden type would (Im not saying they would or should be the choice, merely pointing out the kind of coach that would be exciting). McDaniels in many ways sound like Eric Mangini II, a guy who has done an excellent job as coordinator working with Bill Belichick, but a poor job as head coach. Hes the same kind of learn-on-the-job guy the Browns have been hiring since 1999. At least thats the way it seems. Then Bedard added this little tidbit, which shows the consequence of further change with the Browns: " those two initial sources said that if Lombardi and McDaniels indeed team up in Cleveland, the chances are good that they will attempt to trade for Patriots backup quarterback Ryan Mallett and install him as the franchise quarterback. Brandon Weeden would be out, or in a backup role." Ryan Mallett? Could it be any more evident that 2013 would again fall into the retool mode, if this happens? The Browns would have committed a first-round draft pick and a complete season to a guy, only to jettison him for an unproven backup who isnt even Matt Cassel at this point in his career (Cassel did start for a year before the Chiefs acquired him). In two seasons in New England, Mallett has thrown four passes and completed one. One. He also has an interception. What is the lunacy that visits the NFL with these decisions? Because if this is true, it is lunacy. And its a scene the Browns have presented to their fans over and over and over. They commit to a quarterback, work with him, then when hes at the point where he can just go play they get rid of him and start over with someone else. Ryan Mallett. Again, there is no saying if this is true or not. On a conference call Tuesday, Banner said he would not go down the road of speculation about a GM; since he has a coach he also wont go down that speculative coach road. Or speculative quarterback road. Ive been told the Lombardi talk is overblown, that hes just one of many names the Browns might consider, but that his hiring is far less likely than its being portrayed. Yet his name wont go away. And while it wont go away, word continues to circulate that Banner will take charge of football and be involved in football decisions normally left to the football guys. The hiring of Alec Scheiner as president beneath Banner to handle business affairs did nothing to quell that talk. Banner said Tuesday hes not determined the football structure and wont until he knows who is in place, but the chatter continues. Now comes the Mallett report. Mallett may turn out to be a good player, but nobody really knows. What is safe to say is that he will probably struggle in his first season as a starter. Thats been proven through the years in Cleveland. At this point, one has to hope that Banner is not falling into the trap of many NFL execs, and that is to make a move without thinking through where the team would wind up after the move. One would hope he is well aware what coaches he can hire, and what GMs would work with what coaches. If hes not aware and he gets rid of Pat Shurmur and Tom Heckert, its a scramble. And who knows where it winds up. But if nobody else will say it, Ill say it: If the Browns make changes and wind up with a pairing of or like Lombardi and McDaniels, theyll be starting over and dooming their fans to the high likelihood of another double-digit loss season the sixth in a row in 2013. Keeping the status quo would be better. Because the tandem of Heckert and Shurmur (with all his foibles) has spent two years getting the team to the point it can compete. Add a draft and an active free agency, with Heckert picking the players, and theres no reason to think the Browns will not be where they should be in 2013. That would be competing in games, winning more and building an offense and defense with talent that could last. Lombardi-McDaniels? Thats another re-start, another offseason of change and adjustment, another year when we hear about the never-ending process that must be endured. Another year for long-suffering Browns fans to wait while other teams build consistently and steadily. McDaniels may be a fine coach, given a second chance. But the finest coach cant avoid the fact that change means adjustment and adjustment means time. Theres no escaping that reality. Browns fans have seen it over and over and over. Haslam came in amidst some big talk, giving the impression he would make significant hires. Hes since left his coaches and front office in limbo. Now come these rumors. Lombardi. McDaniels. Mallett. Rumors, all of them. But persistent rumors. If thats the best the Browns can do, the status quo is better.
Original Story:
http://www.foxsportsohio.com/12/19/12...
THE BACKYARD
BEST OF MAXIM
RELATED ARTICLES
According to Mary Kay Cabot of the Cleveland Plain Dealer, former Broncos head coach and current Patriots offensive coordinator Josh McDaniels would love to coach the Browns. A source told The Plain Dealer that McDaniels, who coached the Broncos in 2009, would jump at the chance to coach the Browns. I thought McDaniels did a good job in Denver as a head coach.  He ended up failing...
CBS Sports' Jason LaCanfora wrote today about young executives ready to get a shot at GM positions in the league. In that piece, he referred once again to the rumors that Jimmy Haslam and Joe Banner are likely to remove Tom Heckert at season's end and replace him with former Eagles personnel man Mike Lombardi- "I continue to hear that it is likely the Browns do not retain...
Earlier today Mary Kay Cabot of the Cleveland Plain-Dealer reported that Patriots offensive coordinator Josh McDaniels would love to coach the Cleveland Browns. Greg Bedard of the Boston Globe believes McDaniels would leave after only being back with the Patriots for one season. Would he leave after just one season? Yes, if it was the right situation. A Banner-Lombardi-McDaniels...
Josh McDaniels had instant success when he took over the New England offense this season. So it was only a matter of time before the collective NFL forgot his poor head coaching stint in Denver and started thinking of him as a candidate for the top job somewhere else. McDaniels has been linked to the impending opening in Cleveland, and now the Cleveland Plain Dealer reports that...
Fresh off of their soul-crushing loss to the Washington Redskins, it appears that the inevitable shake-up of the Cleveland Browns front office and coaching staff is starting to take more shape. From ESPN Cleveland's Tony Grossi: It is commonly believed that GM Tom Heckert and coach Pat Shurmur will not be back. Heckert, my sources say, knew it the day Banner reported to work in...
Mark Kay Cabot of the Cleveland Plain Dealer reports that the a source informed her that Patriots offensive coordinator Josh McDaniels "would jump at the chance to coach the Browns." There's been a lot of speculation in the last month as to who the next Browns head coach will be, assuming that current head coach Pat Shurmur is fired at the end of the season. Coaches like...
The scariest part is the not knowing. Even knowing what we think we know about who won't be in Cleveland next year – namely Pat Shurmur and Tom Heckert – that uncertainty about who will replace them is even scarier. I think most have resigned themselves by this point to just about any alternative to Pat Shurmur. I know that's not 100 percent in the fan base at this point...
Michael Lombardi was on the BS Report with Bill Simmons podcast yesterday and when asked about this, he just said no one has contacted him yet. So, obviously all of this is speculation at this point.Mike Florio was the first to bring this idea to the forefront and he was met with some skepticism. Now Greg Bedard, a trusted source in Boston media, is chiming in more on this. Bedard...
Joe Banner's presence is clearly already being felt in Berea. Nobody is safe. I've been off the grid for a few days, tending to my real job (oh, if only I could be paid handsomely to work fulltime at WFNY!), but I have been monitoring things and as always, keeping my finger on the pulse of what is going on here in the wacky wide world of Cleveland Sports. There's never a dull...
Jimmy Haslam's organization is starting to take shape. Tuesday the team announced the hiring of Alec Scheiner as president and said vice president Bryan Wiedmeier, who is battling brain cancer, will shift to a new role working with CEO Joe Banner on long-term strategic planning. Scheiner, who takes over Jan. 7, and Banner will do much of the work guiding the organization. Scheiner...
NFL News

Delivered to your inbox

You'll also receive Yardbarker's daily Top 10, featuring the best sports stories from around the web. Customize your newsletter to get articles on your favorite sports and teams. And the best part? It's free!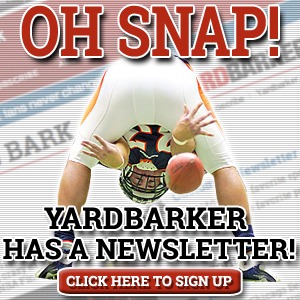 Latest Rumors
The Backyard

Today's Best Stuff

For Bloggers

Join the Yardbarker Network for more promotion, traffic, and money.

Company Info

Help

What is Yardbarker?

Yardbarker is the largest network of sports blogs and pro athlete blogs on the web. This site is the hub of the Yardbarker Network, where our editors and algorithms curate the best sports content from our network and beyond.