Found August 23, 2013 on Waiting For Next Year:
PLAYERS:
Barkevious Mingo
,
Brian Sanford
,
Brandon Weeden
,
Tashaun Gipson
,
Spencer Lanning
,
Greg Little
,
Josh Gordon
,
Trent Richardson
,
T.J. Ward
,
David Nelson
,
Oniel Cousins
,
Garrett Gilkey
,
Nicolas Jean-Baptiste
,
Hall Davis
,
Jordan Norwood
,
Josh Cooper
,
Tank Carder
,
Josh Aubrey
TEAMS:
Cleveland Browns
The preseason continues tonight for the Cleveland Browns. Can they build on last week's performance? These are the things I'll be watching for… It seems like the Browns haven't played in a long time doesn't it? The Lions game was only last Thursday, but so much has happened to the team since they took the field for that one. There has been a plethora of injury reports, especially about rookie Barkevious Mingo's bruised lung, though nobody is quite sure when he will be ready for action.  (The good news there is that the doctors let him work out on the bike during practice the other day.) There has also been a trade, which of course was then voided and Brian Sanford returned to the team. The Browns also waived a couple of players, even though the team doesn't have to have the roster down to 75 until Tuesday. Brandon Weeden was named the starting quarterback, ending that speculation. Paling in comparison to that announcement, Tashaun Gipson was named the starting free safety and Spencer Lanning has apparently won the punting position.  Of course there was also the Greg Little and Josh Gordon speeding ticket news. Now that the third preseason game is almost upon us, what will I be watching for from the team? From the starters: 1) Coach Chudzinski said that the starting unit (or most of them) will see action into the third quarter. I would be surprised if that group included Trent Richardson. Actually, I'd be stunned. The big question will be if the starting units can match their earlier performances? In both preseason games so far, the starting group has dominated their opponents. They scored quickly and held the other team from scoring touchdowns. The first team defense has forced four three-and-out drives in just a shade over two quarters of football. That's outstanding. The first team offense has scored on five of it's six drives, including three touchdowns and two field goals. Browns fans haven't sniffed that kind of efficiency in a very long time, preseason or not. Expecting the team to dominate for a third straight game is unrealistic. Expecting them to be right with the Colts at halftime or whenever the team pulls the starters sounds like the right call. 2) Will T.J. Ward and others play? Rob Chudzinski appears to have a traditional preseason strategy, which means that the starting units will most likely not play in the fourth game, or play just a series at best. Some players have yet to see the field in preseason. Safety T.J. Ward is one of those. He has been back at practice since before the last game. Will the coaching staff let him test his legs against the Colts? Does he need some game action to be ready for the Dolphins in week one? David Nelson is another player that hasn't seen a snap in the preseason. He recently started practicing again in 11-on-11 drills. Will he get any snaps in the game? Given the suspension to Josh Gordon, if Nelson is a part of the gameplan the first two weeks, you would think the coaching staff would want him to get his feet wet in this one. He is a guy that could easily play in the fourth game, but the odds of Weeden playing more than a series in that game is pretty slim. 3) Will the defense show anything more? Much has been said this preseason about the flavor of defenses being vanilla. That may be true, but there are also times in preseason games when coaches want to give a different look just to make other teams take notice or have to game plan for. I suspect we may see something of that nature from the defense this week. Ray Horton might just show some kind of package or blitz scheme just to make the Dolphins have to work on it. Of course, it could always be the offense… 4) Most importantly, the Browns need to come out of this game healthy. While the win was a lot of fun last week, the air was just completely sucked out of the locker room because of all the injuries. It became the story instead of the progress that the team was making. Which makes Rob Chudzinski's job hard. How long do you leave your starters in? How many carries do you give Trent Richardson? He has to balance getting the team ready to play with potentially limiting their exposure to injury in "meaningless" preseason games. 5) There aren't many position battles left, but the right guard spot is one of them. This week Oniel Cousins starts at right guard. He certainly has more experience than the rookie Garrett Gilkey, but is he really the better option? Saturday's game should give us some indication. The Browns will be watching both players hard to see who gets the nod, or if they need to pursue another option. From the reserves: The reserves won't play nearly as much in this game, which makes every snap that much more important. If you are fighting for a spot on the roster, you want as many good plays as possible on film. Even if you don't make the Browns roster, you hope that someone else may need your services. For the first time in a long time, the Browns may be making a few cuts that interest other teams. The defensive line is very deep, and they won't be able to keep all of these guys. Nicolas Jean-Baptiste is a player that fits that mold. So are Brian Sanford and even Hall Davis. The receiving group is still a bit of a jumbled mess behind the established players. I still think that Jordan Norwood and Josh Cooper are fighting for the same roster spot. Norwood hasn't been able to play lately. Josh Cooper could take a step ahead with a good showing on the road. Will anyone else take a step up in the eyes of the coaches? Does Tank Carder need to show something on special teams? Is Josh Aubrey's spot secure? For guys at the end of the roster, every play counts. Even in "meaningless" preseason games. (Photo: Candice Vlcek/WFNY)  
Original Story:
http://www.waitingfornextyear.com/201...
THE BACKYARD
BEST OF MAXIM
RELATED ARTICLES
 By: Shaun DePasquale (@ShaunDoesDraft) Interview by Damond Talbot (@drocksthaparty) It makes us proud to see the players succeed in the pros whom caught our eye early. It's becoming apparent that one such player is un-sung Cleveland Browns UDFA WR Cordell Roberson. The big, 6'4 200+ wideout has been a standout in camp, and in preseason. […]
FACT: On December 11, 2012, a Tuesday, Cleveland Browns wide receiver Greg Little was cited at the corner of Carnegie and Ontario, where he allegedly blew through a red light en route to the local Interstate. He was cited for failure to obey a traffic controlling device as well as a failure to properly display an updated sticker on the back of his North Carolina license plates. Both...
The Browns released the list of players who will miss tonight's third preseason game of the year against the Colts in Indianapolis. They include kicker Brandon Bogotay, wide receiver Davone Bess, cornerback Chris Owens, linebacker Jabaal Sheard, defensive end Desmond Bryant, and cornerback Trevin Wade. #Browns scratches for tonight's game vs. Indy: Bogotay (groin), Norwood...
As expected, Brandon Weeden has won the starting job for the Cleveland Browns. But not only is the second-year quarterback being viewed as the No. 1 signal caller on the depth chart. Some are thinking he could be in store for a breakout sophomore season.  The reason for that? Weeden has been killing it this preseason. He has completed 72 percent of his 25 passes for 9.2 yards...
Two Cleveland Browns receiver are in hot water today after reports of them being pulled over for driving very, very fast in two separate incidents. Josh Gordon was recently cited for going 98 in a 60 MPH zone, and he's considered the slow driver of the two.
The Browns offense and Brandon Weeden had been near perfect in the first two preseason games and were hoping to keep it going in the dress rehearsal game.Not so much.Weeden, who was named the starting quarterback earlier this week was 18-of-25 for 229 yards (72 pct.), including three touchdowns with no interceptions. He came into the Colts game with a rating of 139.8. More importantly...
The Browns dropped to 2-1 on the preseason with an uninspiring 27-6 loss in Indianapolis on Saturday night. As fun as the Browns starters were to watch during the team's first two preseason games, Saturday night in Indianapolis was just the opposite. Through two and a half quarters Andrew Luck and the Colts outplayed the Browns starters  to the tune of 17-6. Weeden and Company...
While We're Waiting is the daily morning link roundup that WFNY has been serving up for breakfast for the last several years. We hope you enjoy the following recent collection of yummy and nutritious Cleveland sports-related articles. Anything else to add? Email us at tips@waitingfornextyear.com. "Brandon Weeden, QB, Cleveland Browns. After suffering through a bumpy rookie season...
The 2013 NFL regular season is right around the corner. With that being said, it's time to launch our team previews. FOXSports.com contributor Taylor Jones will answer important questions for every franchise. CLEVELAND BROWNS 2012 Record: 5-11. Missed the playoffs. Which player is poised for a breakout season? Jordan Cameron is not only my pick for breakout player of the...
Browns wide receiver Greg Little said he has learned his past reckless driving actions were wrong and that he is ready to abide by the driving laws.
Welcome to "Keepin' It Real (and sometimes funny)," our new weekly column highlighting relevant events in Cleveland sports, and how we might feel about them; the brainchild of the man behind Twitter's @NotSCCleveland. We will take a dive in to the good, the bad and the downright head-scratching moments that have been the last week in Cleveland sports. Do enjoy, and please...
Andrew Luck and Brandon Weeden have come a long way in a year. The two bright-eyed rookies who took turns staring at Hall of Fame busts during last summer's rookie symposium are now established starters and franchise cornerstones. So when they meet again Saturday night, Luck and Weeden will be following a different preseason script - playing at least one half and likely into...
Browns News

Delivered to your inbox

You'll also receive Yardbarker's daily Top 10, featuring the best sports stories from around the web. Customize your newsletter to get articles on your favorite sports and teams. And the best part? It's free!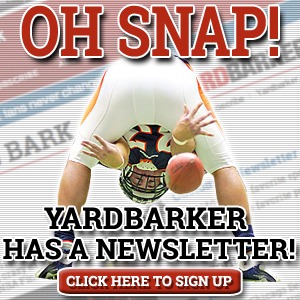 Latest Rumors
The Backyard

Today's Best Stuff

For Bloggers

Join the Yardbarker Network for more promotion, traffic, and money.

Company Info

Help

What is Yardbarker?

Yardbarker is the largest network of sports blogs and pro athlete blogs on the web. This site is the hub of the Yardbarker Network, where our editors and algorithms curate the best sports content from our network and beyond.