Found December 03, 2012 on Fox Sports Southwest:
ARLINGTON, Texas Dez Bryant has been making a lot of noise on the field lately. That he hasn't been making any noise off the field during this stretch is no coincidence. Bryant came up big in the second half of the Cowboys' 38-33 win over the Eagles on Sunday night. He had five catches, including two touchdowns and a 35-yard reception on a key third-and-two play. Over the last four games, Bryant has 29 catches for 475 yards and six touchdowns. He's reached a level of comfort that has allowed him to be a big contributor in every game. He's also finally in a good place in his life off the field, too. Bryant was asked after the game if a sense of calm in his personal life has benefited his play. "I'm not going to dig all the way into that," Bryant said. "But, yes. Yes." The only off-the-field news Bryant has made lately was when it was announced he had reached an agreement with the Dallas County District Attorney's office to undergo anger management counseling to drop a family violence charge against him. The charge stemmed from an incident with his mother last summer. Bryant's attorney said his client already been going to counseling, and that just might be a key to his recent consistency in games. "I think Dez, everywhere, is just being more dedicated," owner Jerry Jones said. "Not more dedicated, but is being noticeably dedicated, noticeably committed, if you want to compare it to months ago, or compare it to at least two years ago. It's showing. It's showing on and off the field for him." Jones didn't have to include the "off the field" remark, but it's clear that Dez being a good citizen is as important to him as his catches and touchdowns. After all, it was Jones who traded up to draft Bryant in 2010 despite all the stories about his lack of maturity. Let Dez be someone else's headache, everyone said. Yet Jones was determined to draft the brilliant athlete out of Oklahoma State. In his first two seasons with the Cowboys, Bryant seemed determined to live up to his reputation for being undisciplined. There was a run-in with cops at an upscale mall over sagging pants. There were two separate lawsuits from jewelers claiming he owed them six-figure amounts. There was even a reported run-in with rapper Lil' Wayne and his posse. The domestic violence charge, a misdemeanor, against Bryant was the first time his antics had become a criminal matter. His mother asked the DA not to pursue the matter, but apparently it was a turning point for Bryant. "Dez is growing up before our eyes," head coach Jason Garrett beamed after the game. "He's really becoming a more consistent player and week in and week out, he seems to be making a lot of plays for us plays down the field, run-after-catch type plays." Against the Eagles, Dez flashed both his speed and his brawn. His 23-yard touchdown catch on the first possession of the second half sparked a Cowboys rally. Quarterback Tony Romo had to evade pressure before finding Bryant, who smartly drifted into an open area. In the fourth quarter, on a third-and-two at the Cowboys' 22 yard line, Bryant beat press coverage for a 35-yard gain. That set up Bryant for a go-ahead touchdown, a six-yarder that required him to use his 6-2, 220-pound frame to fight through a tackler to the end zone. "Tony, he believes in me and I want that to increase more," Bryant said. "It's just all about being focused and not losing composure, and just doing what's right. If he calls his plays and I'm doing what I'm supposed to do, not doing anything different, that makes a difference." Bryant also made a spectacular sideline grab, despite tight coverage in the first half. It was the only time Romo threw his way in the first half and it came with 2:06 left. In the past, that kind of half might have frustrated Bryant, who has been known to be demonstrative on the sideline when passes are coming his way. This time, there was no frustration. "Not one bit," said Bryant. "I know when my number is called, hey, I'm going to do my job, just like everybody else. I knew it was going to come, and it did." Earlier this season, it was an almost regular occurrence for Romo or receivers coach Jimmy Robinson to have stern conversations with Bryant after a miscommunication on a play. Against the Eagles, the TV cameras Robinson putting a congratulatory arm around Bryant. "I understand now," Bryant said. "You've got to know what you're doing. "Like I said a long time ago, if you're going to be out there with Wit (Jason Witten), if you're going to be out there with Tony (Romo), Miles (Austin) and the rest of those guys, you've got to know what you're doing. I felt like I'm Dez, too. I feel like I'm Dez again." Finding peace off the field has no doubt helped him become "Dez again." Instead of being a headache for Jerry Jones and the Cowboys, a more focused Bryant has become a consistent headache for opponents. Follow Keith Whitmire on Twitter: @Keith_Whitmire
Original Story:
http://www.foxsportssouthwest.com/12/...
THE BACKYARD
BEST OF MAXIM
RELATED ARTICLES
Following a thrilling win at home against Philadelphia the Dallas Cowboys are back in the playoff hunt. The brightest performance from Sunday nights game came from wide receiver Dez Bryant who showcased nationally his ability to be a difference maker. Bryant has been in the news multiple times this season, almost none of them for good reasons. Still, Cowboy fans are hoping that there...
The Cowboys move past the Eagles tonight, and move to 6-6 and somehow still in the playoff hunt. First thing, I'd like to mention is that we're going to see some people go over board with this win, and think we're back on track. We are not, the defense has slowly reverted back to its 2011 self, in some part due to injuries. Let's quell the playoff talk people. There's still...
Tony Romo has set a Dallas Cowboys record with his 166th touchdown pass, breaking a tie with Hall of Famer and three-time Super Bowl champion Troy Aikman. Romo's record-breaking pass was a 23-yard touchdown to Dez Bryant in the third quarter of Sunday night's game against Philadelphia. It came in Romo's 89th career start. Aikman started 165 games for the Cowboys from...
Most simulations have the Cowboys winning by about a touchdown, or perhaps more. It's been a long nine days since the Cowboys ruined our Thanksgiving. Dallas returns to the field tomorrow night to face the Philadelphia Eagles, who have not won since September. The simulations do not think the game will be close. Notwithstanding the Thanksgiving performance, the sims have the Cowboys...
Cowboys running back DeMarco Murray (foot) is expected to play Sunday night versus Philadelphia, but Adam Schefter is reporting that the Cowboys will limit his workload.Fantasy Spin:Murray hasn't played since Oct. 14 because of sprained foot so this shouldn't be a surprise to fantasy owners. Murray and Felix Jones should share the carries until Murray is completely recovered.
ARLINGTON, Texas It hasn't been the case often this season, but the Cowboys found a way to play their best football in the fourth quarter Sunday night. They scored 21 points during that 15-minute stretch and outlasted the division rival Philadelphia Eagles 38-33. Here are my five thoughts on the Cowboys improving to 6-6 on the year. 1.) The Cowboys have not traditionally played...
Context is something that is always required to understand what information you are looking at and how much of what seems real can actually be believed. Context tells us if all of this money that our paycheck contains is actually surplus, or whether it has been earmarked for other purposes already. Context tells us if losing 5 pounds is either the destination or the start of the...
Good tidings everyone and welcome, once again, to this quickly/drunkenly-typed blog post of one handsome man's observations of Sunday Night Football as the world slides toward the end of another calendar year. There is a recent report that states there is a strong possibility that Andy Reid will be the Cowboys coach next season. This would be fantastical. This would be like the...
Categories: BREAKING NEWS Eagles NewsTags: Andy ReidBryce BrownDominique Rodgers-CromartieNate AllenNick FolesNnamdi AsomughaPhiladelphia EaglesDisgraceful Defensive Backs Nothing I could write could appropriately describe just how awful this Eagles defense is, but the secondary is just the worst I've ever seen. The Dallas Cowboys moved the ball at will on the Eagles, by land...
    The Cowboys stand at 6-6 with four tough games (Cincinnati, Pittsburgh, New Orleans and Washington) remaining.  Another season left out of even making the playoffs is highly likely.  One of the primary reasons for the disappointing season is a pedestrian ground game.  It is trendy to say the NFL is all about passing, but a balanced offense and a stingy defense still results...
It's been about three weeks since Tony Romo said on local radio that Dez Bryant had done a "180" in terms of his preparation for games. Those words seemed pretty hollow in light of the fact that Bryant had never been the picture of consistency during his first three years in the league. But it turns out Tony may have been onto something. Bryant, who has made as many...
Cowboys News

Delivered to your inbox

You'll also receive Yardbarker's daily Top 10, featuring the best sports stories from around the web. Customize your newsletter to get articles on your favorite sports and teams. And the best part? It's free!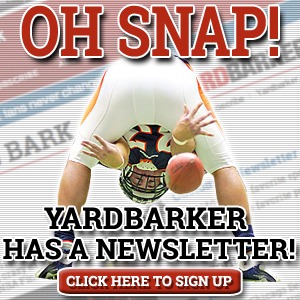 Latest Rumors
The Backyard

Today's Best Stuff

For Bloggers

Join the Yardbarker Network for more promotion, traffic, and money.

Company Info

Help

What is Yardbarker?

Yardbarker is the largest network of sports blogs and pro athlete blogs on the web. This site is the hub of the Yardbarker Network, where our editors and algorithms curate the best sports content from our network and beyond.