Found September 25, 2012 on Fox Sports Florida:
PLAYERS:
Adrian Clayborn
,
Tony Romo
,
DaQuan Bowers
,
Michael Bennett
,
Gerald McCoy
,
Roy Miller
,
Cam Newton
,
Adam Carriker
,
Brian Orakpo
,
Dekoda Watson
,
George Johnson
,
Daniel Te'o-Nesheim
,
Doug Martin
,
Josh Freeman
,
Robert Griffin III
TEAMS:
Tampa Bay Buccaneers
,
Dallas Cowboys
,
Washington Redskins
Tuesday is a day off for Tampa Bay Buccaneers players, but rest assured head coach Greg Schiano and general manager Mark Dominik will be working overtime to address the teams latest injury issue. On an afternoon the Buc defense delivered its best performance of the season Sunday, the unit would ultimately endure its biggest big blow of the year: the loss of defensive end and 2011 first-round pick Adrian Clayborn for the season with a right knee injury. Head coach Greg Schiano confirmed the news on Monday, a day after his defense kept the clamps on Dallas quarterback Tony Romo in a 16-10 loss to the Cowboys. Adrian is going to have surgery. Hes done for the season, Schiano said. Its probably going to be a couple of weeks before it happens. Its certainly an unfortunate for him and for the team. I dont know exactly what it is. Its one of those three-letter deals. Clayborn was hurt during the fourth quarter, but the extent of his injury wasnt known until Monday in Tampa: at least one torn ligament, which means the possibility of both his ACL and MCL. Its hard to minimize the severity of the development for a defensive line that has now lost both its top two picks from last year to injury. Second-round pick Daquan Bowers suffered a torn Achilles tendon in May during an offseason workout, though he has been making excellent progress and could possibly return to action in a month. In the meantime, the Bucs find themselves with a major hole to fill on what had been a much-improved defensive line this season. Clayborn led the team in sacks as a rookie with 7.5 and anchored the pass rush from the right side, teaming with left end Michael Bennett and tackles Gerald McCoy and Roy Miller. Other than a defense-wide meltdown in the fourth quarter of a 41-34 loss to the Giants, the line has performed above expectations. It helped contain dangerously mobile Carolina quarterback Cam Newton in the season opener and hold the Panthers to 10 total rushing yards in a 16-10 victory. And the line was a big reason Romo struggled to get anything going Sunday, getting sacked four times and fumbling away the ball twice. Schiano put on his best game face in talking about the loss of Clayborn, but clearly this one threw the 1-2 Bucs for an unexpected loss of their own heading into another challenging contest Sunday with the Washington Redskins and multi-threat rookie quarterback Robert Griffin III coming to town. I look around the league and a lot of people have issues, he said. The team were playing this week has similar issues (with defensive end Adam Carriker and linebacker Brian Orakpo out of for the season with injuries). Look, its part of life in the NFL. Its a bad part and unfortunately its peoples lives youre talking about, the people who get injured. But its something you know going in and you have plans in place. And thats what we have to do. Its especially frustrating for the Bucs since McCoy, their No. 1 pick in 2010, missed much of last year and a substantial part of his rookie season due to torn biceps, and ex-Buc tackle Brian Price, a second-rounder in 2010, was plagued by injuries his first two seasons. Schiano isnt certain yet what he and his staff will do to fill the void. But many options are on the table. Well look at everything, he said. Well look internally. Well look if theres anything outside thats better. Well look at it schematically. Maybe well have to play some more three-down fronts and do some different things to stretch the personnel a little bit. Nothings out of the realm. Thats what you do. You adapt. And thats what well do. The three-down formations could use linebacker Dekoda Watson or backup defensive ends George Johnson and Daniel Teo-Nesheim. Asked if left end Bennett might switch to the right side, Schiano responded, Anythings fair game right now. I dont know where were going to end up. Were spending a lot of time talking about it. Well make what we think is the best decision. While Schiano sorts through the possibilities, hes also got his hands full trying to figure out ways to get his offense moving forward. In two of the three games to date, the unit has had trouble mounting any kind of consistent attack, with the exception being Week Two against the Giants. The offense had a dismal day in the Big D, netting only 166 total yards against a smothering Cowboys defense. Rookie tailback Doug Martin had trouble finding running room, managing only 53 yards on 19 carries. But more concerning was the lackluster play of fourth-year quarterback Josh Freeman (10 for 28 for 110 yards, a one-yard touchdown pass and an interception). The Bucs stayed heavily with their ground game in the second half, even while trailing. That raised the question: Is Schiano completely comfortable with Freeman in high-stakes passing situations, or does he prefer to play it safe with the run? The coach, in his rookie NFL season, expressed confidence in his quarterback. I have a great trust level with him, he said. Theres not a doubt in my mind that hes going to do great this year and beyond. Do I think Josh is capable of doing more stuff down the field? I do. They did a good job of taking some of the down-the-field stuff away, stuff that we hit against the Giants. We didnt do it quite as well this week. We threw some but we didnt win the battle. Schiano insisted multiple factors contributed to the ineffective offense. When you have as tough a day as we did on offense, theres not one reason, he said. Theres not one person. Theres not one call. Theres just a bunch of things. But having said all that, when you go back and watch the tape, its like what normally is the case: Youre never as good as you think you were and youre never as bad as you think you were. Were a couple of small things away from popping some of those runs. The corner falls down one time on a double move but we dont have time to get it to (the receiver) because we made a mistake. Really, we just never got in synch. And after two solid offensive outings, why does that happen in the third one? Thats obviously what were trying to peel away and figure out so it doesnt happen again. What does Schiano think about his young squad after three weeks? Its a team that plays very hard, he said. We practice hard and we play hard. We have to practice more focused and were going to play more focused. And were not going to lose that effort or how hard we play, regardless of the situation. Theyre going to play until they tell us to get out of there. If you have that, you have something very special. Now we need to clean it up. We need to make the mistakes go away and we need to play with the same kind of effort. And well be fine. Its just going to be harder in light of the latest casualty.
Original Story:
http://www.foxsportsflorida.com/09/25...
THE BACKYARD
BEST OF MAXIM
RELATED ARTICLES
Tampa Bay Buccaneers head coach Greg Schiano told the media today that defensive end Adrian Clayborn is done for the season with torn knee ligaments in his right knee. "Unfortunately, it's not a good one. Adrian is going to have to have surgery, so he's done for the season," Schiano said during his Monday news conference, per the Tampa Bay Times. "You know, it'll probably...
With defensive end Adrian Clayborn done for the season, Da'Quan Bowers is hoping to help the Buccaneers out once he comes off the PUP list after week six. "There is still a long ways to go, I'm still about four weeks away," said Bowers, who was placed on the physically unable to perform list a month ago. "Right now, I'm just taking it day by day. It's up to coach (Greg...
Yes, you read the headline correctly. It is not a typo. Through three games this season, the Tampa Bay Buccaneers have the league's best run defense. The same defense that ranked dead last in the NFL last season by allowing a franchise-worst 156.1 rushing yards per game has transformed into a dominant run-stopping machine. The Bucs are only giving up 47.3 rushing yards...
The Buccaneers play in a very difficult division, and they're still busy picking up the pieces from the short-lived Raheem Morris era. The man the team chose to re-build with is Greg Schiano, but he shouldn't get too comfortable. He could be gone at the end of the year. As a general rule, I don't like to let my personal biases into my writing, especially on...
Jordan Shipley's brief stay with the Tampa Bay Buccaneers came to an abrupt end Tuesday, derailed by a fumbled punt Sunday in a 16-10 loss to the Dallas Cowboys. The free agent wide receiver and special teams player was waived and replaced on the roster by eight-year wide receiver and standout return man Roscoe Parrish, the longtime Buffalo Bill and former Miami Hurricane. The...
Okay, we are kind of ashamed to admit we get a good laugh out of these Gangnam style videos. They aren't nearly as obnoxious as the "Call Me Maybe" spin-off's. And that, despite the words to Ganngam being mostly Korean. Of course we aren't sure what language "Call me Maybe" is in either. Anyway. Take a look at the video the Tampa Bay Buccaneers...
NFL Network analyst Warren Sapp has always had a big mouth. When he played for the Tampa Bay Buccaneers and Oakland Raiders, he could back up his talking with his play on the field. But as an analyst, Sapp's talking is starting to get him into trouble. Between other off the field incidents, Sapp was already on thin ice in terms of his job security with the NFL Network. But after...
I better in Madden Juan… Vincent Jackson has been an inconsistent almost his whole career.  He will go off one week and disappear the next.  It's become his MO.  You have to guess each week whether or not he will show up or not. In weeks 1 and 3 combined he finished with 5/76.  In week 2 against the Giants backup corners he went nuts with 5/128/1.  He has another great matchup...
The Dallas Cowboys beat the Tampa Bay Buccaneers by a score of 16-10. However, the score could have been one less touchdown for the Bucs as their offense could not get anything going. Tampa Bay started off quick when Aqib Talib stepped in front of Cowboys' wide receiver Miles Austin to intercept the pass from Tony Romo. Josh Freeman would go on to throw a one yard touchdown pass...
In the latest example of his inability to think before he speaks, Warren Sapp has called Brandon Marshall a retard in a very public forum. As an analyst, Sapp is paid to have opinions and his employers likely encourage him to be a bit outrageous/controversial, however, he has shown on a number of occasions that [...]
It's been a tough season so far for the replacement officials in the NFL. It seems to be obvious to almost every NFL player, coach and fan, who's name isn't Roger Goodell, that the replacement reps aren't up to par with the currently locked out officials. We all know that the old officials made mistakes, but the amount of mistakes seemed miniscule compared to what we've...
Malcom Floyd is primed and on pace for a break-out fantasy season in 2012. As it seems, the Charger receiver has finally emerged from under the shadow of Vincent Jackson. Floyd has spent the past 6 seasons playing second fiddle to the 2-time Pro Bowl wide receiver, that was until Jackson signed a 5-year deal with Tampa Bay during the off-season. As a result, the door is wide open...
NFL News

Delivered to your inbox

You'll also receive Yardbarker's daily Top 10, featuring the best sports stories from around the web. Customize your newsletter to get articles on your favorite sports and teams. And the best part? It's free!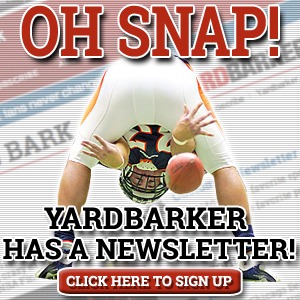 Latest Rumors
The Backyard

Today's Best Stuff

For Bloggers

Join the Yardbarker Network for more promotion, traffic, and money.

Company Info

Help

What is Yardbarker?

Yardbarker is the largest network of sports blogs and pro athlete blogs on the web. This site is the hub of the Yardbarker Network, where our editors and algorithms curate the best sports content from our network and beyond.