Found November 27, 2011 on Fox Sports Florida:
PLAYERS:
Josh Freeman
,
Chris Johnson
,
Raheem Morris
,
Cam Newton
,
Aqib Talib
,
Ronde Barber
,
Javon Ringer
,
Tanard Jackson
,
Mike Williams
,
Adrian Clayborn
,
LeGarrette Blount
,
Connor Barth
,
Marc Mariani
,
Tommie Campbell
,
Colin McCarthy
,
Barrett Ruud
,
Damian Williams
,
Sammie Stroughter
,
Kellen Winslow
,
Rob Bironas
,
Kregg Lumpkin
,
Jeremy Zuttah
TEAMS:
Tennessee Titans
,
Tampa Bay Buccaneers
,
Carolina Panthers
,
Indianapolis Colts
It was a game as ugly as the relentless rain and blustery wind of Nashville. But the grim weather served as a fittingly unattractive backdrop to the latest loss Sunday for the Tampa Bay Buccaneers. The Bucs watched any last shred of a playoff hope get washed away in a 23-17 setback to the Tennessee Titans, their fifth straight defeat and sixth in seven outings. It was a rocky afternoon indeed in Rocky Top country. On the final day of Thanksgiving weekend, both teams seemed determined to give the game away with an extra serving of turnovers. This one featured a glaring nine all together three interceptions and six fumbles on the slick turf of LP Field. Unfortunately for the Bucs, they topped the Titans in that category, losing four fumbles and suffering another Josh Freeman interception his 16th of the season. It came late in the game as he tried to bring his team back after revitalized Tennessee tailback Chris Johnson powered the go-ahead drive with consecutive runs of 5, 20 and 13 yards for 38 of his spectacular total of 190. Minutes later, the no-margin-of-error tour had ended before it ever got started. "No excuses and no explanations," said head coach Raheem Morris. "We've got to stop the run better at the end. And we've got to come out and can't turn the football over. No weather. None of that stuff's an excuse." At 4-7, all the talk of matching last year's 10-win season is now officially over. And so is any fathomable chance they will miraculously grab a wild card spot, as they continue to unravel in the NFC South Division behind first place New Orleans (7-3) and second place Atlanta (7-4). There is, however, a sudden and unpleasant possibility that they could be in last place in the division by next Sunday afternoon. That's when the host the Carolina Panthers, who improved to 3-8 with a 27-19 road win over the imploding Indianapolis Colts. If hotshot rookie quarterback Cam Newton figures out a way to engineer an upset, the Panthers will move into a 4-8 tie with Tampa Bay but technically lead them in head-to-head action, with a Dec. 24 contest remaining in Carolina. Who could have guessed this for a Bucs team that was playing for first place in the NFC South against New Orleans only three weeks ago? "We feel like we're a better team than our record portrays," said Freeman, who was picked off only six times in 2010. "We just have to stop doing the things that have been killing us all year long. We have to come together and finish this thing out." The Bucs actually outscored the Titans 14-3 off of turnovers Sunday, but Tennessee took control in Tampa Bay territory three times following turnovers it recovered. "Turnovers came back and bit us," Morris said. "It gave them a lot of short fields and kept them in the football game. We were able to hold up and have some good defensive stands after the turnovers. But again, you cannot turn the football over and expect to win." There were commendable Buc efforts to be sure. Cornerback Aqib Talib returned a Matt Hasselback pass 27 yards for a touchdown, lifting the Bucs into a 17-10 lead early in the third quarter. Fellow corner and reigning NFL iron man Ronde Barber (219 straight games) stripped the ball out of the hands of Titans running back Javon Ringer at the end of the first half, sending it right into the awaiting arms of safety Tanard Jackson. That led to Freeman's three-yard touchdown pass to wideout Mike Williams with 16 seconds left, helping send Tampa Bay into the locker room tied at 10-all. Rookie defensive end Adrian Clayborn notched his team-leading fifth sack. And despite losing two fumbles, Bucs tailback LeGarrette Blount gave the Bucs their best shot offensively, hurdling tackles and churning out 103 yards on 20 carries against the team that cut him after training camp last year as a rookie. But Blount was overshadowed by Tennessee tailback Chris Johnson, who rediscovered his happy feet against the Bucs after what has been a largely dismal season. Leave it to the Bucs' unsteady run defense to help resurrect the slumping C.J., who entered the game with only 509 yards on 160 carries (a 3.2-yard average) and finished with 190 on 23 carries (an 8.3-yard average). Of course, the best Titans run all day came moments after falling behind 3-0 on a 40-yard Connor Barth field goal with 8:07 to play in the first quarter. Marc Mariani took Michael Koenen's kickoff and handed to Tommie Campbell, racing around from the left side, and Campbell sprinted the rest of the way for an 84-yard touchdown that got Tennessee and its loud crowd in the game. Another Titan effort of note was turned in by a newcomer from the Tampa Bay area: rookie middle linebacker Colin McCarthy of Clearwater Central Catholic and the University of Miami, subbing in for injured former Buc fixture Barrett Ruud. The Titans had just re-taken the lead 20-17 on a 2-yard, fourth-down touchdown pass by venerable quarterback Matt Hasselback to Damian Williams with 3:08 remaining. Freeman came on the field with more than enough time to engineer one of his trademark comebacks from 2010. But on first down at the 33 following a 35-yard kickoff return by Sammie Stroughter Tampa Bay's most effective weapon on this day, LeGarrette Blount, was stopped for no gain. Working with no huddle on second down, Freeman dropped backfired a short pass up the middle toward tight end Kellen Winslow. But it was short of the mark, and McCarthy trailing behind Winslow turned and made the interception That set up Rob Bironas' 38-yard field goal with 1:49 to play, making it 23-17. But even then, the Bucs had a chance to pull it out. Though they had burned all their timeouts during Tennessee's previous drive, they quickly moved from their 20 to a first down at the Titan 34 with 1:15 to play on a pair of 23-yard Freeman completions to Mike Williams. Then came a chaotic finale. Freeman spiked the ball to stop the clock, and his next pass fell incomplete. On third and 10, he dumped the ball off to tailback Kregg Lumpkin, who looked like he might have gotten just enough for the first down. Freeman appeared to be waiting for the officials to rule whether it was first and 10, or fourth and 1. No call for a measurement came, and with no timeouts, Freeman hurried the snap and never got a handle on the ball. As he surged forward helplessly on the ill-fated sneak, the ball popped loose and was recovered by the Titans, who proceeded to run out the clock. "I don't know why we didn't get a measurement," Morris said. "It still can't be an excuse. None of that stuff. You have to go out and execute the way the play is called. You have to execute it to get the first down, spike the ball and continue our drive there." That was the kind of day it was for the Bucs in a game they absolutely had to win to have any lingering hope for the post-season. It certainly wasn't likely that they'd win out over the remaining six weeks of the season. But following their inspired play in a 35-26 loss at Green Bay last week, beating Tennessee on the road certainly didn't seem out of the question. And they certainly had their chances Sunday. In fact, they appeared to be in control with just under 10 minutes to play, leading 17-13. And that's when the fourth most-penalized team in the NFL undercut itself once again. With a first-and-10 at Tennessee's 34 and 9:18 remaining, Blount rambled off left guard for eight yards to the 26. The Bucs seemed to be marching toward the end zone, but a Winslow had been flagged as he often has been this season for holding. That made it first-and-20 from the 44, whereupon guard Jeremy Zuttah was called for a false start, making it first-and-25 from the 49. A promising drive ended three plays later with a punt, and the Titans proceeded to march downfield for what would be the winning touchdown, Hasselback's 2-yarder to Williams on fourth down. What the Bucs make of the remainder of their season is anybody's guess. They can technically still finish with a winning record. But the schedule suggests that even an 8-8 record at this point will be a challenge for a team whose season came up well short of expectations on a miserable day in Tennessee.
Original Story:
http://www.foxsportsflorida.com/11/27...
THE BACKYARD
BEST OF MAXIM
RELATED ARTICLES
Tampa Bay Buccaneers quarterback Josh Freeman suffered a minor injury to his thumb during a shooting range incident, The Tampa Tribune reported Tuesday. Freeman received five cosmetic stitches to his right throwing hand after an unexpected gun recoil cut his thumb. The Bucs had managed to keep the Oct. 31 incident under wraps, until questioned about it by The Tribune on Tuesday...
Quarterback Josh Freeman had more trouble to his trigger hand than first believed. Freeman needed five stitches in his right thumb when a gun he was firing at a local shooting range recoiled Oct. 31, the Bucs confirmed Tuesday. The Halloween mishap occurred during the Bucs' bye week and eight days after Freeman sprained his thumb in a 24-18 loss to the Chicago Bears in...
According to Ira Kaufman of the Tampa Tribune,  Buccaneers quarterback Josh Freeman needed to get five stitches after a mishap with a gun at a firing range on October 31st. The Buccaneers had previously indicated that Freeman only had a sprained thumb that he suffered during a loss to the Bears on October 23rd. Freeman [...]
Buccaneers quarterback Josh Freeman has endured a rough season, both on the field and off of it. A year after throwing for 25 touchdowns and only 6 interceptions, the third-year player is second in the league with 16 picks. His team already has a worse record (4-7) than it did last year (10-6). Things are [...]
Tampa Bay Buccaneers quarterback Josh Freeman has regressed dramatically this season after a breakout sophomore campaign, and now The Tampa Tribune has provided perhaps a reason for some of Freeman's struggles.
Kellen Winslow's 10 yard penalty that halted the Bucs potential scoring drive in the fourth quarter raises questions about his place on the team and his mental capacity for the gamesTAMPA — The Buccaneers lost another game late due to stupid penalties that cost them a chance to put the game away. This time it came with a 17-10 lead and the Bucs were driving deep inside Titans...
Struggling Buccaneers quarterback Josh Freeman needed five stitches in his right thumb following a gun mishap at a local firing range on Oct. 31.
The Bucs were battling the rain, the Titans and themselves in their 23-17 loss in Tennessee SundayTENNESSEE — If there was any question left on whether or not this 2011 Tampa Bay Buccaneers team is a terrible team, they were firmly answered Sunday when the Buccaneers allowed 13 fourth quarter points and literally fumbled away a win, extending their 4 game losing streak to five...
NFL News

Delivered to your inbox

You'll also receive Yardbarker's daily Top 10, featuring the best sports stories from around the web. Customize your newsletter to get articles on your favorite sports and teams. And the best part? It's free!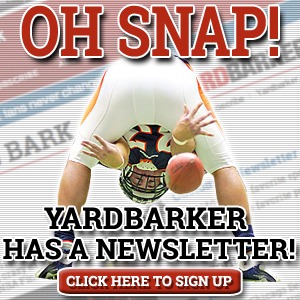 Latest Rumors
The Backyard

Today's Best Stuff

For Bloggers

Join the Yardbarker Network for more promotion, traffic, and money.

Company Info

Help

What is Yardbarker?

Yardbarker is the largest network of sports blogs and pro athlete blogs on the web. This site is the hub of the Yardbarker Network, where our editors and algorithms curate the best sports content from our network and beyond.