Found September 26, 2012 on Fox Sports Florida:
DAVIE, Fla. Reggie Bush vows to play Sunday. But a guy whose opinion is more important is not being as definitive. The Dolphins running back suffered a bruised left knee last Sunday against the New York Jets and didn't play in the second half. He didn't practice Wednesday, but that doesn't matter to Bush. "I'll tell you right now, I'm playing,'' Bush said of Sunday's game at Arizona. "But I'm sure that's why I'm not the head coach." Unless there are any plans this week to name Bush player-coach, having a lot more say in the matter is Dolphins coach Joe Philbin. As one would expect, he played it coy Wednesday. "You need to trust your eyes, watch the film and see where he is at," said Philbin, who will consult as the week goes on with the Dolphins medical staff. "Obviously, the health and safety of the players is the No. 1 concern . I'm sure if he's healthy enough, he'll play. If he is not, then he won't. Linebacker Karlos Dansby doesn't have a vote. If Dansby did, he would side with Bush and put him in against the Cardinals. "Hell, yeah, Reggie is going to play," Dansby said. "He's Reggie Bush. If you know Reg, he'll do everything in his power to be back." The Dolphins did nothing more than note on an injury report Wednesday that Bush didn't practice. But Dansby was more descriptive. "He was out there moving around a bit," Dansby said. "He's not moving full speed, but he's moving around, so that's a good sign in my eyes." Dansby called Sunday's game a "must win" for the 1-2 Dolphins. It sure would help if Bush plays. After rushing for 172 yards and being named AFC Offensive Player of the Week on Sept. 16 against Oakland, Bush looked bound for another 100-yard outing on Sunday. But he took a hit just before halftime of the 23-20 overtime loss to the Jets, leaving for good with 61 yards. Bush's exit caused plenty of controversy. After the game, Jets linebacker Calvin Pace said "we had to put him on out." Pace clarified Monday he simply used a poor choice of words and there was no bounty or anything on Bush. Jets coach Rex Ryan had said before Sunday's game his team had to put some "hot sauce" on Bush. Bush didn't like that comment and went so far Tuesday as to say on a South Florida radio station that karma led to Jets cornerback Darrelle Revis suffering a torn ACL against the Dolphins, ending his season. "It's like the old saying, what goes around comes around, Bush said on his weekly appearance on WBGG-FM. "They talked about all week about putting hot sauce and this and that, and they ended up losing their best player for the rest of the season. So, it's sad that it happened because of that, but I'm going to be back. Bush was much less controversial Wednesday. "You know what, it's a physical game and there's a lot of contact," Bush said. "I don't know, maybe comments made it seem like that throughout the week. But I knew that, if my name's getting mentioned by the head coach, then I guess I'm doing something right. Ryan claimed on Wednesday that Bush "misinterpreted my comment" and that "hot sauce" means to "pour a ton of attention on him." Nevertheless, some spice has been added to Oct. 28, when the teams have a rematch on Jets turf. For now, though, the Dolphins have a big game Sunday. Bush knows there's quite a difference between being 2-2 and 1-3. "It's extremely important for us," Bush said of playing at Arizona, one of just three 3-0 NFL outfits. "Obviously, the games don't get any easier. This is about as tough as it's going to get at a Week 4. This is extremely important for us to get .500 and not fall back (to 1-3)." It would make it a lot easier for the Dolphins if Bush plays and maintains his recent form. Despite missing one entire half, he's fifth in the NFL in rushing with 302 yards, just 21 behind leader Jamaal Charles of Kansas City. Bush rushed for 519 yards in the final four games he played last season. So that gives him 821 over his past seven. Bush was said to have been walking gingerly after Sunday's game. But he got good news Monday when an MRI showed no structural damage. "I've been on the positive side of hits, and you think it's worse than it was and it ends up not being, and I've been on the other side," Bush said. "You just never know and thankfully everything was good and I'm all right, still walking." Bush said Wednesday he felt "a lot better than he had anticipated he would and has "made a lot of strides." That's why he vows to be ready Sunday. "If it was up to me, I'd be playing no matter what," he said. He knows, though, that nobody calls him Coach Bush. Chris Tomasson can be reached at christomasson@hotmail.com or on Twitter @christomasson
Original Story:
http://www.foxsportsflorida.com/09/26...
THE BACKYARD
BEST OF MAXIM
RELATED ARTICLES
Miami Dolphins running back Reggie Bush is practicing with the first team today and appears ready to play on Sunday against the Cardinals. Bush left early against the Jets with a knee injury and appeared to be doubtful this week against Arizona. While this is great news for Dolphin fans, fantasy owners should limit their expectations this week due to the fact that the Cardinals have...
Reggie Bush Bush gave his owners quite a scare on Sunday collapsing to the turf after his always troublesome left knee took a direct hit during the team's overtime loss to the Jets. He missed the second half of the game following the injury, as he was unable to keep the joint loose. MRIs taken Monday revealed no structural damage leading to some speculation that he could suit...
Reggie Bush Bush gave his owners quite a scare on Sunday collapsing to the turf after his always troublesome left knee took a direct hit during the team's overtime loss to the Jets. He missed the second half of the game following the injury, as he was unable to keep the joint loose. MRIs taken Monday revealed no structural damage leading to some speculation that he could suit...
Reggie Bush won't be speaking to the media anymore this week after doing his regular Wednesday press conference, but what reporters saw in the early portion of Thursday's practice spoke volumes in terms of his ability to play this weekend at Arizona. To put it simply, Bush didn't look like a player who missed the second half of last Sunday's game with a knee injury.
According to Ben Volin of the Palm Beach Post, after missing Wednesday's practice, Miami Dolphins running back Reggie Bush was limited today. Even though Bush was on the field on Thursday, I believe his status for Sunday's game is still up in the air at this point.
Reggie Bush will take the blows. He just wants karma to be a pal and land some hits, too. The Jets spent the days leading up to their Week 3 matchup with the Dolphins talking about finding ways to stop Bush with a physical attack, with coach Rex Ryan saying New York needed to put "hot sauce" on Bush. After Bush left Sunday's game with an injured left knee, Calvin Pace...
Reggie Bush On Darrelle Revis: What Goes Around, Comes Around - When it comes to the season-ending injury suffered by New Yorks Jets CB Darrelle Revis, Dolphins RB Reggie Bush has no sympathy. Bush, who suffered a knee injury of his own in the same game that saw Revis rupture an ACL, said of the situation, "It's like the old saying, what goes around comes around," via Ben...
MIAMI DOLPHINS @ ARIZONA CARDINALS (-6.5) The one downside to this pick is the Cardinals don't necessarily have an offensive juggernaut and won't light up the scoreboard against a solid Miami defense, but I'm banking on the Cardinals defense dominating the the Dolphins. The Cardinals defense is for real. I'm not overreacting their wins over the Patriots and Eagles either...
It's time for Week 3 Injury Analysis with some updates on previous injuries.  Once again, feel free to comment about the posts or to ask about other players you're interested in that were not listed below. Reggie Bush: In this past weekend, he was forced to leave the game at the end of the first half after suffering a knee injury.  While at first the injury looked like...
The 1-2 Miami Dolphins will look to derail the Arizona Cardinals' undefeated season on Sunday at The University of Phoenix stadium in Arizona.The Dolphins are coming off a heartbreaking 23-20 OT loss to the Jets at home.Running back Reggie Bush was forced to leave the game with a knee injury and his status for this week's matchup against the Cardinals is uncertain.Dolphins...
DAVIE, Fla. Dolphins coach Joe Philbin has stopped his players from talking about the replacement referees. Sort of. After Reggie Bush, Brian Hartline and Richie Incognito were among Miami players who had ripped the replacements in tweets, Bush said Philbin on Wednesday put the hammer down. Still, Bush couldn't resist one final dig. "Coach Philbin instructed us not to...
Last week: 28 (-1) Record: 1-2 They've got a very tough and underrated defense and they'll play spoiler to a few teams as underdogs (like they almost did last weekend), but their offensive ineptitude is going to keep this team as one of the worst in the league. Ryan Tannehill is not a capable NFL quarterback yet and the team's offensive leader, running back Reggie Bush, has...
NFL News

Delivered to your inbox

You'll also receive Yardbarker's daily Top 10, featuring the best sports stories from around the web. Customize your newsletter to get articles on your favorite sports and teams. And the best part? It's free!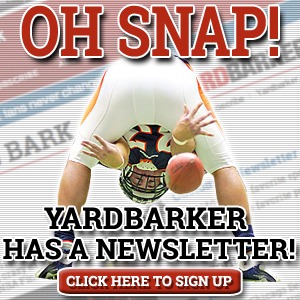 Latest Rumors
The Backyard

Today's Best Stuff

For Bloggers

Join the Yardbarker Network for more promotion, traffic, and money.

Company Info

Help

What is Yardbarker?

Yardbarker is the largest network of sports blogs and pro athlete blogs on the web. This site is the hub of the Yardbarker Network, where our editors and algorithms curate the best sports content from our network and beyond.