Found December 24, 2011 on Buzz On Broad:
PLAYERS:
Andy Reid
,
DeSean Jackson
,
Jason Babin
,
LeSean McCoy
,
Felix Jones
,
DeMarco Murray
,
Tony Romo
,
Demarcus Ware
,
Dominique Rodgers-Cromartie
,
Mike Jenkins
,
Jeremy Maclin
,
Jason Peters
,
Evan Mathis
,
Jason Kelce
,
Casey Matthews
,
Jason Witten
,
Jamar Chaney
,
Nnamdi Asomugha
,
Jeff Garcia
TEAMS:
Philadelphia Eagles
,
Dallas Cowboys
,
New York Giants

Forget what the standings might say before kick off on Saturday in Dallas: this Eagles game will absolutely mean something.
Regardless of their playoff chances, a lot will be at stake vs. the Cowboys- in fact, maybe even more if the Eagles are eliminated. While it appears that Andy Reid and Juan Castillo may have saved their jobs, everyone in sports knows that winning is the best deodorant. The horrible stench that was the Eagles season appears to have been masked, but make no mistake about it- finish these last two games in the same sloppy, lackadaisical way they lost so many games this season, and that deodorant will be gone. 
Besides the coaching staff, the players will have a lot on the line as well.
DeSean Jackson could make a lot of money for himself on Christmas Eve with a big game in the national spot light. Jason Babin is chasing a record, and LeSean McCoy looks to continue to pile onto his recently set one. In addition, a good portion of this roster will be playing for their jobs. When a team goes "all in" and does not even make the playoffs, it is not high paid, guaranteed big money players who suffer. It is the bottom of the roster that takes the hit, meaning that a lot of players will be out their competing for a spot on this roster next season.
If that is not enough motivation, the Eagles- regardless of their playoff status- could land a major blow in the Cowboys chances at a NFC East crown with a win.
Which would make one Merry Christmas for Eagles fans.
Check out the complete Eagles-Cowboys preview below for match up breakdowns, key players and a prediction.
Quarterbacks:
Key Players:
 Felix Jones, RB, Cowboys- The 4th year running back from Arkansas has been on fire recently, totaling over 220 yards on his last 38 carries. Jones did not play in the first match up between these two teams as the Eagles held the Cowboys to only 74 yards rushing, but he presents a very different running style then DeMarco Murray did back in Week 8. Jones also poses a threat out of the backfield as the Cowboys love to get him open in space with screen passes. It will be key for the Eagles linebackers to make sure they know where Jones is at all times and sniff out the screen when the Cowboys run it.

Jason Babin, DE, Eagles- All eyes will be on Babin as he tries to break the record held by Reggie White for sacks in a season (21). But as much as the Dallas Cowboys love history, the offensive lineman on Saturday will have their eyes on him not because of history, but because of the game Babin had against them last time. Babin recorded 2 sacks and got in Tony Romo's face 8 times in Week 8 and was a big reason the Eagles defense was able to shut down the Cowboys offense. If he is able to disrupt the Cowboys passing game this time like he was a month ago, it's going to be another long day for Romo.

 DeMarcus Ware, LB, Cowboys- The Eagles offensive line had it's way with the Cowboys Front 7 the first time around, but one player they were not able to handle was DeMarcus Ware. Of course, a lot of offensive lines have had trouble with the Pro-Bowl player, who brought Vick down 4 times in the teams first matchup this season.  The pressure will be on Howard Mudd to figure out a way to contain Ware this time around.

 Dominque Rodgers-Cromartie, CB, Eagles- Dominique Rodgers-Cromartie has been a disappointment this season in the eyes of fans, who expected more out of the lightning fast corner back from Arizona. A lot of the reason for DRC's struggles could be because of his position change, but with Samuel either out or limited, their will be no excuses this weekend as he will be back on the outside. If he can return to the player he was in Arizona this weekend, it will go a long way in making up for the loss of Samuel.

Eagles Offense vs. Cowboys Defense:
Eagles Passing Game vs. Cowboys Secondary: The Cowboys as a unit have been sub par against the pass this season, and are allowing 253 yards per game, good for 19th in the league. Part of the reason has been the play of Terrence Newman, as quarterbacks are completing over 50% of the passes thrown his way and are targeting him close to 5 times a game. Mike Jenkins has been slightly better on the other side, but he struggled against the Eagles a month ago when the teams played.
The Eagles offense spread it around the first time against the Cowboys, as 4 players had 3 receptions or more and 6 players caught at least 1 pass. While Marty Morhinweg did get everyone involved, none of the receivers had a break out game and the Cowboys did have success containing the Eagles two best receivers. Jackson was targeted only 6 times against Dallas, catching 3 passes for 31 yards. Jeremy Maclin did catch each pass thrown his way, but still finished with only 54 yards receiving.
Advantage: Eagles
Eagles Running Game vs. Cowboys Front Seven: LeSean McCoy's coming out party this season in many ways happened against the Cowboys, as he followed up his strong showing in Washington with a 185 yard, 2 touchdown performance on Sunday Night Football. Andy Reid committed to the run that night to the tune of 31 attempts and it allowed the Eagles to control the ball for over 42 minutes in the game.
The Eagles clearly felt they had an advantage on the left side of the line that night and they took advantage of it, running the ball 12 times to that side for a whopping 97 yards. Jason Peters and Evan Mathis had big nights and dominated their match ups, but one player on the line who struggled with Jason Kelce. Kelce had a tough time with Jay Ratliff, allowing Ratliff to get in Vick's face 4 times.
Even if Kelce struggles again, the Eagles should be able to have their way with the Cowboys again running the ball- if Reid decides he wants to.
Advantage: Eagles
Eagles Defense vs. Cowboys Offense:
Eagles Front Seven vs. Cowboys Running Game: It's hard to make any prediction on how the Eagles will fare against the Cowboys running game this time around, as the last matchup featured DeMarco Murrary- who is now out for the season. The Eagles did dominate the Cowboys offensive line that night, giving Murrary little room to run. But with Felix Jones now back and healthy, the Eagles will have to construct a completely different game plan for a completely different kind of running back.
In stopping Jones, a lot of pressure will be on the linebackers to make sure they understand where Jones is and where he is going. The Cowboys love to move Jones around and send him out in the flat, getting him in open space. The Eagles- especially Casey Matthews- did a good job last week against the Jets stopping the screen, which is a good sign if you're an Eagles fan.
The Cowboys will likely attack Jason Babin again like they did last time, as they rushed it to his side on 6 of their 8 rushing attempts. 
Advantage: Eagles
Eagles Secondary vs. Cowboys Passing Game: For as many missed tackles, blown assignments and penalties they have received, the numbers do not lie: the Eagles have a top 10 defense against the pass. A big part of that reason is the pass rush, as the defensive line has forced quarterbacks into making bad throws. Jim Washburn's unit has been able to get pressure without blitzing, which allows more players to drop back into coverage. Against the Cowboys the first time around, Juan Castillo dialed up only 4 blitzes, but got pressure on 11 plays and 4 sacks on plays he did not send extra players.
A key to stopping Tony Romo is always taking away his favorite security blanket, Jason Witten. The Eagles did a good job doing that last time, holding Witten to only 4 catches for 28 yards. Jamar Chaney and Nnamdi Asomugha were the two defenders who were responsible for Witten the majority of the game, and will likely be given the same assignment this week.
One thing the Cowboys like to do is throw the ball deep down the field. No quarterback has been more successful throwing the ball down the field then Tony Romo, who has completed 32 of 59 passes of 20 yards or more- 12 of which went for touchdowns.
Another aspect of the passing game that cannot be measured in numbers is the pressure Romo could start to feel if the Eagles are alive for the playoffs and jump ahead early. Throw the numbers out of the window: Romo has not yet proven he is a December winner. If the Eagles can get an early lead, he could start to force throws and hurt his team in the process.
Advantage: Cowboys
Prediction: As stated earlier, when the Cowboys and Eagles meet up, the records can be thrown out of the window. Regardless of what is at stake, the Eagles have always come to play.
In 2006, the Eagles went into Dallas on Christmas Day and used a 23-7 victory to clinch a playoff spot behind everyone's favorite back up quarterback Jeff Garcia.
In 2007 they met up late in December with the Eagles eliminated from the playoffs and the Cowboys standing at 12-2. The result? An inspired 10-6 Eagles victory.
In fact, the Eagles have won 3 of the last 5 December games between the two teams- a signature of an Andy Reid coached football team since he arrived as coach. Reid getting his players to show up and play hard has never been a problem, which is why this season was so frustrating to the fans. The Eagles have not been consistent this season, with their effort being called into question at times.
Last week the Eagles showed a lot of people something when they came to play for the second week in a row both on offense and defense. They had energy, they made big plays, and you never got a sense they were going to lose the game. It may be to little to late, but the attitude around this team has changed. The players believe in themselves again, and the feeling in the locker room is dramatically better then it was earlier in the season.
Can the Eagles put it together for the 3rd week in a row? The Eagles are a better football team then the Cowboys and if they can play the same game they have the last 2 weeks, they should walk away with a victory. Regardless of the New York Giants score, this team has shown over the last two weeks that they intend on playing hard to finish the season.
Look for the offensive and defensive lines to dominate, Jason Witten to be held under control and the Eagles to walk out of Dallas with a victory.
Prediction: Eagles 27, Cowboys 23
Follow Buzz on Broad Eagles Beat Writer Eliot Shorr-Parks on Twitter at @EliotShorrParks

Original Story:
http://www.buzzonbroad.com/2011/12/ea...
THE BACKYARD
BEST OF MAXIM
RELATED ARTICLES
ARLINGTON, Texas Moments after the Cowboys game against the Eagles was rendered irrelevant because of a Giants victory Sunday, Dallas quarterback Tony Romo left the field with a hand injury. Romo was taken to the locker room for examination after he was sandwiched on a third-down pass that fell incomplete. X-rays revealed no fracture, but Romo remained on the bench. Backup Stephen...
(source feed provided no summary content for this entry)
Michael Vick helped the Eagles beat the Cowboys 20-7 in a game that had all the intensity of a preseason dress rehearsal.
The Cowboys played it safe with quarterback Tony Romo's injury on Christmas Eve, but there doesn't seem to be any doubt that he'll play next week. The team says Romo didn't break any bones in his hand, just blood vessels.  The team has a week to get the swelling down in his hand. "I'll be…
(source feed provided no summary content for this entry)
(source feed provided no summary content for this entry)
Tony Romo was in the locker room dealing with a passing hand that wasn't broken, but was swelling. At the same time, the New York Giants were polishing off a victory that rendered the result of this game meaningless, and turned their game against the Cowboys in New York next weekend into a battle for the NFC East title. So Jerry Jones left his midfield viewing booth and marched...
The Eagles enter Dallas Sunday with a slim chance still of winning the NFC East. But a slim chance is better than no chance and Cowboys owner Jerry Jones kept telling people this week that he is afraid of the 6-8 Eagles. Well Jerry, nearly 86 percent of our football-picking "Experts" think the 8-6 Boys need be afraid of the Birds. "I believe Cowboys owner Jerry Jones is right...
Jerry Jones was in a pretty good mood after being informed that Tony Romo's right hand X-rays came back negative.
NFL News

Delivered to your inbox

You'll also receive Yardbarker's daily Top 10, featuring the best sports stories from around the web. Customize your newsletter to get articles on your favorite sports and teams. And the best part? It's free!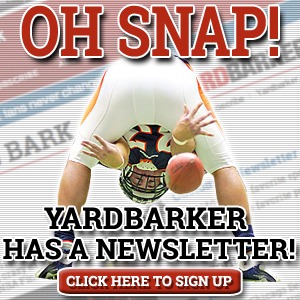 Latest Rumors
The Backyard

Today's Best Stuff

For Bloggers

Join the Yardbarker Network for more promotion, traffic, and money.

Company Info

Help

What is Yardbarker?

Yardbarker is the largest network of sports blogs and pro athlete blogs on the web. This site is the hub of the Yardbarker Network, where our editors and algorithms curate the best sports content from our network and beyond.