Found April 04, 2012 on isportsweb.com:
Stephon Gilmore will have to wait.  The article I had planned to write about the star corner from South Carolina who has become a potential target for the Detroit Lions has been pushed aside for now.
Why?  Because the Lions can't seem to stay out of trouble.
Within just two weeks of each other, two soon-to-be second year Lions were arrested for possession of marijuana.
The players, defensive tackle Nick Fairley and running back Mikel Leshoure, have both been released from jail, but Leshoure now faces a felony possession charge.
Leshoure faces up to two years in prison, and more likely, a suspension
For Leshoure, it is his second possession charge in a month, and this time around, was actually eating the marijuana when the officer came to the car.
I'll be honest.  I couldn't care less what these guys are doing in their free time as long as they produce on the field, but they haven't.  Leshoure blew out his knee preseason last year and missed all 16 games.  Fairley got hurt prior to the season as well, and recorded only 15 tackles and one sack in 2011.
Furthermore, the league will certainly look into these events in depth, and could decide to suspend the players.  While Fairley most likely won't be suspended, it is definitely possible for Leshoure to get suspended seeing how it is his second offense this offseason.
This all comes down to discipline.  You don't stomp on people, you don't put dirty hits on people, and you certainly don't drive around town with a bag of weed (and I don't recommend eating it if you do happen to have one).
The Lions, unfortunately, have done all of these things in the past year, and their lack of discipline is becoming unnerving.  Jim Schwartz needs to get these matters under control and get his players playing up to their potential as soon as training camp starts.
Lions fans will hope that these issues will soon be forgotten, but will also await any repercussions that may be handed down from the league.
Follow me on twitter @ScottPeceny
Original Story:
http://isportsweb.com/2012/04/04/can-...
THE BACKYARD
BEST OF MAXIM
RELATED ARTICLES
On Tuesday, defensive lineman Nick Fairley became the third Detroit Lions player in the last three months to be arrested for marijuana possession. He joins running back Mikel Leshoure and offensive tackle Johnny Culbreath with recent run-ins with the law. Fairley's arrest for a second-degree marijuana possession charge took place Tuesday afternoon in his hometown of Mobile...
One day after the Detroit Lions second round draft pick Mikel LeShoure was busted on Marijuana Possession charges, the Lions first round pick Nick Fairley busted on the same charges. Fairley was busted in Mobile Alabama on second degree possession charges and driving on a suspended drivers license. He missed a few games due to injury last season, coming in to finish the year with...
So... Has anyone thought of introducing a 28 game season? How about an extra 10 preseason games? Or maybe a mandatory off-season training program that runs from February to August? This is not due to a desperate need for content. Its not an attempt to improve the quality of play,either. No, apparently, some of the younger members of the Detroit Lions have too much time on their...
As if the Detroit Lions' problems with player personnel the past few years wasn't enough, here is another sign of trouble. The recent news of three 2011 draft picks getting busted for marijuana possession this offseason carries significant implications for the team and the players. The three draftees, Nick Fairley, Mikel Leshoure, and Johnny Culbreath, have all been cited...
Former Detroit Lions wide receiver Charles Rogers has been arraigned on five misdemeanors from two unrelated incidents. The 30-year-old Rogers appeared Thursday before Saginaw County District Judge A.T. Frank and pleaded not guilty to the charges. Frank released Rogers on a $7,500 personal recognizance bond. He's charged with making a malicious phone call and conspiring to...
Detroit Lions defensive tackle Nick Fairley was arrested on charges of marijuana possession on Tuesday in his hometown of Mobile, Alabama, according to the sheriff's website. Fairley, 24, was pulled over by police after residents complained about his vehicle speeding through a neighborhood, AL.com reported. He was charged with second-degree possession of marijuana, a misdemeanor...
We knew that former Detroit Lions' wide receiver Charles Rogers was in a lot of trouble last weekend when he had warrants for his arrest, but we didn't know that one of them was for threatening his own mother. That is how bad it is for the NFL bust. Rogers turned himself into authorities yesterday and went before a judge, dressed in a lime green suit with a T-shirt underneath...
Former Detroit Lions wide receiver Charles Rogers pleaded not guilty to five misdemeanor charges Thursday. Rogers appeared in Saginaw, Mich., to face the charges, which stem from two separate arrest warrants. Saginaw County District Judge A.T. Frank released Rogers on a $7,500 personal recognizance bond. The charges include making a malicious phone call, conspiracy to commit a...
Yet again, a Detroit Lions player is in trouble with the law, and once again the charges will be related to marijuana. Nick Fairley was arrested today and is being charged with second degree possession of Marijuana. Fairley was stopped due to a suspended license. Fairley was arrested after police found marijuana in his possession. This is the third marijuana related incident by...
Nick Fairley/Courtesy: al.com-mobile county sheriffs dept.((al.com)) This is kind of silly. Except he's a professional athlete who is on his offseason, so it's not as crazy as it kind of sounds.Detroit Lions defensive tackle Nick Fairley was arrested and charged with 2nd degree Marijuana possession Tuesday afternoon in Mobile, Alabama.Before you ask what he was doing in Mobile...
The Detroit Lions were awarded high draft grades by many pundits after their 2011 draft. One year later, "high" appears to be an appropriate word.
The Patriots took a flier Thursday on linebacker Bobby Carpenter, a highly touted prospect who has yet to pan out. Carpenter, a first-round draft pick from Ohio State in 2006, was selected by former Cowboys head coach Bill Parcells. Things never worked out in Dallas, but Parcells gave him another chance with the Dolphins in 2010, while he was running Miami's front office. Carpenter...
Lions News

Delivered to your inbox

You'll also receive Yardbarker's daily Top 10, featuring the best sports stories from around the web. Customize your newsletter to get articles on your favorite sports and teams. And the best part? It's free!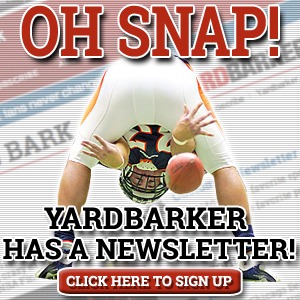 Latest Rumors
The Backyard

Today's Best Stuff

For Bloggers

Join the Yardbarker Network for more promotion, traffic, and money.

Company Info

Help

What is Yardbarker?

Yardbarker is the largest network of sports blogs and pro athlete blogs on the web. This site is the hub of the Yardbarker Network, where our editors and algorithms curate the best sports content from our network and beyond.