Found December 09, 2012 on Fox Sports Arizona:
PLAYERS:
Ken Whisenhunt
,
Marshawn Lynch
,
Larry Fitzgerald
,
John Skelton
,
Bobby Wagner
,
Richard Sherman
,
K.J. Wright
,
Steven Hauschka
,
Chris Clemons
,
Patrick Peterson
,
Malcolm Smith
,
Russell Wilson
,
Zach Miller
,
Daryn Colledge
,
Ryan Lindley
,
Darnell Dockett
,
Robert Turbin
,
Leon Washington
,
Pete Carroll
TEAMS:
Arizona Cardinals
,
Seattle Seahawks
,
New York Jets
,
Kansas City Chiefs
SEATTLE (AP) -- Ken Whisenhunt started with an apology and later asked a reporter if he could play quarterback. Arizona's season that was already spiraling finally hit bottom on Sunday. The Cardinals committed eight turnovers, saw Seattle's Marshawn Lynch run for three touchdowns and were handed the worst shutout loss in franchise history in a 58-0 rout by the Seahawks. If there wasn't heated debate about the direction of the Cardinals before, it's likely to pick up after this lackluster effort. "I apologize to our fans and everyone associated with our organization. That was embarrassing," Whisenhunt said. "We owe it to them, our fans, our supports to give them a better product than we did today and going forward that's what we've got to do, we've got to work to get better than that." The Seahawks (8-5) scored nearly every way possible, turning their first home game in about a month into a rout that will only increase the chatter in Phoenix whether Whisenhunt will be back as Cardinals coach. It was an effortless performance by the Cards (4-9), who have lost nine straight, the longest slide for the franchise since 1944. They gained just 154 yards and had almost as many turnovers as first downs (10). Larry Fitzgerald had one reception -- and that didn't come until the fourth quarter. John Skelton made numerous ill-advised throws into coverage and was intercepted four times. He was picked off twice each by Bobby Wagner and Richard Sherman, with Sherman taking the first interception back 19 yards for a touchdown. But that was just a small part of a Sunday the Cardinals would rather forget. "For them to come out and dominate the way they did in every phase of the game, it's embarrassing," Skelton said. Arizona actually started well, with Skelton completing his first three passes. When Skelton finally threw in the direction of Fitzgerald, the day quickly spiraled out of control. Skelton's pass found Fitzgerald's hands but was wrestled free by K.J. Wright, then tipped by Walter Thurmond and into Wagner's hands. Wagner's return set up the first of Steven Hauschka's three field goals, and Lynch added touchdown runs on consecutive drives for a 17-0 lead. That's when the turnovers became comical for the Cardinals. Skelton was stripped on the ensuing drive by Chris Clemons, who fell on the loose ball for the second Arizona turnover. He followed that by throwing into triple coverage to Fitzgerald, with Sherman catching the poor throw and returning it 19 yards for a touchdown. Patrick Peterson muffed a punt deep in his end minutes later, and the ball was batted around and eventually tipped to Malcolm Smith, who caught it out of midair at the goal line for a 31-0 lead. And finally, Peterson was hit from behind and fumbled on another punt return late in the first half. Russell Wilson hit Zach Miller for a 24-yard TD with 6 seconds left before the break. About the only bit of fight shown by the Cardinals came late in the third quarter as some pushing and shoving resulted in Daryn Colledge getting a personal foul for unnecessary roughness. By that point, the Seahawks led 51-0. "We just want to put this season behind us, but you know, we have three more games left," Peterson said. "That muffed punt, the first one, I wish I could have that one back, it just bounced off my hands. ... I'm doing the best of my ability to put this team in great position and make something happen, to give this team a spark, anything I need to do to try to get us going." Skelton was 11 of 22 for 74 yards and a passer rating of 18.2. He was replaced in the second half by rookie Ryan Lindley, but the offense didn't get any better. When asked after the game who would play quarterback next week, Whisenhunt jokingly said, "Do you play?" "Let's face it, part of our struggles have been tied to the inconsistencies at that position," he said. "You've got to have something there and can cover up other areas, and we're not getting that." Darnell Dockett played sparingly in the first quarter but was in at defensive tackle consistently thereafter. Dockett was fined by the team for an altercation with a teammate late in last week's loss to the New York Jets. Dockett and the rest of the pass rush that flustered Wilson in the season opener never became a factor. In fact, Wilson got to watch the final 25 minutes on the sideline with the Seahawks holding a huge lead. Wilson completed 7 of 13 passes for 148 yards and a touchdown, while Lynch and rookie Robert Turbin became the first Seattle duo to top 100 yards rushing in the same game since 2005. Lynch finished with 128 yards on just 11 carries, while Turbin added 108. Leon Washington's 3-yard run with 2:32 left pushed the Seahawks past the old record of 56 points scored against Buffalo in 1977. The eight takeaways were their second most, equaling a 1998 achievement. "It's a reward for all the hard work. You work so hard and so often the games don't afford you that opportunity," Seattle coach Pete Carroll said. "For everybody to play, everybody to contribute, so many guys can get on the stat sheet and all that stuff, it's really very positive." NOTES: Arizona was shut out for the first time since losing to Seattle 38-0 in 2003. ... The Cardinals' previous worst shutout loss was a 49-0 defeat at the hands of the Kansas City Chiefs in 2002. ... Wilson became the first rookie quarterback to start and win his first six home games. ... It was the sixth time in his career Fitzgerald was held to one catch, with four of those coming this year.
Original Story:
http://www.foxsportsarizona.com/12/09...
THE BACKYARD
BEST OF MAXIM
RELATED ARTICLES
Arizona Cardinals president Michael Bidwill said the team would not fire head coach Ken Whisenhunt before the end of the season, the Arizona Republic reported Monday. Bidwill told the Republic the Cardinals don't want to make an emotional response to the team's 58-0 loss to the Seattle Seahawks, which gave the Cardinals a nine-game losing streak. Bidwill called the loss...
Arizona coach Ken Whisenhunt is soldiering on. A day after the Cardinals endured the most one-sided loss in franchise history, the team's ninth defeat in a row, Whisenhunt said he will stick with what he knows has worked in the past. In the locker room before the Monday team meeting, defensive tackle Darnell Dockett said he would keep playing hard for defensive coordinator...
Arizona Cardinals President Michael Bidwill said a decision on whether Ken Whisenhunt remains as coach will be made after the season. Bidwill called the team's 58-0 loss at Seattle on Sunday ''unacceptable'' and said he has been evaluating the situation on a week-to-week basis as the losing streak has grown to nine games. ''Not making a rush decision...
TEMPE, Ariz. The only significant news coming from the Cardinals complex on Monday was that there was no news, unless you count Darnell Docketts running feud with head coach Ken Whisenhunt, which is actually old news. Nobody was talking about imminent change. Whisenhunt is still the coach. Ray Horton is not. Rod Graves is still the general manager. Mike Miller is still the offensive...
TEMPE, Ariz. -- Cardinals president Michael Bidwill says Ken Whisenhunt will remain the coach for the rest of the season. I dont intend to make any decisions based on emotion, Bidwill told a small group of reporters at the Cardinals practice complex late Monday afternoon in his first public comments on the topic. Yesterdays loss was extremely disappointing -- unacceptable. Its extremely...
Coach Ken Whisenhunt's seat has been getting hotter by the week, and Sunday's 58-0 loss against the Seattle Seahawks could be the nail in the coffin that seals his fate.
Theres no sense belaboring this. Michael Bidwill should fire coach Ken Whisenhunt, and he should do it now. It will be an empty gesture. Nobodys going to win with the offense the Cardinals trot on the field each week. Nobodys going to win with John Skelton and Ryan Lindley at quarterback. Nobodys going to win with eight turnovers. It will be a reactionary gesture, too. But you...
Theres no sense belaboring this. Michael Bidwill should fire coach Ken Whisenhunt, and he should do it now. It will be an empty gesture. Nobodys going to win with the offense the Cardinals trot on the field each week. Nobodys going to win with John Skelton and Ryan Lindley at quarterback. Nobodys going to win with eight turnovers. Firing Whisenhunt will be a reactionary gesture...
The Arizona Cardinals started the season with four straight wins, including a road win over the New England Patriots. After an overtime win against the Miami Dolphins, things turned south and the Cardinals have now lost nine straight games. Things cannot get much lower currently for Arizona after being humiliated against the Seattle Seahawks on Sunday 58-0. Will the Cardinals fire...
With just a few games to play in the 2012 regular season, it's starting to become apparent which coaches will survive and which coaches will be hitting the road. This weekend's round of games pushed a few coaches one step closer to being dismissed. Here's the short list of coaches hitting the road following the conclusion of the season. 5) Rex Ryan, NYJ: Another close...
ESPN's Adam Schefter reports that Arizona Cardinals claimed QB Brian Hoyer off waivers from the Pittsburgh Steelers. There's no question that adding anyone at this point would almost certainly be an upgrade for the Cardinals, but it would be pretty hard to get Hoyer acclimated to their offensive system in time to play against the Lions this weekend. Team president Michael...
NFL News

Delivered to your inbox

You'll also receive Yardbarker's daily Top 10, featuring the best sports stories from around the web. Customize your newsletter to get articles on your favorite sports and teams. And the best part? It's free!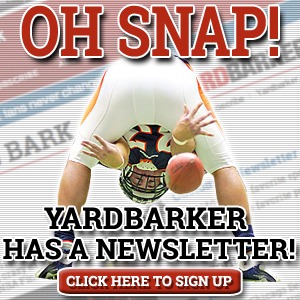 Latest Rumors
The Backyard

Today's Best Stuff

For Bloggers

Join the Yardbarker Network for more promotion, traffic, and money.

Company Info

Help

What is Yardbarker?

Yardbarker is the largest network of sports blogs and pro athlete blogs on the web. This site is the hub of the Yardbarker Network, where our editors and algorithms curate the best sports content from our network and beyond.