For those of you who enjoy physical, defensive football, your new favorite team is the Carolina Panthers. Going into Sunday's game in San Francisco, facing a formidable challenge, the Panthers (6-3) defense was suffocating. They held the 49ers (6-3) to 9 points and gave up just four yards in the fourth quarter. Oh, and the Carolina offense was good enough to score just enough points, as Graham Gano made up for his first missed try of the season by nailing a 53-yard field goal with 10:05 remaining in the game, to help the Panthers win 10-9. The game was a throwback, which was perfect, considering this is the last season the Niners will play in Candlestick Park before moving to their new luxury stadium in Santa Clara. The old-timers would have loved this knock-down, drag-out fight…and that's what it was. The Niners could do very little on offense. They managed three field goals before the Panthers could get on the board just before the end of the first half. Carolina Panthers running back DeAngelo Williams fights to break free of San Francisco 49ers cornerback Tarell Brown during his 27-yard touchdown run in the second quarter of Sunday's game. Trailing 9-0 late in the second quarter, Panthers running back DeAngelo Williams scored the game's only touchdown on a vintage cutback run, bouncing off one tackler for a 27-yard touchdown.  In a game where yards and points were at a premium, Williams not only scored the lone touchdown of the game, but that play was the only one that went over 20 yards from the line of scrimmage for either team. The game represents the biggest win in head coach Ron Rivera's three years. Earlier this season, the coach was concerned about the Panthers being relevant…now, he wants them to stay relevant. The Panthers offense was sloppy in the first half of the game, losing two turnovers and dropping an interception, but it was the defense that starred on Sunday. Facing a very potent 49ers quarterback (Colin Kaepernick) and one of the league's top running backs (Frank Gore), the defense did not allow a touchdown to be scored, forcing the Niners to settle for three field goals. Carolina Panthers punt returner/wide receiver Ted Ginn, Jr. looks to get more yardage on this punt return. 49ers punter Andy Lee (4) tries to make the tackle. Ted Ginn, Jr., whom the Panthers picked up from the 49ers this season, wanted to make his presence known. He did that.  Ginn caught two passes for 19 yards, and returned three punts for 65 yards. His statement catch was a third down conversion in the fourth quarter – an 11-yard pass from Cam Newton at the San Francisco 49 for a first down. He dragged his back foot while his motion sent him slowly out of bounds. He stood there at the San Francisco sideline, staring at 49ers safety Bubba Ventrone. His punt returns included a second-quarter return of 19 yards to the Carolina 43, but the drive stalled. In the fourth quarter, his 25-yard return went to the San Francisco 44. Seven plays later, Carolina had its first lead of the game, on a 53-yard field goal by Gano. Defensively, the key was to stop the 49ers on third down and not let them extend drives. Job well done, Panthers. They held the Niners, who entered the game with a conversion percentage of 40.2, to 15.4 percent on third downs. Not allowing Kaepernick to use his legs to extend plays certainly was a key. The six sacks by the Panthers defense (second-most in a game this season) had to affect Kaepernick's decision-making. The sensational quarterback was less than that Sunday, as the Panthers held him to just 91 yards passing and grabbed a timely interception to ice the game. Feel good about this one, Panthers, but know you have another tough game coming up Monday night. In prime-time, under the lights…New England (7-2 and coming off a bye) visits Bank of America Stadium in a game that has been sold out for weeks. The Panthers look to avenge some bad losses to the Pats, including a 38-6 loss in 2001 that ended a 1-15 season and, of course, the 32-29 loss in the 2003 Super Bowl. (All photos courtesy Jeff Siner/Charlotte Observer.) WHAT THEY'RE SAYING: Panthers defensive end Charles Johnson, who had 1.5 of the unit's six sacks on Colin Kaepernick: "Everybody was on the same page. When everybody is on the same page, buying into the scheme, you're going to end up being successful. It's all about being a team and playing as one. We've always got each others' backs, so I'm always trying to pick them up on that side of the ball when things don't go right, and that's what they do for me when I need it. That's a good thing, because if we're not looking out for each other, no one is." Panthers head coach Ron Rivera on how he has changed his coaching style: "My first two years I did everything by The Book. Punt the ball, kick field goals, stuff like that — bypassing opportunities to go for it on fourth down. I looked at certain situations, certain circumstances, and the one that got me was Buffalo. One of the things we could've done is go for it on fourth down, and we didn't. I've thought about that ever since, and part of my maturing as a coach is understanding certain situations and circumstances and going with it." "One of the biggest things I know (defensive coordinator) Sean (McDermott) and them emphasized was getting them in third-and-long or as long as possible and putting a lot of pressure on them. We felt pretty good about the pass rush. It worked to what we wanted to do. I understand Vernon Davis went out and that was one of those things that helped us in that situation. You lose a weapon, especially of his caliber, it's tough." "This was big. We're going to enjoy it. It's going to make the flight home a lot easier. We look forward to getting back to work next week." Carolina Panthers cornerback Drayton Florence (29) came up with a timely interception in the fourth quarter to ice the game for the visitors. Panthers cornerback Drayton Florence, who sealed the outcome with an interception at the San Francisco 42 with 23 seconds left to play: "We know that now we're going to get everybody's best. When you win [five] in a row, that opens people's eyes. They see the film. They see how we play. We have the second-ranked rush defense and scoring defense. That's big. We're not under the radar anymore." "Defending NFC champions, 5 1/2 hour flight, one of the best running backs (in Frank Gore), the best running quarterback in the league, one of the best defenses in the league, and we come in, 10-9 ballgame, a slugfest. We've just got to keep preparing every week. We're going to get everybody's best shot from here on out." Panthers free safety Mike Mitchell: "We heard all the naysayers say we hadn't played anybody and blah, blah, blah. Well, we played somebody today on the road in their place, and beat them. So they shouldn't have too much to say. We're relevant. We're here." "We had a great game plan, and really we just played Panther defense. We had a good idea what they were going to be about and we just took those things away. Our coaches did a great job preparing us. We were locked in on everything they were doing." Carolina Panthers placekicker Graham Gano watches his 53-yard field goal attempt in the fourth quarter. He is perfect from 50+ yards this season and this one proved to be the game-winner. Panthers kicker Graham Gano, who kicked a few extra balls following his first miss of the season: "I was so angry up until the ball left my foot on the 53-yarder. I always want another opportunity after a miss." Panthers running back DeAngelo Williams on how tough the game was: "We knew it was going to be one of those dogfights because they had a really good defense. I knew we had a really good defense. Coming into this game, we said the first team to get to 14 was going to win. Fortunately for us, it only took 10." Panthers wide receiver Steve Smith: "I can say with confidence, if you're a fan of football, you look at Candlestick, you look at the history, very few games that are relevant and mean something, you never come out with a blow out." San Francisco head coach John Harbaugh: "Moving the ball wasn't coming easy for us. I thought there were plays to be made, and (Kaepernick) made some really good ones. And we put all put our fingerprints on that. It's not a good feeling when you don't prevail, especially when you had multiple chances to get it done." Carolina Panthers safety Mike Mitchell (21) and defensive end Charles Johnson (95)combine to make the sack on San Francisco 49ers quarterback Colin Kaepernick (7). This was one of six sacks on the day for the Panthers defense. San Francisco QB Colin Kaepernick: "They didn't surprise us at all. We didn't execute."
Original Story:
http://feedproxy.google.com/~r/isport...
MORE FROM YARDBARKER
Panthers News

Delivered to your inbox

You'll also receive Yardbarker's daily Top 10, featuring the best sports stories from around the web. Customize your newsletter to get articles on your favorite sports and teams. And the best part? It's free!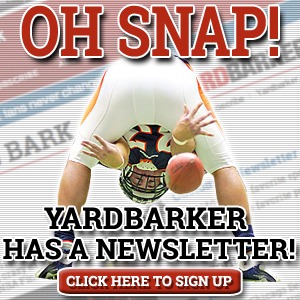 Latest Rumors
Best of Yardbarker

Today's Best Stuff

For Bloggers

Join the Yardbarker Network for more promotion, traffic, and money.

Company Info

Help

What is Yardbarker?

Yardbarker is the largest network of sports blogs and pro athlete blogs on the web. This site is the hub of the Yardbarker Network, where our editors and algorithms curate the best sports content from our network and beyond.