Found September 06, 2012 on Fox Sports West:
It's a question that probably swirls around constantly in the mind of Chargers' head coach Norv Turner: "What can (Ronnie) Brown do for you?" The answer better be "a lot more than we originally expected" because Brown's performance as Ryan Matthews' replacement as the starter at running back could be the difference in the Chargers playing into January or seeing an entire roster overhauled next offseason. Certainly that may be a bold statement since the free agent signee hasn't even carried the ball or caught a pass in a regular-season game for the Bolts. Nevertheless it's likely very accurate, considering the expectations Matthews was carrying into the 2012 season. After a breakout second season in which he ran for 1,091 yards (4.9 per carry) and caught 50 passes for another 455 yards coming out of the backfield, the Chargers were looking for the third-year pro from Fresno State to jump well into the rare air of over 2,000 overall yards gained. But on his first touch in the Aug. 9 preseason opener against Green Bay at Qualcomm Stadium, Matthews broke his right clavicle and underwent surgery the next day. He was expected to miss at least the first two weeks of the season, although he's been going through light drills this week, reports no lingering pain and said he'd like to play Monday night in Oakland. Turner didn't sound optimistic, telling reporters after Wednesday's practice that Matthews "didn't do much more than he did the other days. We're hoping he can do a little more each day." Which seems to put the ball squarely in the hands of Brown. The No. 2 overall pick by Miami in the 2005 NFL draft will start against the Raiders, a team against which he's had plenty of success. In four career games versus the Raiders, he's run for a total of 378 yards in 70 carries, a 5.4 yards-per-carry average. He'll be backed up by Curtis Brinkley, and fullback Le'Ron McClain will probably see his number of touches increase while Matthews continues to rehab. Even though he was brought in to back up Matthews, Brown says he's looking forward to having a significant role as the Chargers try to put their 2011 disappointments in the rear view mirror. "You never want to gain fortune because of (a teammate's) misfortune," Brown said Wednesday afternoon, "but they brought me here to do a job and that's what I'm trying to do." Has Turner and the rest of the offensive staff told him exactly how much he'll play and how many carries and passes he can expect? "Well, yes and no," the 2008 Pro Bowler said laughing. "With a coach like Norv running things, you never REALLY know how it's going to go. We have a game plan of course, but Norv's got such a great offensive mind that he's always thinking about how to set up the best mismatches for us against the defense. "When Norv's (running) a meeting or just talking to you one-on-one, you can tell that his mind is going, thinking all the time, always trying to come up with something to give us an edge. It's a lot of fun playing for a coach like that, and you can see why he's has the respect of so many players on this team and around the NFL." Brownlike most of his teammateswas wearing a dark blue t-shirt with an "ALL IN" logo stretched across the chest, and said it exemplifies the way the Bolts feel about this season. And how he feels about getting a chance to be an important part of a team with lofty goals. "We're all on the same page here," he said, "and everyone of us is going to get the chance to contribute at some point. It's up to us to prepare, to stay ready, and not let your teammatesor yourselfdown. "When I came here it was with the thought to help this team in any way I could. Things are a little different now with Ryan hurt, and he'll be a huge part of this team and offense when he returns, but right now I have to step up and do the job. That's the exciting part for me." All Pro tight end Antonio Gates, says that having a multi-talented veteran like Brown on the team when Matthews was hurt allows the Chargers to keep moving forward. "You can definitely tell that he's a guy who's been in the mix of things and he's a guy who has a ton of ability," Gates said. "And he also brings leadership to the table. The fact that he's played in big games and that he's carried a team at one point (in his career) shows that he has a lot of attributes we can use for this team. He'll definitely help us. He does whatever he's asked to do, and I'm looking forward to playing with him and him making plays."
Original Story:
http://www.foxsportswest.com/09/06/12...
THE BACKYARD
BEST OF MAXIM
RELATED ARTICLES
  This Monday night the NFL fans will be treated to something special as the prime time schedule will feature a double header. The night cap will highlight the long time rivalry between the Chargers vs. Raiders. Chargers vs. Raiders Odds: BetOnline has the latest Monday night football odds for this game and the Chargers line is (PK) with the total set at 47. Sign up at BetOnline...
 A change in the injured reserve rule will aid a fallen Chargers receiver this year.  Prior to the rule change, when an NFL team placed a player on the Injured Reserve, they were unable to play for the entire year. Now, the new rule states that if a player has sustained an injury, he can return to the team and fully participate before week eight of the regular season. However...
As we count the milliseconds before Sunday's full slate of action, it is essential that we examine the sleepers that are most likely to help fantasy owners prevail in week 1. While the sleepers in this column will be proportioned based upon the current events of each particular week, it just so happens that we currently have a preponderance of injuries to some high profile WRs...
From Indianapolis to Denver, Peyton Manning looks to make the San Diego Chargers unplug their electric ways they have had with him.But are the Super Chargers, super scared of him?The Chargers could have faced an easy division had Manning decided to stay in Indianapolis.Since Manning is now a Bronco, he and his team will give the Chargers their biggest season and home challenge.Both...
San Diego halfback Ryan Mathews (clavicle) participated in individual drills Wednesday, according to Michael Gehlken of the San Diego Union-Tribune.Fantasy Spin:San Diego will hold it's first official practice Thursday. Mathews has insisted he'll be ready Week 1, but we doubt the Chargers will play him. Week 2 is an option but we don't expect him to handle a full workload...
It's now official, San Diego Chargers RB Ryan Mathews will not play in his team's season opener against the Oakland Raiders. Mathews is recovering from a broken clavicle and although he returned to the practice filed this week, he has not been cleared for contact. This is an obvious disappointment for Mathews as well as his fantasy owners that we expecting big things this season...
The final game of the season opening weekend of the NFL will not be watched by a ton of people outside the west coast, unless of course you are addicted to watching every game possible. Many questions both of these quarterbacks in this ball game since one was a former star (Palmer) and many are questioning if the other ever come close to be the same gun-slinger he once was (Rivers...
The start of a new season is when fans, media, and players boost their teams up and create as much hype as possible when it comes to why "they" are going to come out on top.Of course, some of the back-and-forth talk is legitimate, but most of it is related to teams with question marks who are trying to have fun and intimidate their opponents.You do not hear the Packers...
The Chargers will kick off the regular season with a national audience watching and an undrafted rookie protecting the franchise QB's blindside. If it sounds like a recipe for disaster, that's because it is. Still, this is an obstacle, not a death sentence. Here is a detailed look at five ways Norv Turner & Co. will keep the offense humming and avoid another slow start.
Chargers News

Delivered to your inbox

You'll also receive Yardbarker's daily Top 10, featuring the best sports stories from around the web. Customize your newsletter to get articles on your favorite sports and teams. And the best part? It's free!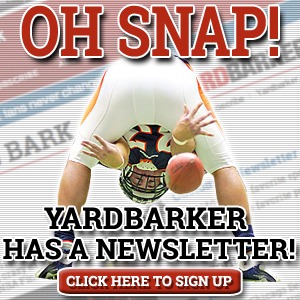 Latest Rumors
The Backyard

Today's Best Stuff

For Bloggers

Join the Yardbarker Network for more promotion, traffic, and money.

Company Info

Help

What is Yardbarker?

Yardbarker is the largest network of sports blogs and pro athlete blogs on the web. This site is the hub of the Yardbarker Network, where our editors and algorithms curate the best sports content from our network and beyond.