Found October 19, 2012 on Down and Distance:
Philip Rivers' embarrassing second half made this statement possible.Photo Credit: Creative Commons I can only imagine how many jobs you have to take, along with how long you have to go to school, in order to become the PR Director for an NFL team. You probably had to write an endless amount of dissertations that involved very intelligent vocabulary in order to make it to where you are. You combine those points with this story, and things just get a little weird. In a statement following San Diego's embarrassing loss to Denver, where they led by 24 going into half, San Diego Charger PR Director Bill Johnston released a statement entitled "Take a Chill Pill." Now, this wasn't a slip of the tongue, or some sort of unintentional comedy like Mitt Romney saying he wanted "binders full of women;" this was a well concocted statement that I am sure Mr. Johnston worked very hard on. Granted, some of his points are actually true, and quite comical, but when you are associated officially with the San Diego Chargers, and their website for that matter, there is a certain way to go about things. This….this is not it: What's with you people? Yes, Monday night's loss was bad. Horrible. Embarrassing. Ok…enough already. No mas. I get it. Now get over it. It was a loss. One loss. Listening to some of you out there, you'd think Monday night was "win or go home" and the Chargers are now packing their bags. "The Chargers are finished. Done," said one scribe. Another wrote, "Bye, bye Chargers. Put a fork in them." Sometimes I think Twitter was invented to give people a chance to puff out their chests and talk big, saying things they never would say to someone's face. Public Relations is usually supposed to be juuuuuust a bit more objective than this, the tone of this piece sounds more like a Charger fan defending himself to his Broncos buddy Tuesday morning at the office. By: Frank Santos- Sports-Kings Assistant Site Manager   The post Chargers PR Bill Johnston Director to Fans: "Take a Chill Pill" appeared first on DOWN & DISTANCE.
Original Story:
http://sports-kings.com/downanddistan...
THE BACKYARD
BEST OF MAXIM
RELATED ARTICLES
The way that the San Diego Chargers lost to the Denver Broncos on Monday Night Football was incredibly horrid.   They dropped a 24-point lead in the second half that featured several turnovers and poor game management.   After years of these episodes, the fans are once again justifiably up in arms.   The team's public relations department is so desperate to quell the masses...
The San Diego Chargers and Denver Broncos went face to face in a pretty good match-up on Monday. It seemed like the Chargers had it all in the bag until they seemingly had a meltdown and ended up turning the ball over five times in a few short plays. This in turn blew a 24-point lead and the Chargers lost to the Broncos 35-28.       Bill Johnston, director of public relations...
A.J. Smith finally admitted something that fans of the San Diego Chargers have known for years. They are just happy to hear that he knows it as well. After yet another disappointing loss to begin another disappointing season, Smith came out took responsibility for the struggles that continue to plague the Chargers. "We have some outstanding, talented players on this team and some...
Well, there can't be too many positive things to say about the San Diego Chargers and the pathetic second-half meltdown on Monday Night. The talk on sports radio has been that head coach Norv Turner and general manager AJ Smith are dead men walking and it would be a miracle if they keep their jobs at the end of the season – if they even make it that far. AJ Smith himself agrees...
After Monday Night's debacle, Charger fans were pretty upset, and rightfully so, but one man in the Charger front office thought that fans were exaggerating just a tad. Bill Johnston, director of public relations for the San Diego Chargers, wrote a post on Chargers.com telling fans to "Take a Chill Pill" and just calm down. The note started off like this:  What's...
Director of Public Relations has a certain mid-level ring to it. That's Bill Johnston's title with the San Diego Chargers. And for some reason Director Johnson was allowed to post on open letter to... Full story at Bob's Blitz ~ http://www.bobsblitz.com
The Chargers were embarrassed by Peyton Manning and the Denver Broncos with an historic comeback after the Chargers led 24-0 at half and went on to lose 35-24. Well, apparently the embarrassment turned to anger and restlessness, which is hardly unexpected of any fanbase after a collapse like that. Chargers P.R. director Bill Johnston took to the team's website with a post entitled...
Podcaster Adam Dobrowolski pours an intoxicating six-pack of CHFFs: Dallas proved it's America's dumbest team; Matt Ryan has plenty to prove; time for Andy Reid to go; Patriots need to reassess offensive strategy; Chargers epic choke job and much more.
I completed my sixth trade with Adam of My Cardboard Mistress fame. You can review our first deal here, second swap here, third trade here, fourth foray here, and fifth exchange here. Adam sent over a nice array of PC additions, beginning with an unexpected but much appreciated Ryan Getzlaf sweater swatch that is numbered 085/100. It's my newest Captain Getz hit.A pair of 2012...
Chargers News

Delivered to your inbox

You'll also receive Yardbarker's daily Top 10, featuring the best sports stories from around the web. Customize your newsletter to get articles on your favorite sports and teams. And the best part? It's free!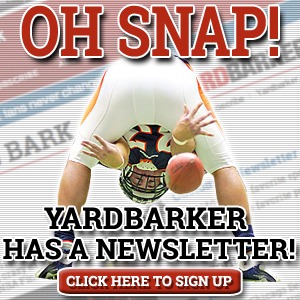 Latest Rumors
Best of Yardbarker

Today's Best Stuff

For Bloggers

Join the Yardbarker Network for more promotion, traffic, and money.

Company Info

Help

What is Yardbarker?

Yardbarker is the largest network of sports blogs and pro athlete blogs on the web. This site is the hub of the Yardbarker Network, where our editors and algorithms curate the best sports content from our network and beyond.