Found June 20, 2013 on Midway Illustrated:
During mini-camp the Bears did a lot of experimentation with their fronts, their blitz packages and different ways in which they were going to use their best pass rushers.  They showed looks that had some 3 down linemen 4 linebacker looks, 4 defensive ends at once, and flipping Melton outside and Peppers or Wootton inside.  They even had Shea McClellin roving around in gaps as a a linebacker as an end or inside as a defensive tackle. None of this stuff with McClellin is exactly new, but it highlights a lot of the ways the Bears plan to be versatile with the second year defensive end.  One of the ways the Bears used McClellin last year was like a linebacker. I was  browsing around a recent Chicago Bears forum and came across a play that was described in detail on the board about McClellin.  Inspiration took hold and I wanted to go look up the play on the All-22 and see precisely how it all went down.  The basics of it McClellin was in a stand up linebacker role and ran down the middle of the field with Jason Witten the Cowboys' tight end. More importantly this play demonstrates a few things, one how a defense can fool a quarterback on a pre-snap read by disguising what they're doing. Second it demonstrates how the Bears are willing to be creative but also will utilize their weapons to rush the passer. Third it shows how McClellin, at least for one play can run down the middle of the field in man to man coverage against Jason Witten. So to cut to the All-22 tape this play is Charles Tillman's interception return for a touchdown against the Dallas Cowboys in week 4.  On the play it's in the second quarter, 3:07 left in the half with the Bears leading 3-0.  In this first All-22 Tape image you have the Bears showing their pre-snap read to Tony Romo.  The coverage in the secondary, is a base Cover-2 look with three down linemen a nickel back and Shea McClellin and Brian Urlacher mugging a blitz look to the strong side (red) with Lance Briggs mugging a blitz look to the weak-side (blue).  Jennings is to the near side of the image in a soft press man look, while Charles Tillman on the far side is in heavy press coverage.   As Romo calls out his cadence Jennings begins to back off the line into off coverage while Major Wright rotates to the middle of the field to play the single high safety role.  Chris Conte runs up into the box and then lines up on the weak-side of the formation to blitz.  Conte's movement is late in the signals so he doesn't see Conte coming up until he snaps the football at which point Conte has a running start.  The protections have already been predetermined before Conte makes his move to the line of scrimmage. In this second  image you can see where Wright has aligned himself, at the top of the defense, where Conte is and where Jennings is (far red arrow).  The Bears show Cover-2 pre-snap, but completely change it up as Romo is calling his cadence.  By the time Romo snaps the football, the Bears have completely changed what they're doing.   At the snap of the football Urlacher bails hard out wide to the weak-side (yellow line), McCellin (yellow line) goes man to man on the TE Witten down the center step for step (white line).  Briggs and Conte blitz from the weak-side(red arrows).  Romo's hot read is Whitten and he's not open with McClellin in coverage, and now Conte is bearing down on him and a QB is going to throw back across his body anyway not with heavy pressure.  Romo panics and throws the football where Charles Tillman is waiting in  lock step press man to man coverage.  Tillman breaks on the ball, picks it off and is into the end-zone for six.   In the third image you can clearly see why GM Phil Emery selected McClellin in the first round.  McClellin's ability to run down the middle of the defense step for step is key to this play.  He's completely on the hip of Witten.  This play demonstrates his ability as a linebacker and shows a role he's likely more comfortable in rather than sticking his hand in the dirt like a DE.  There's nothing to say that McClellin can't be a pass rusher, but the Bears should be a lot more flexible with him rather than trying to make him play a position he's neither suited for nor comfortable playing.   Mel Tucker to this point is showing a willingness to do this with McClellin and a lot of other weapons the Bears have on defense.  The Bears may still be a 4-3 team, but they will when they need to play a 3-3-5 nickel look, or a 3-4 look or a 4 defensive end look. 
Original Story:
http://www.midwayillustrated.com/2013...
THE BACKYARD
BEST OF MAXIM
RELATED ARTICLES
We'll be switching sides of the ball today and looking at the Bears' defensive line for the upcoming 2013 season.  The D-line has been a stronger part of the team in recent years, and it will look to continue the trend.  Chicago lost Israel Idonije via free agency and let go of Matt Toeaina in the offseason.  But the Bears did however sign former New Orleans Saint Sedrick...
"We will practice fast...Unless I tell you it's a different speed, it's full speed, we're rolling."Special teams coordinator Joe DeCamillis left no margin for questions when addressing Bears rookies during rookie minicamp in May.The philosophy comes from the top down; Marc Trestman has decided to place a premium on full speed practices that leave players focused and ready...
I was searching around the web, just looking for some content for my upcoming Injury Report, which you can listen to on Wednesdays at 10:30pm ET, 7:30pm PT (shameless plug, sorry) and came across an interesting name that sort of perplexed me a little bit: Alshon Jeffery. Why is he perplexing? He's a young player (entering his 2nd year) who showed some flashes of brilliance in his...
Chicago Bears General Manager Phil Emery has long been an advocate of statistical data analysis as an evaluation tool. He confirmed that with the hiring of Mitchell Tanney as the club's director of analytics. Emery alluded to the importance of statistical research after last season as a way to self-analyze and scout. Tanney comes to the Bears from STATS LLC, [...]
A collection of passing plays from Chicago Bears veteran minicamp involving tight end Martellus Bennett.
Join Bear Report publisher Jeremy Stoltz for a live interactive chat discussing the Chicago Bears' offseason programs, training camp, the depth chart and much more.
We bring you the final installment of 1-on-1 drills between receivers and defensive backs at Chicago Bears veteran minicamp.
NFL News

Delivered to your inbox

You'll also receive Yardbarker's daily Top 10, featuring the best sports stories from around the web. Customize your newsletter to get articles on your favorite sports and teams. And the best part? It's free!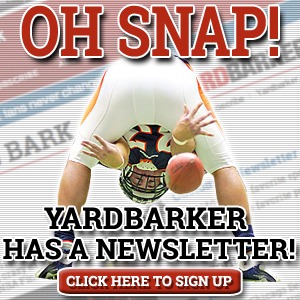 Latest Rumors
The Backyard

Today's Best Stuff

For Bloggers

Join the Yardbarker Network for more promotion, traffic, and money.

Company Info

Help

What is Yardbarker?

Yardbarker is the largest network of sports blogs and pro athlete blogs on the web. This site is the hub of the Yardbarker Network, where our editors and algorithms curate the best sports content from our network and beyond.