Found April 07, 2013 on Midway Illustrated:
PLAYERS:
Gabe Carimi
,
Brandon Marshall
,
Alshon Jeffery
,
Martellus Bennett
,
Jermon Bushrod
,
Matt Slauson
,
Earl Bennett
,
Devin Hester
,
Charles Tillman
,
Tim Jennings
,
Kelvin Hayden
,
James Brown
,
James Anderson
,
D.J. Williams
,
Brian Urlacher
,
J.T. Thomas
TEAMS:
Chicago Bears
Chicago Bears general manager Phil Emery has already stated publicly that he is open to trading down in the 2013 draft to accumulate more draft picks.  Emery knows that the Bears have more needs than they have draft picks with which to land an impact player, or players that can be groomed for depth or rotational purposes.  Lacking a third round draft  pick limits the flexibility with which Emery can address some of the needs on the roster.   These needs are by no means pressing immediate needs, but they are positions at which the Bears need to add depth.  If Emery cannot find a willing trading partner at the 20th overall slot in the 2013 draft then the Bears are not likely to pick up a third round pick.  A third round pick is not a position that you're going to find a long term starter, but finding a player that can be a solid defined role player will be a priority. The Bears do have a clear position of immediate need, that being the right guard position where right tackle Gabe Carimi is being projected to start.  Carimi is not the answer at right guard, his performance on film shows just how limited his ability as an offensive guard is.  As optimistic as Emery is in stating that he could see Gabe Carimi as a guard, the reality privately when Emery watches the film is likely quite different.  So while there is a chance Jonathan Cooper or Chance Warmack is there at the 20th overall spot in the draft, it's hard to justify drafting an offensive guard that high in the draft.  Offensive guards aren't going to help you score a lot of points or do a lot to disrupt the other team from scoring points.  They are the low priority low value positions in the draft, no matter how good of a player they are.  Cooper is the best offensive guard in this draft, while Warmack is good, he's not monumentally better than the third best guard in this draft in Larry Warford.  Warford and Warmack are virtually the same types of players at the guard position, so there is no reason to draft a guy that is likely to be there in the second round.  This leads to the middle linebacker spot which is also a priority for the Bears, but if it's not a pass rushing specialist, the value of that position has dropped significantly over the last decade.  Manti Te'o is a two down NFL linebacker because  he's not even the best cover linebacker in the draft.  If you have a two down linebacker there is absolutely no justification for picking that player at the 20th overall spot.  As it is the top two linebackers have enough warts to not warrant their selections at the 20th overall spot.  If the Bears want to find two immediate starters, they likely find those players in the first and second round.  In the fourth round they're now looking for a true value player that can be a developmental rotational guy.  The Bears have needs at linebacker, cornerback, defensive tackle, offensive guard and trying to find a speedy slot receiver that can stretch the field.  They have three draft picks in the draft where they can possibly find a player to contribute to the 2013 team. Of these five needs two of them are likely going to go unaddressed in the 2013 draft.  The question is which position are they most secure at, that they are willing to ignore these two borderline glaring needs?  Where are they likely going to get the most value?  Can they find that value without having to reach to make that selection?  At one point the dynamic Tavon Austin was thought to be a player the Bears could likely target in the first round,  now it seems all but certain that Austin's stock has soared to the point he'll be off the board by 20.  If Austin is there at this point it would probably be a steal to get a player that likely will be as dynamic on offense as Devin  Hester was once thought capable of being.  Austin likely has the most impact in year one to help the Bears win football games during the 2013 season.  Play makers do that, they go out and make plays and with Brandon Marshall, Alshon Jeffery and Martellus Bennett all but guaranteed to be productive, Austin will have no pressure to go out and be the guy.  While cornerback and defensive tackle are two of the more important positions, they are also two of the more  deep positions in the draft, meaning the Bears may be able to wait until later in the draft to target a developmental or rotational prospect.  The same goes with the offensive guard position, where if the Bears are competent enough at four of the five positions on the offensive line with the addition of Jermon Bushrod and Matt Slauson, then a mid-round rookie can come and develop next to the right tackle.  Which position however can the Bears afford to ignore?  Are they confident enough in Earl Bennett, Devin Hester and Martellus Bennett to be guys that can consistently attack the middle of a defense?  Do they have veterans in mind to come in and compete for the fourth defensive tackle spot in the lineup?  Are Charles Tillman, Tim Jennings and Kelvin Hayden going to be a competent enough threesome and  can the old veterans be counted on to remain healthy enough for the 2013 season?  Is James Brown perhaps a legitimate project that Aaron Kromer can work with in year to, to become a potential starter at right guard?  Are James Anderson and DJ Williams enough to replace Brian Urlacher and Nick Roach?  Can JT Thomas step up and offset the loss of Geno Hayes?  These questions and scenarios are just a few of the draft day stories the Bears are going to have to consider dealing with over the next few weeks.   
Original Story:
http://www.midwayillustrated.com/2013...
THE BACKYARD
BEST OF MAXIM
RELATED ARTICLES
There hasn't been much news about the NFL's greatest QB this offseason. That changed last Friday when Jay Cutler's appeared on KFC Radio rocking a full, manly beard and a sweater that puts the one my grandma made for me at Christmas of 2006 to shame. The 50 minute show didn't offer much insight into what Cutler has been doing this offseason, but I wasn't really paying...
Devin Hester is not expected to see a lot of action at wide receiver this year. There is a chance that Hester could not be used at all at the position and that is alright according to the 30-year-old. "I'm fine with it," Hester said on The J Mack and Nate Vash Show. "It was kind of my idea to let me more focus on my kickoff and punt return thing. … It was more of my idea...
Nothing is imminent for free agent linebacker Brian Urlacher, according to Mike Florio of Pro Football Talk. Florio adds that Urlacher is talking to a few teams – all of which are contenders – and he's only interested in joining a club that offers him a chance to compete for a Super Bowl next season. Earlier this offseason, Urlacher and his former team – the Chicago...
According to ProFootballTalk.com, free agent linebacker Brian Urlacher isn't close to signing with anyone right now, even though a few teams are interested. Per a source with knowledge of the situation, Urlacher won't imminently be signing with a new team.  He's talking with a few teams, all of which are contenders.  If anything happens, it likely won't happen for a while...
If you don't like Chicago Bears QB Jay Cutler, you will now because this story makes Jay Cutler a million times more likable. It's taken over three years but…the day is finally here!!!! I'm so excited. The underground, urban legend of Jay Cutler has finally gone mainstream. For years, my friends and I have discussed this AWESOME story. I've hinted about knowing it in past...
The Chicago Bears didn't do too much to bolster their roster on the open market, but the club looks to be slightly better off—if anything—after almost four weeks of 2013 NFL Free Agency.  Let's examine their updated team needs heading into the 2013 NFL Draft (in no particular order). Photo Credit: ChicagoBears.com 1. Linebacker Lance Briggs (pictured above) has registered...
The Chicago Bears have been working out running back prospects, which shows the team's interest in getting younger, and cheaper, at the position. Bear Report breaks down the RBs in this year's draft.
Bears head coach Marc Trestman isn't afraid of making some changes around his team. One of the changes we'll see when football returns later in the year is Devin Hester back returning kicks as his primary job. The move makes a lot of sense, but until now, we weren't sure how Hester felt about the news. Yesterday, Hester said in an interview on WLS in Chicago that...
Bears wideout Devin Hester will apparently return to his role as a return specialist, according to the Chicago Sun-Times report.Fantasy Spin:Hester had 23 catches for 242 yards and a touchdown last season and even at his best was never better than a No. 3 fantasy wideout. He has returned five kickoffs and 12 punts for touchdowns in his career.
The Chicago Bears have needs at defensive tackle and must consider selecting a young player at the position in this year's draft. Bear Report breaks down the early round DTs to find the best fit.
The Chicago Bears made a simple but very important public relations move yesterday. Had the Chicago Bears not acted swiftly on this, it would have been a PR DISASTER! If the Chicago Bears had willingly supported the National Organization for Marriage's (NOM) anti-gay agenda, then the organization would find themselves squarely on the wrong side of history. These days everyone is...
Bear Report looks back at the past 20 players selected with the 20th overall pick to clearer define expectations from the Chicago Bears' first-round pick in this year's draft.
Bears News

Delivered to your inbox

You'll also receive Yardbarker's daily Top 10, featuring the best sports stories from around the web. Customize your newsletter to get articles on your favorite sports and teams. And the best part? It's free!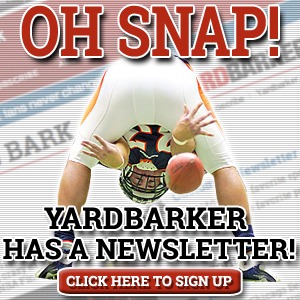 Latest Rumors
Best of Yardbarker

Today's Best Stuff

For Bloggers

Join the Yardbarker Network for more promotion, traffic, and money.

Company Info

Help

What is Yardbarker?

Yardbarker is the largest network of sports blogs and pro athlete blogs on the web. This site is the hub of the Yardbarker Network, where our editors and algorithms curate the best sports content from our network and beyond.