Found August 02, 2012 on Midway Illustrated:
PLAYERS:
Shea McClellin
,
Julius Peppers
,
Rod Marinelli
,
Brian Urlacher
,
Nick Roach
,
Dom DeCicco
,
Nate Collins
,
Ronnie Cameron
,
Brandon Hardin
,
Devin Hester
,
Alshon Jeffery
,
James Brown
TEAMS:
Chicago Bears
,
Jacksonville Jaguars
Perhaps no player has been more maligned than rookie defensive end Shea McClellin.  After all when you're the first draft pick of draft guru and newly minted GM Phil Emery, and you're lining up on the other side of Julius Peppers big things are expected.
McClellin has struggled but experience a bounce back day today notching numerous pressures, two tackles for a loss and a sack during the full 11-on-11 session.
Rod Marinelli spoke highly of McClellin and made it known what exactly the rookie needs to focus on to improve.  Instead of thinking so much about what's coming, he just needs to go.
He did that today and finally broke through on what has been a very rough first few days.  McClellin showed off the reasons why he could potentially make an impact.
Elsewhere on defense with Brian Urlacher out Nick Roach has taken over at the starting MIKE spot.  Roach played that spot in 2009 when Urlacher was out with his wrist injury.
Second year linebacker Dom DeCicco is running second team and has showed some flashes that put him squarely in the race to maintain his roster spot.  If DeCicco plays like he practices a week from now his impact should be enough to generate the buzz.
He's improved dramatically from year one to year two and now puts himself squarely in the conversation about eventually becoming a starter.
Will he be Brian Urlacher's eventual successor?  That's the question DeCicco is trying to answer, at thus far in camp the answer is yes he deserves serious consideration.
Elsewhere DT Nate Collins continues to push for that fourth spot in the rotation along the interior.  Collins has stood  out through each and every practice putting himself ahead of veterans and the rookie Ronnie Cameron.
Collins earned a qualifying offer from the Jacksonville Jaguars before being arrested for marijuana possession.  He'll miss the season opener but will be a vital part of the depth at defensive tackle moving forward.
I wrote about Collins in the lead up to the draft because you could see the raw talent he possesses that makes him an ideal fit for the Bears' defense.  He's shown that throughout camp and now moves into the conversation of what DTs will be a part of the Bears future.
Rookie Brandon Hardin took some reps with the starters at free safety.  Hardin is coming along slowly learning as he goes but the natural football instincts and the footwork are there.
On offense Devin Hester was out of practice for personal reasons.  Taking Hester's spot was rookie Alshon Jeffery, who was a bit inconsistent today with his play.  Jeffery would make one big play and then drop a pass on the ensuing possession.
Rookie offensive tackle James Brown was one of the most sought after UDFAs coming out of  Troy.  A lot of draftniks had him pegged as high as a third round pick, fourth round at the worst. Brown went undrafted and is now showing why he was regarded so highly.
Since his arrival he has swapped from guard to RT and now to LT.  With each progressive move up the depth chart he's only gotten better.   Brown is now entrenched at the second string LT spot and looks good there.  You can see his natural feet, his athleticism and ability to kick slide to take on speed rushers.
Brown did get worked over once on a bull rush by Shea McClellin today, but other than that has looked pretty solid overall.  One might argue he's been the best OT out there to this point.
Second year RB Armando continues to impress.  He hauled in a deep wheel route pass today and took it in for a touchdown.   He'll be one to watch a week from today against the Broncos.
Original Story:
http://www.midwayillustrated.com/2012...
THE BACKYARD
BEST OF MAXIM
RELATED ARTICLES
Shea McClellin should send a thank you card to Brian Price because Price's workout on Tuesday was bad enough that it knocked the rookie off the front page of Bears camp reports. Brian Price struggled mightily in his first full practice in pads with the Bears, raising early alarms about the young players skills.  The naysayers should relax a little, it was one practice and...
After the first few days of practice, the Chicago Bears receiving corps has looked dominant. This is what the team's coaches and management was hoping for when they went out and brought in multiple weapons in the offseason. Brandon Marshall dominated every defensive back that lined up against him during drills on Sunday. However, corner Kelvin Hayden had him on lockdown,...
Newly appointed Chicago Bears offensive coordinator Mike Tice has been in constant contact with quarterback Jay Cutler throughout training camp thus far.   Tice, who was the team's offensive line coach for the past two seasons, has said he wants Cutler to indicate his 'likes' and 'dislikes' about the plays they run. He wants his quarterback to be comfortable...
With the 2011/2012 season ending in such a disappointment, the Bears are looking to make the 2012/2013 season their season.  Injuries butchered them last season,  so the Bears went out and shopped around to prevent the same thing to happen again this year.  Will the moves they made take them to the Super Bowl?  I don't think so, but I do have them taking the NFC North.  Yes...
It's been a rough start for new defensive tackle Brian Price. After getting traded to the Bears last week from Tampa, Price has yet to really wow anyone at camp. Price suffered through notable growing pains during his first practice with the team but he made no excuses for it when asked about it after. "Ain't no asterisks next to your name when you're out there on...
MATT FORTE 2011 Statistics: Games Played: 12 Rushing Attempts: 203 Rushing Yards: 997 Average: 4.9 Rushing Touchdowns: 3 Receptions: 52 Receiving Yards: 490 Receiving Touchdowns: 1 Analysis: The 2011 season saw Forte do just about everything for the Bears offense. He was among the league leaders in rushing yards and average yards per carry before a knee injury sidelined him...
Bears first rounder Shea McClellin has participated in exactly four padded practices to this point, so the fever pitch surrounding his recent struggles is wildly premature.
Let's just go ahead and fast forward to the good part of the New York Jets adding Tim Tebow to their roster this offseason.  Whether we want to admit it or not, it's a known fact that Tebow and the Jets are not in a 'til death do us part kind of commitment so inevitably the [...]
Bears offensive tackle James Brown is moving up Chicago's depth chart, recently working with the second team at training camp. Bear Report goes 1-on-1 with the undrafted rookie from Troy.
Boundless speculation will come out of today's practice as J'Marcus Webb is practicing ahead of Chris Williams at LT.   With Mike Tice saying earlier that Williams and Webb will split reps at LT and split days and Webb practicing with the first team for the second consecutive day, Tice is not sticking to his words. Further adding to the speculation is Chris Williams...
NFL News

Delivered to your inbox

You'll also receive Yardbarker's daily Top 10, featuring the best sports stories from around the web. Customize your newsletter to get articles on your favorite sports and teams. And the best part? It's free!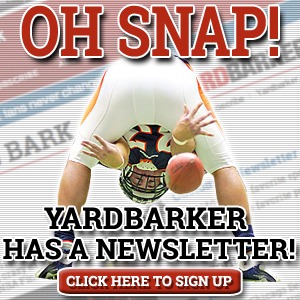 Latest Rumors
Best of Yardbarker

Today's Best Stuff

For Bloggers

Join the Yardbarker Network for more promotion, traffic, and money.

Company Info

Help

What is Yardbarker?

Yardbarker is the largest network of sports blogs and pro athlete blogs on the web. This site is the hub of the Yardbarker Network, where our editors and algorithms curate the best sports content from our network and beyond.