Found October 03, 2012 on 60 Max Power O:
After the sound beating the Chicago Bears took from the Green Bay Packers on Thursday Night Football in Week 2, they needed a rebound on national TV to get themselves back in positive light.
Not only did they do that, but they made themselves look real good in a 34-18 tromping of the Dallas Cowboys, completely silencing their critics. Here are the teams' grades for the Monday night performance.
Rushing Offense: B
Although Matt Forte and Michael Bush combined for just 81 yards on the ground, they did enough to make the Bears not be one dimensional and made play-action passing effective for Jay Cutler. They combined 4.1 yards per carry forcing Dallas to respect the run. Overall, the team ran the ball 28 times (Cutler ran three of them) while Cutler dropped back 29 times. The balance in play calling made Chicago's offense look great.
Passing Offense: A+
We will throw the offensive line in this category because this is where they shined on Monday night. The O-line, which was under a lot of pressure after poor protection the last two weeks, showed up to play and kept Cutler off the turf for most of the game. They allowed just two sacks (one to DeMarcus Ware that was also a fumbled turnover) and the tight ends did their job chipping on the ends. This all allowed Cutler to relax in the pocket and fire strike after strike (18-of-24) to his receivers. Cutler finished with 275 yards and two touchdowns, one of which went to Brandon Marshall who finished the game with more than 100 yards receiving and a score.
Rushing Defense: A
The Bears' defense completely shut down Dallas' running game, making the team one dimensional. DeMarco Murray averaged just 2.2 yards per carry and the team as a whole ran for just 41 yards, 24 of which came on two long runs. This allowed the pass rush to pressure Tony Romo who made his fair share of mistakes.
Passing Defense: B+
We know what your thinking. B+? Hear us out.
The five interceptions were spectacular. Two of them being returned for touchdowns were even better. But the pass defense still allowed almost 400 yards through the air. We know, that isn't too important as Chicago's defense is known to bend and not break, but not matter how many turnovers are forced, you can't give up that much through the air and be given an A.
That said, Dallas (most notably Dez Bryant) really helped out by running wrong routes, dropping passes and being penalized.
Special Teams: A
Special teams gets an A because they didn't do anything wrong. Robbie Gould didn't miss a kick and Adam Podlesh pinned Dallas inside their own 20-yard-line on two of his three punts. Devin Hester (who caught a receiving touchdown, by the way) averaged 25 yards per kickoff return as well. Special teams didn't hurt the Bears, hence the good grade. Take notes Detroit.
Be sure to check out other great articles at Sports Media 101.
Original Story:
http://www.60maxpowero.com/patriots/c...
THE BACKYARD
BEST OF MAXIM
RELATED ARTICLES
When lose or draw, you can bet on their being some drama coming out of a nationally televised Chicago Bears game. As usual it involves Jay Cutler and his inability to play nice with others. Please Click Here To Read This Story
While the Chicago Bears may be 3-1 and tied for first in their division, I'm not ready to call them the best in the NFC North yet. COming off a blowout win on Monday Night Football against the Dallas Cowboys there is plenty of reason for optimism, but also for doubt as well. Now I can't be too harsh on the Bears offense, as their top RB Matt Forte has been dealing with an ankle...
The Chicago Bears touched down in Dallas during Monday Night Football this week. The Bears pounded the Cowboys in the second half with all three units making big plays and riding the momentum.Cutler led the offense in a striking performance that helped show his focus and passion. He threw for 275 yards that included two touchdowns and NO interceptions.The offensive line was in good...
Was anyone else hoping that Chicago Bears offensive coordinator Mike Tice was going to run up and tackle quarterback Jay Cutler from behind and start unloading punches on his face?  One can dream, can't he? Is there a bigger douche in the league than Cutler?  There is a reason why he has never become an elite quarterback, his freaking attitude and mental stability.  We know...
Chicago Bears offensive coordinator Mike Tice apparently wanted to talk to his quarterback Jay Cutler about smoothing out the communcations between the two last night. Cutler was his normal asshole... Full story at Bob's Blitz ~ http://www.bobsblitz.com
Former Chicago Bears defensive lineman Tommie Harris was charged with indecent exposure, urinating in public and threatening a police officer early Tuesday morning in Chicago. Harris was arrested after he was caught urinating outside a bar in the Wrigleyville section of the city and then becoming confrontational with an officer who approached him, the Chicago Sun-Times reported...
Here are the Week Five Bears power rankings from various sites around the web: ESPN: #9 (Last week: #11) Analysis, "Cutler-to-Marshall and an opportunistic defense shined Monday night. When the Bears look good, they look oh so good." NFL.com: #6 (Last week: #9) Analysis, "If Jay Cutler and Brandon Marshall can play like they did in a blowout win over the Dallas Cowboys...
By Zack Pearson Chicitysports.com (Special to Bearsbacker.com) So this is what a real offense looks like? Bears fans have waited patiently to see their new look offense and the potential it has. Well Bears fans, here it is. But is it finally here to stay? After struggling for most of the first three weeks of the NFL season, the Bears finally flashed the offensive threat that...
ARLINGTON, Texas (AP) -- Lance Briggs and Charles Tillman returned interceptions for touchdowns and the Chicago Bears beat the Dallas Cowboys 34-18 on Monday night. Tony Romo threw five interceptions, matching the most in his career. Major Wright had two of the picks, and the one by Briggs came on a wild two-play exchange of turnovers midway through the third quarter. Chicago&...
For at least one night, Cutler was not the focus nor his offfensive lineman-slapping ways.  The Chicago Bears defense was front and center on this night, creating 5 turnovers and was leading their team in scoring up until the last major Bears drive of the night which, of course, was started by an interception.  Bears Offense 20, Bears Defense 14.  Overall, neither team ever really...
After looking lethargic in a 23-6 win over the St. Louis Rams in Week 3, the Chicago Bears had six days to hear criticism on whether or not they can notch a win over a quality team.Monday night the Bears answered the question by waltzing into Cowboys Stadium and throttling the Dallas Cowboys 34-18, to improve to 3-1 on the season.The offense needed a half to get going, but the defense...
Coming off a dominating performance in prime time, the Chicago Bears defense could be in for another big effort against a team that might have the worst offense in the NFL. The visiting Bears look for a third consecutive victory as they face the offensively challenged Jacksonville Jaguars on Sunday. Though Chicago's offense has been inconsistent in 2012, its defense has a league...
Bears News

Delivered to your inbox

You'll also receive Yardbarker's daily Top 10, featuring the best sports stories from around the web. Customize your newsletter to get articles on your favorite sports and teams. And the best part? It's free!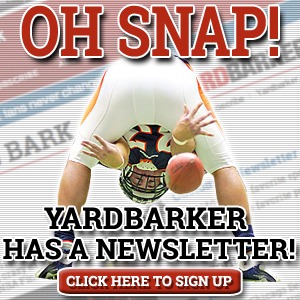 Latest Rumors
The Backyard

Today's Best Stuff

For Bloggers

Join the Yardbarker Network for more promotion, traffic, and money.

Company Info

Help

What is Yardbarker?

Yardbarker is the largest network of sports blogs and pro athlete blogs on the web. This site is the hub of the Yardbarker Network, where our editors and algorithms curate the best sports content from our network and beyond.