Found November 07, 2012 on Midway Illustrated:
The Chicago Bears are struggling on offense, they're near the bottom of the league in efficiency and Mike Tice is struggling with his play calling on offense.  There was a bit of a theme developing in the Chicago Bears offense that I picked up on and wanted to see if I could get a statistical verification on, where is the play-action pass?   Part of what is lacking in the Bears' offense is the lack of consistency in the passing game adjustments or even creativity.   What was going to be a big part of the Bears offense behind the running game of Matt Forte would be the play-action pass.  Forte would set the table, slow up the pass rush with the running game and then the Bears could get the  play fake involved in the offense.   Instead what I've discovered is that the Bears not only fail to establish the running game, but they fail to implement the all-important play-action fake into their offense.  So based on my suspicion about the Bears offense failing to implement the play action I wanted to consider if there was a number.   As always when you need a metric or a statistical number to figure out something that isn't always tracked by regular stats you turn to ProFootballFocus.  I reached out to Nathan Jahnke and he came back with this tidbit of information.   "As for Cutler and play action, that's something we just started doing this year...but this year he does (run the offense out of the play action pass) 15.8% of the time, which is 10th lowest in the league." Hunch affirmed, the Bears should have a big chunk of their offense dedicated to the max protection, play-action pass part of an offense and instead they don't.  They are 22nd in the NFL in that category, a statistic they should likely be leading the league in to take the pressure off of Cutler.   So where does Cutler's percentage rate overall compared other QBs in the NFL, RGIII (Mike Shannahan the offense Cutler had 4,500 yards passing in) is at the high end while Tony Romo (currently leads the league in INTs) is at the low end.   "The most is RGIII at 35% where low end is Romo at 9%. 19 QBs are between 13 and 19%, and then there are 10 or so between 20 and 33."  Jahnke said.   So there you have it the rookie QB who is having some of the best success of any rookie QB or NFL QB in the league is coming out of play action 35% of the time.  Oh and RGIII has mobility and the ability to get out of the pocket and throws well on the run much like Cutler.   There is no better weapon for an offense than to establish the running game, and then parlay that into a good play action pass.  Pass-blocking problems can hamper an inclusion of that aspect of the offense, but it can also BENEFIT the pass protection.  Suddenly the defense doesn't know if it's keying on the run or if it's keying on the pass.  The linebackers and safeties get sucked up, and you can take a safe shot down the field often into single coverage.   Honestly I don't have to go into the nuances of this because it's a common sense approach that most fans understand.  Instead we're left to wonder why the Bears have such a strong running game they're failing to use on a consistent basis and a QB that is being limited.   Cutler would be one of the best play action QBs in the NFL because you can keep him in the pocket or you can roll him OUT of the pocket.   There are so many aspects of the play-action pass that the Bears can utilize successfully in this offense, and the fact that they're not is disconcerting.  The Bears need to make the move towards being a stronger play fake team.  Roll outs, boots, or straight drops that get receivers down the field where Cutler can take a shot down the field.  We saw the Bears run a perfect play-action in the Colts game with Alshon Jeffery.  Why they rate so low in the NFL in that category is perplexing.   At some point there has to be some accountability on offense and versatility.  The offense is struggled and a strong finger can be pointed strongly at Mike Tice.
Original Story:
http://www.midwayillustrated.com/2012...
THE BACKYARD
BEST OF MAXIM
RELATED ARTICLES
THAT'S THE CHICAGO WAY!
Note to any teams playing host to the Chicago Bears: make sure you stock up on the suds before their fans come to town.
Chicago Bears quarterback Jay Cutler told The Jay Cutler Show" on ESPN 1000 that he wants to wait until the offseason to start talking about a new contract. "I don't want to do (an extension) during the year," Cutler said. "I did it during the year when I first got here, and it didn't work out that well, and I said I'd never do it again. After the year if they want...
For those of you who started your Chicago Bear studs this week, you had yourselves a great Sunday. If you're just a fan of the team, you also had a great Sunday — even if you were facing somebody starting any Chicago Bears because a team victory trumps a fantasy victory any day. Of course, the week after we tell you to drop Jay Cutler and he isn't worthy of a roster spot...
Chicago Bears star cornerback Charles Tillman might miss Sunday's game against the Houston Texans because of the pending birth of his daughter. Tillman told Chicago radio station WSCR-AM that he might not be available because his wife, Jackie, is due to give birth to a girl - the couple's fourth child. Their daughter, Tiana, needed a heart transplant a few months after she...
After eight games in the regular season it is clear that Chicago Bears cornerback Charles "Peanut" Tillman is on track to be the NFL's defensive player of the year.  It is hard to deny the impact that Tillman has made in the early part of the Bears schedule with his 43 tackles, 2 interceptions (both of which he returned for touchdowns), 7 forced fumbles, and 1 fumble...
Chicago Bears cornerback Charles Tillman would choose family over football if forced to make a decision Sunday. Tillman told WSCR 670-AM in Chicago that he would miss the game against the Houston Texans to be with his wife if she goes into labor. "The wife is due any day, so hopefully this baby can stay in until after the game on Sunday," he told the radio station....
Charles Tillman said that if his wife goes into labor Sunday, he won't play in the Chicago Bears game against Houston. You know what that makes him? Good. Very, very good. I'd give the idea one Facebook-like right now. Thumbs up. Mike Florio, of NBC and Pro Football Talk wouldn't. He said that football players should plan their "nine-month family expansion activities...
"The star of the defense is the defense." Bears players have been saying that all season, and with each passing week it becomes more and more relevant. Linebackers Brian Urlacher and Lance Briggs and defensive end Julius Peppers have 22 Pro Bowls among them, but praise for the No. 2 scoring defense in the NFL can be spread among more than a dozen players. No Bear...
There are some moments in a man's life that are cherished. Believe it or not, however, some might say that playing the Houston Texans in Week 10 of the NFL schedule is not one of those moments, at least not compared to say, seeing the birth of a child. With that obviously in mind, Bears cornerback Charles Tillman has already said that if his wife goes into labor this weekend, Tillman...
Charles "Peanut" Tillman, who is having a MVP-like season for the 7-1 Chicago Bears' defense, has come under fire for saying he may miss Sunday Night's huge match-up against the Texans if his wife goes into labor.  The Bears defense is as good as it gets this season, and Peanut is an essential ingredient to its continued success.   Let it be known that the stones which...
  John Gress/Getty Images North America Chicago Bears quarterback, Jay Cutler was asked on his weekly segment on  WMVP-AM 1000, who he would be voting for this  election. "That's a touchy subject," Cutler said initially. "Yeah, I have been following the debates and everything. I do live in Tennessee. I'm voting for Mitt (Romney) this election season." Cutler then quickly...
NFL News

Delivered to your inbox

You'll also receive Yardbarker's daily Top 10, featuring the best sports stories from around the web. Customize your newsletter to get articles on your favorite sports and teams. And the best part? It's free!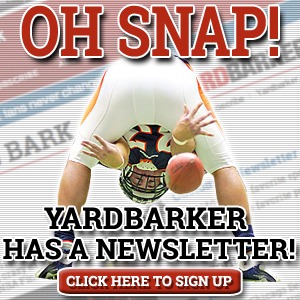 Latest Rumors
Best of Yardbarker

Today's Best Stuff

For Bloggers

Join the Yardbarker Network for more promotion, traffic, and money.

Company Info

Help

What is Yardbarker?

Yardbarker is the largest network of sports blogs and pro athlete blogs on the web. This site is the hub of the Yardbarker Network, where our editors and algorithms curate the best sports content from our network and beyond.