Found September 11, 2012 on Fox Sports Kansas City:
KANSAS CITY, Mo. -- Upon further review, the Chiefs don't need another cornerback or a second pass-rusher off the edge. They need Tony Robbins. "Sometimes when you have hope, hope can do a lot of good things for you," Kansas City coach Romeo Crennel explained Monday, roughly 24 hours after Atlanta had taken a two-by-four to his squad in a 40-24 loss. "As long as it was a one-score game, I think there was good hope on the team. Then, once it become a two-score game, then some of that will weakened just a little bit." A little bit? With 5:05 left in the third quarter Sunday, it was a 3-point game. With 4:02 left, the Falcons had a 34-17 lead. The Chiefs folded, collectively, like a bunch of lawn chairs. Kansas City's will didn't weaken. It flat-out left the building, right along with everybody else. "In that situation, you're down, anybody wants to make a play," running back Jamaal Charles offered Monday afternoon. "And they probably press. But we can't lose focus, and (will) try to do better next time." Down 20-17, having kept pace with a nuclear Falcons offense that was made even more radioactive by an injury-depleted Chiefs secondary, Crennel's men opened the second half with a statement-making, 11-play, 58-yard drive. The hosts ate 5:53 off the clock and marched all the way to the Atlanta 22. It was perfect, everything the locals could've asked for, save for the end result: Ryan Succop's 40-yard field-goal attempt, which would've tied the contest, missed to the right. Frustrating? Yes. Confounding? No question. But fatal? Really? There's 24 minutes left on the clock, and you're folding the tent? Is this roster that fragile, psychologically? And yet, there it was. One miss, with miles to go, and the hands started wringing en masse. Fans groaned. Shoulder pads slumped. Veteran scribes shook their heads. It turned out to be a self-fulfilling prophecy: Atlanta got the ball back, drove 70 yards the other way, and punched in another touchdown to push the lead to 10. With 20 minutes left on the clock, while Crennel was feeling around for his red flag, his roster was getting ready to raise a white one high over Arrowhead Stadium. That's not a talent issue. Or a physical issue. That's mental. That's spiritual. That's disturbing. Do Matt Cassel's teammates have so little faith in their starting quarterback? So little faith in themselves? If the Chiefs don't believe in what they're doing out there, how the heck are the rest of us supposed to buy in? "You know, as an offense, it's our job to go out there and play," Dexter McCluster, the Chiefs' slot receiver, told FOX Sports.com. "Matt's our leader. Matt's our guy. I'm behind him 100 percent." As for the rest of the populace, well... let's put this way: The bandwagon gets a lot better mileage this week after all the jumping off Sunday night. "We've got a great team and I believe in my teammates," Charles said. "They've got great players on this team. We just have to come together and put it together for next week." The Chiefs give an awful lot of lip service to the sanctity of protecting their house. You just hope, deep down, it's not a house of cards. "Well, in the olden days, we'd have contact, padded practice for however long it took," Crennel continued. "But this is a different day and age, so we have to work within the rules that are set forth. "So you talk to them, you show them tape, try to get them to understand that every play is a play that must be played in the NFL and that the game is not over until it's over. And there are always chances and opportunities for you to make a play to give your team some momentum, and then, before you know it, you're winning the game." Pros, by nature, are mercenaries. You want to appeal to their heads, you appeal to their wallets. Crennel has a far tougher task ahead of him this week: Appealing to their hearts. You can follow Sean Keeler on Twitter @seankeeler or email him at seanmkeeler@gmail.com
Original Story:
http://www.foxsportskansascity.com/09...
THE BACKYARD
BEST OF MAXIM
RELATED ARTICLES
Kansas City WR/RB Dexter McCluster was targeted a team-high 10 times in the Chiefs' 40-24 loss to Atlanta.Fantasy Spin:McCluster carried the ball 114 times in 2011 due to the team's many running back injuries, but that isn't likely to be the case in 2012 with the acquisition of Peyton Hillis. It's exciting to see McCluster used this much in the passing game. We know...
The Chiefs have waived linebacker Cameron Sheffield to make roster space for linebacker Tamba Hali, who was suspended for Week 1 for violating the league's substance-abuse policy. The Chiefs announced the roster move Tuesday night. Hali did not count against the Chiefs' 53-man roster while he was suspended for the season-opener against Atlanta. He's eligible to return...
Getting 40 points put up on you at home is brutal, but everything wasn't dark and gloomy at Arrowhead yesterday. Take Chiefs superfan "Belly Boy" for example. This guy had to know Atlanta wasn't going to be a cakewalk, but he didn't let that dampen his tailgate experience. Slugging beers, posing for pictures and basking in the limelight, we can only hope this isn't the...
Kansas City Chiefs wide receiver Dwayne Bowe started out strong but he only caught one pass in the second half.Fantasy Spin:Matt Cassel looked great in the first half, but he threw two interceptions after halftime. Bowe finished with three catches for 53 yards against a good Falcons secondary.
Chiefs running back Jamaal Charles' first game since Week 2 of last season went well, as the back handled 16 carries and registered 87 yards rushing.Fantasy Spin:Charles displayed the same burst that helped him rush for 1,500 yards two seasons ago. He looks to be completely recovered from a torn ACL and is a solid RB1.
By creating their own Twitter accounts, professional sports teams are accepting that the benefits of using social media outweigh the negatives of having to listen to fans air out their grievances. Twitter makes it easy for fans to voice their frustrations directly to the team after a tough loss, and that's exactly what Missouri resident Travis Wright chose to do after the team's...
Updates. With AP Photos. By DAVE SKRETTA AP Sports Writer The NFL is supposed to be a 16-game exercise in attrition. Teams typically start off the opening week at full strength, and through the brutal grind of practice and games, guys pick up the inevitable bumps and bruises, and often injuries more serious than that. The teams that best cope with them are usually in the playoff...
KANSAS CITY, Mo. When all you've got in the fridge is a pack of bologna, a loaf of bread and a 4-month-old jar of mayo, it's a little tough to make filet mignon. The NFL is a filet mignon league. Roddy White and Julio Jones are filet mignon receivers. Tony Gonzalez is the filet mignon of tight ends. You're trotting out Jacques Reeves. Matt Ryan is a filet mignon quarterback...
The Chiefs and Falcons both enter the 2012 season with aspirations of a division title, and potentially, a game in February.  Atlanta comes into the season as one of the most frustrating teams in the NFC, as they have had plenty of success during the regualr season under quarterback Matt Ryan, only to see those seasons come to frustrating ends in the postseason.  Ryan, in fact...
KANSAS CITY, Mo. -- Returning to the city where he began his career as the most prolific tight end receiver in NFL history, Tony Gonzalez rolled into Arrowhead Stadium and helped the Atlanta Falcons to a decisive 40-24 victory over the Kansas City Chiefs. Gonzalez spent 12 seasons with the Chiefs and became the franchise's leading receiver, but was traded to the Falcons in...
There was no question the Kansas City Chiefs were outplayed on Sunday in their 40-24 loss to the Atlanta Falcons but can they really be this bad already to start the season? So what went wrong on Sunday?
Week One: Atlanta Falcons @ Kansas City Chiefs Final Score: ATL 40, KC 24 Passing: Matt Ryan: 23-31, 299 passing yards, 3 TD passes - Matt Cassel: 21-33, 258 yards passing, 1 TD pass, 2 INT's Rushing: Micheal Turner: 11 carries, 32 yards rushing - Matt Ryan: 3 carries, 25 yards, 1 TD - Jamaal Charles: 16 carries, 87 yards rushing - S. Draughn: 6 carries, 29 yards, 1 TD Receiving...
Chiefs News

Delivered to your inbox

You'll also receive Yardbarker's daily Top 10, featuring the best sports stories from around the web. Customize your newsletter to get articles on your favorite sports and teams. And the best part? It's free!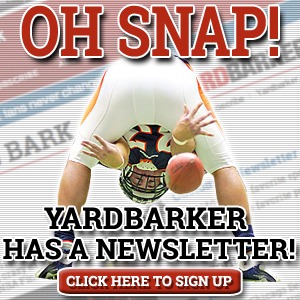 Latest Rumors
The Backyard

Today's Best Stuff

For Bloggers

Join the Yardbarker Network for more promotion, traffic, and money.

Company Info

Help

What is Yardbarker?

Yardbarker is the largest network of sports blogs and pro athlete blogs on the web. This site is the hub of the Yardbarker Network, where our editors and algorithms curate the best sports content from our network and beyond.