Found January 28, 2012 on Fox Sports Kansas City:
Is there a size restriction on NFL running backs? If you've paid attention to the flap in Kansas City about the future of Dexter McCluster, you could be forgiven for drawing that conclusion. The Chiefs, it seems, were busy scouting running backs during workouts for the Senior Bowl -- despite the fact that Pro Bowler Jamaal Charles is expected to return from injury and McCluster's effectiveness in 2011. They can't seem to make themselves believe that the speedy McCluster -- 5-foot-8, 170 pounds -- will manage to withstand the pounding required in a league full of giants. Last year's offensive coordinator, Bill Muir, admitted near the end of the season that McCluster probably should have been more involved in game plans. "In retrospect, I would have liked to have found more ways to get him the ball more often," Muir said, after McCluster wound up as the team's second-leading rusher despite just 114 carries. "You go into the season thinking you don't want to wear him out." So in an effort to protect McCluster -- simply because he's smaller than most running backs -- the Chiefs crippled their own offense to the point when they couldn't produce more than a single touchdown in any of their final nine games. Is there proof somewhere that a smaller running back will get torn to pieces by huge defenders? No one's ever seen it. And yet NFL coaches and scouts have made this mistake again and again. San Diego let K-State grad Darren Sproles stroll off to New Orleans, simply because they drafted a bigger back in 220-pound Ryan Mathews. That move really worked out well. The Chargers missed the playoffs, while the durable little Sproles (5-7, 180) became a nuclear weapon for the Saints. Sproles zoomed past 1,000 all-purpose yards in only his seventh game with the Saints. Maintaining an average of 168.5 per game, Sproles finished the 2011 season with 2,696 all-purpose yards, breaking the NFL single-season record. "Nobody was talking about my size this year," Sproles told reporters in New Orleans. "I never understood what that was all about, anyway. "Do they worry about every small running back getting hurt? I've only had one real injury during seven years in the league, and that was a broken ankle. "Big guys can break ankles, too. The injury had nothing to do with my size. I think linemen and guys tangled up at the line of scrimmage have more chance to get injured than a small, quick guy who can move out of the way. "Trainers talk about the most common way to risk injury is through fatigue. Well, obviously those great big guys carrying all that weight are going to get fatigued a lot more often than someone my size -- someone in good shape who doesn't have an extra 50 or 60 pounds." McCluster, by the way, wasn't hurt at all in 2011. "I definitely wasn't maxed out," he said. "I've always been small and it hasn't stopped me before, and it won't stop me now." Well, actually it might. That wouldn't be through any failure of McCluster's, necessarily. But maybe the Chiefs will continue to believe he's just too small to be anything more than a kick returner and part-time runner. If that logic seems just a bit like madness, well, tell it to McCluster, Sproles and other smaller backs who have dashed past hapless defenders -- as McCluster did in the Chiefs' 7-3 victory over Denver in the final regular-season game. There is some serious irony in the Chiefs' reluctance to trust a small running back like McCluster. Maybe the staff ought to visit some of those Arrowhead displays featuring Super Bowl IV, when the Chiefs won their lone championship with little (5-9, 180) Mike Garrett as the featured tailback. Garrett scored the clinching touchdown in the Chiefs' 23-7 victory over Minnesota in that Super Bowl, skipping through the middle on a trap play made famous by coach Hank Stram's recorded commentary on the sideline. "Mike's size actually gave him an advantage," said Chiefs Hall of Fame quarterback Len Dawson. "He could get lost behind the big linemen, and he'd find a hole before anyone could get an angle on him." Sproles has bristled during his entire NFL career whenever the issue of size and fragility have been bundled together by league coaches. "Show me some statistics that smaller guys get hurt more often than all of those giants knocking themselves out in the middle," Sproles said. "They don't exist." McCluster clearly believes that, too -- but there's obviously some doubt among Chiefs management that the little man from Mississippi can produce yards without getting maimed. To prove his point, Dexter goes out of the way to deliver a blow at the end of runs. But maybe he's wasting his time. When NFL scouts come to believe in a certain stereotype, almost nothing can change their minds. They want quarterbacks who are at least 6-4 and 225 -- insisting that only a big man can take the pounding. Never mind that some of the league's glossiest all-time numbers were rung up by comparative midgets like Fran Tarkenton and Warren Moon. Once again it's easy to make fun of San Diego, who ditched the 6-foot, 195-pound Drew Brees in 2006 -- just a year after the entire league ignored Sproles, when he was drafted 130th overall despite running for almost 5,000 yards at Kansas State. Brees, meanwhile, merely broke the NFL single-season passing record last year in New Orleans, throwing for 5,476 yards. He and Sproles must have enjoyed a few giggles at the expense of scouts (and the Chargers) for making such hideous misjudgments about them. Perhaps the Chiefs will shake themselves, look at production instead of size, and conclude that McCluster might make a terrific complement to Charles in next season's backfield. You'd hope so, but the league's history is littered with mistakes made with teams ignoring smaller players. And yet... Maybe Romeo Crennel can take another peek at that tape of McCluster running left, making an instantaneous cut back to the right and racing away from the entire Denver defense. There aren't a lot of big backs who could have done that. Or who finished the season healthy, either.
Original Story:
http://www.foxsportskansascity.com/01...
THE BACKYARD
BEST OF MAXIM
RELATED ARTICLES
Matt Cassel's latest contribution went far beyond the gridiron. The Chiefs quarterback helped save a woman from a fire in her Loch Lloyd, Mo., home on Thursday night, KMBC-TV reports. Cassel's wife reportedly noticed smoke coming from the woman's house, which is located in a gated community, as well as flames coming from the house's chimney. Cassel then ran to the...
Throughout the 2012 offseason, we will be taking a look at each NFL team from a keeper/dynasty perspective. Keeper leagues are very unique, with widely varying formats, but the following are observations based on reasonable draft positions in 2011. Further discussion of different keeper/dynasty decisions and trades is welcome in the comments below. Today, we look at the Offseason...
Kansas City Chiefs quarterback Matt Cassel claims he isn't a hero, but the woman who was unaware her home was on fire until Cassel alerted her likely disagrees. The fire broke out Thursday night in the Village of Loch Lloyd, Mo., a gated community in Cass County, KMBC-TV reported. Cassel, who lives nearby, ran to the house after his wife noticed smoke and flames coming from...
There are plenty of questions surrounding the Kansas City Chiefs this offseason. The coaching staff is still working itself out, key players Dwayne Bowe and Brandon Carr have expiring contracts,
Chiefs quarterback Matt Cassel sprang into action late Thursday night when a neighbor's house caught on fire, and he's being hailed as a hero in the neighborhood. When Cassel's wife saw smoke and flames coming from a neighbor's house, Cassel ran there, rang the doorbell and pounded on the door until the woman inside came…
According to Alex Marvez of FOXSports.com,  Kansas City Chiefs general manager Scott Pioli made an appearance on Sirius XM NFL Radio and said that he expects head coach Romeo Crennel to also call the defensive plays since he is the teams former defensive coordinator. "I'm not sure if he stated it publicly, but I get the sense Romeo wants to be the coordinator on defense,"...
Kansas City Chiefs coach Romeo Crennel is not expected to hire a defensive coordinator for next season.
After an exhaustive search by team president Ted Phillips, the Bears have chosen Phil Emery, former director of college scouting for the Kansas City Chiefs, as the team's next general manager.
Chiefs coach Romeo Crennel doesn't need to hire a defensive coordinator because he will likely handle the role himself. Appearing on SiriusXM with Alex Marvez and Jim Miller, Chiefs G.M. Scott Pioli indicated that Crennel wants to run his defense. "I'm not sure if he stated it publicly, but I get the sense Romeo wants…
NFL News

Delivered to your inbox

You'll also receive Yardbarker's daily Top 10, featuring the best sports stories from around the web. Customize your newsletter to get articles on your favorite sports and teams. And the best part? It's free!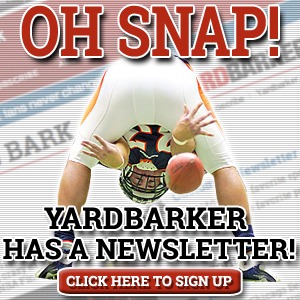 Latest Rumors
The Backyard

Today's Best Stuff

For Bloggers

Join the Yardbarker Network for more promotion, traffic, and money.

Company Info

Help

What is Yardbarker?

Yardbarker is the largest network of sports blogs and pro athlete blogs on the web. This site is the hub of the Yardbarker Network, where our editors and algorithms curate the best sports content from our network and beyond.