Found October 07, 2012 on Fox Sports Kansas City:
PLAYERS:
Matt Cassel
,
Eric Winston
,
Romeo Crennel
,
Aaron Rodgers
,
Jamaal Charles
,
Ryan Lilja
,
Dwayne Bowe
,
Dexter McCluster
,
Brady Quinn
,
Cyrus Gray
TEAMS:
Kansas City Chiefs
,
Green Bay Packers
,
Baltimore Ravens
,
Kansas State Wildcats
KANSAS CITY, Mo. -- Boring can work. Heck, look at Kansas State. Bill Snyder has been doing boring for more than 20 years now, and the Jedi master keeps kicking tail and taking names. He's excelled at boring. Bill Snyder is the Bruce Lee of boring. But here's the thing about shooting for boring: You've got to be air-tight, too. Can't have one without the other. If you're going to be boring, you have to be boring and smart. You have to protect the rock like it's your first-born. You can't compound boring with self-inflicted mistakes. You can't commit penalties. Your special teams have to be structurally sound, a model of discipline and execution. If you refuse to be aggressive in terms of beating the other guy, y'all had better not go out there and beat yourself. A few minutes after he'd finished his locker-stall sermon on Matt Cassel and Chiefs fans, Kansas City tackle Eric Winston also declared: "I've never, ever have seen somebody come out and run the ball like we did (Sunday). And that better roll over. This has got to be us every game. I told everybody in the locker room, it's going to be a street fight every game. This is who we are, this is who we need to be. This is Kansas City, this is what we need to be. "We need to be a bunch of brawlers," the big lug continued after the Chiefs fell, 9-6, to Baltimore in the NFL's weekly watching-the-paint-dry special. "And you know what? If we have to run it 50 times and fans boo when we run it on 3rd-and-7, oh well. We're going to be a bunch of brawlers, the defense is going to be a bunch of brawlers, we're not going to turn the ball over anymore, and we're going to go get some wins." Boring can work. Folks love to wax nostalgic about last December's grind-it-out, 19-14 upset of then-undefeated Green Bay, holding it aloft like Baby Simba in "The Lion King," the pinnacle of coach Romeo Crennel's vision, whatever that is. But here's the stat that sometimes gets overlooked from that day: While playing keep-away from Aaron Rodgers, Kansas City didn't turn the ball over. Not once. Which brings us to the root of the problem, why a season sits at 1-4 and is threatening to fly off the rails by Halloween. When it comes to ball security, Crennel's 2012 Chiefs are Charles Bronson six days a week, and Barney Fife once the whistle blows. If five games, Kansas City has turned the ball over a stupefying 19 times, 10 on lost fumbles alone. If the goal is long drives and 12-10 football tilts, then giving the rock away four times a contest kind of defeats the point a bit, don't you think? "You do what you think you need to do," Crennel explains, "to try and to win a game with (the) team that you have." The Chiefs ran the ball 50 times and threw it 18 against the Ravens, a ratio that harkens back to Barry Switzer's Oklahoma teams of the early 1970s. They put the ball in the hands of people who could make plays -- namely, running back Jamaal Charles, who got 33 touches and 161 total yards out of the deal -- and took it out of the hands of Cassel, a nice guy who appears to be psychologically destroyed by the past five months. Instead of rolling the dice, Crennel and offensive coordinator Brian Daboll rolled the clock back to 1932. The crowd at Arrowhead Stadium howled. Twitter imploded. And yet... Boring can work. That is, unless boring gets sloppy. The Chiefs forced a fumble on the opening kickoff of the second half, then drove 28 yards to the Ravens' 1-yard-line. They were knocking on the door of a touchdown that might've swung the momentum, on an afternoon when a favored Baltimore bunch looked confused and disinterested. On 1st-and-goal, Kansas City center Ryan Lilja -- in his defense, a guard by trade -- muffed his exchange with Cassel. The Ravens pounced on the fumble, and that was that. "You can't do that, obviously," Lilja would say later. "Can't do it down there. Can't turn the ball anywhere on the field, as we found out the hard way." Baltimore took possession, drove it 80 yards the other way, and kicked a 26-yard field goal that gave them a lead they'd never relinquish. The Ravens picked a good day to have a bad day. That's the trouble with boring. The more you limit your possessions, the more you limit your wiggle room. The more you limit your margin for error. To wit: In the fourth quarter, with the visitors having somehow stumbled to a 9-3 advantage, the Chiefs had not one, but two pass plays in Ravens territory wiped out because of offensive pass interference. The first was called on Dwayne Bowe, taking away a potential 25-yard toss to Dexter McCluster at the Baltmore 20. The second, on the very next drive, was called on McCluster, ripping a potential 15-yard touchdown toss from Brady Quinn to Bowe off the board with 5:16 left to go in the contest. "We've just got to continue to pay attention to details," running back Cyrus Gray observed. "That's the thing in this league: Details." The Chiefs committed eight penalties on the day, racking up 60 yards in demerits. The Ravens had five for 33. Boring can work. Boring and dumb is just boring. You can follow Sean Keeler on Twitter @seankeeler or email him at seanmkeeler@gmail.com
Original Story:
http://www.foxsportskansascity.com/10...
THE BACKYARD
BEST OF MAXIM
RELATED ARTICLES
Matt Cassel has had his struggles this season, but Kansas City fans took it too far by cheering when he went down with injury. At least that's what Chiefs right tackle Eric Winston thought. Winston blasted the Chiefs fans when he met with the media after the game. "When you cheer somebody getting knocked out, I don't care who it is, and it just so happened to be Matt...
KANSAS CITY, Mo. The day after the Eric Wintson storm in which he ripped Chiefs fans for seemingly cheering quarterback Matt Cassel getting hurt unveiled some new angles to the controversy. Some videos from fans circulated the web suggesting that the timing of the cheers occurred more after Cassel was helped to his feet and walked to the sideline. The cheers also got louder as wide...
Chiefs offensive tackle Eric Winston sat at his locker and chose his words wisely following a 9-6 loss to the Baltimore Ravens before an angry crowd at Arrowhead Stadium. And then he ripped into the Kansas City faithful for cheering Matt Cassel as he was knocked out of the game. "We are athletes, OK? We are athletes. We are not gladiators. This is not the Roman Coliseum. People...
Throughout Sunday's Chiefs-Ravens game, the hometown Kansas City fans booed quarterback Matt Cassel as they watched the Chiefs' offense stumble toward a 9-6 loss. And with some good reason. Cassel threw for only 92 yards, with 2 interceptions and 2 lost fumbles, as the Chiefs fell to 1-4 on the year. Fans had come brandishing anti-Cassel signs, and at one point, a banner flew...
Matt Cassel has been a lightning rod for criticism during Kansas City's disappointing 1-4 start to the season – fans even rented an plane to fly a banner begging for him to be benched. Ouch! In true bro fashion Chief's lineman Eric Winston teared into Chiefs fans for cheering Cassel's injury when he was knocked out by Baltimore's Haloti Ngata and Pernell McPhee in the...
Kansas City Chiefs quarterback Matt Cassel will have to pass all the tests in the NFL's protocol for concussions before he'll be allowed back on the field, leaving his prognosis for this week very much up in the air.. Cassel suffered a concussion in the fourth quarter of Sunday's game against the Baltimore Ravens. If he is unable to go this week, Brady Quinn would get...
Kansas City Chiefs offensive lineman Eric Winston's rant against his hometown fans was the biggest story coming out of Week 5.  The story was the main focus of our most recent episode of the Ride The Pine video show but we wanted to dive a little deeper into this controversy so lets set the stage and explain what has been happening and what actually happened in KC. Kansas City...
Quarterback Matt Cassel has been knocked out of the Chiefs' game against Baltimore on Sunday after getting hit by the Ravens' Haloti Ngata while attempting a pass. Cassel remained flat on his back for several minutes before getting helped up and walking off the field under his own power. Brady Quinn started warming up and entered the game to a round of applause. Cassel...
Earlier I told you about how a group of Kansas City Chiefs fans had banded together to have a plane towing a banner reading, "We Deserve Better, Fire Pioli — Bench Cassel," fly around the stadium. Well, this weekend was the big day! The local news got a hold of the story and managed to grab an interview with Eric (no last name provided) who is the season ticket...
Derek Anderson was once booed in a game against the Colts. Brady Quinn was already hurt in a previous game so D.A. was replaced by Ken Dorsey, but the QB battle with Brady Quinn had an awful lot to do with the reaction to Derek Anderson. Now, the former Notre Dame QB (with the boyish good looks) is in the mix again with an unpopular starter, Matt Cassell, in Kansas City. During a...
Since the beginning of the 2012 season, the Baltimore Ravens have been rolling through opponents, posting a 3-1 record through four weeks. The defense has been stellar despite playing without defensive stud Terrell Suggs, and the offense has seemingly caught up, as a matured Joe Flacco has been playing better than he ever has before.On the other side of the NFL spectrum, the Kansas...
How can Kansas City boo Romeo Crennel?  This is a coach that was embraced by the team and fans in 2011 following the poor attitude and coaching style of Todd Haley.  He came in shortly after the team released Haley and coached the Chiefs as they handed the only loss to the Green Bay Packers
NFL News

Delivered to your inbox

You'll also receive Yardbarker's daily Top 10, featuring the best sports stories from around the web. Customize your newsletter to get articles on your favorite sports and teams. And the best part? It's free!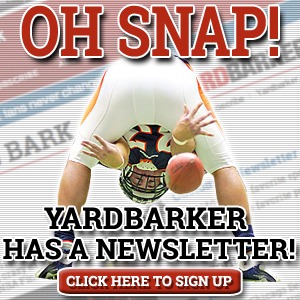 Latest Rumors
The Backyard

Today's Best Stuff

For Bloggers

Join the Yardbarker Network for more promotion, traffic, and money.

Company Info

Help

What is Yardbarker?

Yardbarker is the largest network of sports blogs and pro athlete blogs on the web. This site is the hub of the Yardbarker Network, where our editors and algorithms curate the best sports content from our network and beyond.