Everyone jumped on the Philadelphia Eagles bandwagon after the Week 1 performance against the Washington Redskins and I'll be the first to admit it was hard not to buy in to what Chip Kelly brought with him from Oregon. After watching the Eagles play three games now, the offense continues to get worse and Michael Vick is starting to look like an old man. After that first week we all thought he was the perfect quarterback to run the show for Kelly, but with each week that passes, we're starting to realize maybe he isn't. If you have Vick on your fantasy team chances are he came at a great cost and you have been happy with the value so far. Now is the time to turn him in and get something solid in return while you can. Vick looked exhausted in the 26-16 loss to the Kansas City Chiefs on Thursday Night Football. Of course, playing three games in 10 days didn't help, but he had very little pass protection and was limping after every hit. Give Andy Reid credit – he came into Philly where he coached for 14 years and knew exactly how to play Vick and the Eagles. The Chiefs took everything short away from Vick and made him throw down field, which is where he is vulnerable. Vick has looked great at moments, but like a man taking a punishment in others. (Getty Images). Chip Kelly ran 77 plays in Philly's opener against the Washington Redskins (53 in the first half, which was their only great half of football this year), and it took the football world by storm. Everyone was drinking the Kool-Aid Kelly was selling, but since then the Eagles have slowed down – they ran only 58 plays in Week 2 against the Chargers and 63 against the Chiefs. Kelly has been up front saying he would like his team to speed things up. That's all fine and dandy for fans and fantasy owners who want to see this exciting and entertaining up-tempo offense go to work, it's just that Vick doesn't seem like he can keep up. Ever since Kelly said they have to play faster they've come through, but they've also trailed more. The play calling is wearing out the offense, and the defense is on the field too much. You can't spread the offensive lineman and expect them to hold up during the course of the game, or the season for that matter. In 120 minutes of play the Eagles have had the ball only 41 minutes. You can't win football games like that. To be fair the defense is ranked 30th in terms of yards allowed, which doesn't help a hurry up offense, but it's hard to put all the blame on Vick when his offensive line were out of sync all night against the Chiefs. Vick is in a situation where he is getting beat up over and over again. He was sacked five times against Kansas City and each hit he had trouble getting up. He was pressured all night long resulting in three turnovers. This offense is forcing him to deliver the ball in the pocket, which isn't Vick's strong point. In 105 starts he has 19 multi-interception games. Yes, Kelly's offense opens up the door for him to make plays with his legs and we saw that when he ran for 61 yards, but the old Mike Vick would have been long gone. Although it's hard to fault him on that, he was caught and it has something to do with how tired he was. Let's not forget Vick is getting up there in age at 33 and he hasn't played a full season in the NFL in seven years. It's only a matter of time before this Chip Kelly offense knocks him out of the game. Kelly's offense is game changing for the NFL and there's no doubting that. I do think his 70 plus plays he ran per game in college is sustainable with the big boys, but there will be some growing pains in Philadelphia, and it starts at the quarterback position. Running back LeSean McCoy has 395 rushing yards (97 more than the next back) and is on pace for 2100 yards. He also has 119 in the air so it's safe to say Shady has benefited from Kelly, but if Philly is going to success they will need to figure it out behind center. The numbers so far on Vick have looked good. Good enough that you should be able to sell him off at a profit relative to his draft day price. My advice? Make the move now before he winds up injured or ineffective, and you're left with a dud that no one is buying. The post Chip Kelly's Eagles offense isn't sustainable in the NFL with Michael Vick as his quarterback… so sell high appeared first on Fantasy Sports Locker Room.
Original Story:
http://lockerroomfantasysports.com/ch...
MORE FROM YARDBARKER
Eagles News

Delivered to your inbox

You'll also receive Yardbarker's daily Top 10, featuring the best sports stories from around the web. Customize your newsletter to get articles on your favorite sports and teams. And the best part? It's free!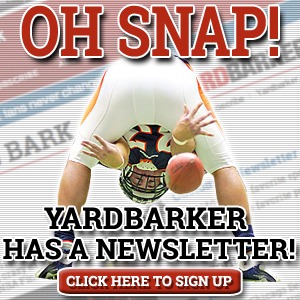 Latest Rumors
Best of Yardbarker

Today's Best Stuff

For Bloggers

Join the Yardbarker Network for more promotion, traffic, and money.

Company Info

Help

What is Yardbarker?

Yardbarker is the largest network of sports blogs and pro athlete blogs on the web. This site is the hub of the Yardbarker Network, where our editors and algorithms curate the best sports content from our network and beyond.