Found May 22, 2013 on Bush League Chronicle:
According to Forbes, Tim Tebow is the most influential athlete in American sports. However, the former Heisman winner still finds himself unemployed after getting cut by the New York Jets this offseason.There has certainly been no shortage of opinion as to where people think he ends up. Some folks are hoping he winds up in the NFL again, while others are hoping he falls flat on his face. On Tuesday, arguably the biggest badass in the universe chimed in with his opinion on the matter, and he desperately wants to see Tebow land in Jacksonsville.That person is none other than the legendary Chuck Norris. Norris believes the native Floridian can turn the Jaguars around from a "mediocre team into a championship one," citing the fact that the spiritual Tebow works miracles on the football field. Here is a snippet of what he had to say:I've heard the critics say Tebow has poor technical skills, but the truth is that Tim is a natural leader, an amazingly gifted football player, an inspiration to his team and the possessor of intense determination and strategy to bring any team to victory — no matter what the odds. One can improve technique, but leadership is innate. That is why I believe that Tebow could be a superstar and legend in the NFL.Apparently, Norris adores Tebow because he sees a little of himself, too.Tebow is a player who rises to the occasion and delivers big in critical moments. He reminds me of myself when I used to compete in martial arts. I would spar with my black belts in class, and sometimes they would outscore me. Yet in the tournaments, I would defeat them. My students used to ask me, "Why is it that we can contend equally against you in class but can't beat you in the tournaments?" My answer was always the same: "When it counts, I rise to the occasion."Clearly Norris is a man who the Jaguars shouldn't doubt. Team owner Shad Khan and general manager David Caldwell should take his advice and act swifty. If not, they could both end up with a roundhouse kick to the face.Via The Big Lead
Original Story:
http://www.theblcblog.com/2013/05/chu...
THE BACKYARD
BEST OF MAXIM
RELATED ARTICLES
Does Chuck Norris wear Tim Tebow pajamas? It seems that Norris thinks Tebow may be the Superman of the NFL. In a column penned on Newsbusters.org, Norris makes his case for why he thinks Tebow could be a superstar. "I have been following Tim since he became a QB for the University of Florida Gators, and I never have seen a more determined or inspiring athlete to play the game of...
Well, it's official. Tebow-mania has hit it's peak. The former Jets and Broncos quarterback now has the blessing and admiration of martial arts legend Chuck Norris.   Does Chuck Norris's praise change your opinion of Tim Tebow?(Photo credit: AP Photos) Norris recently wrote an essay totaling over 1,400 words called "The Ultimate Clutch Player" where he discusses what...
Not a lot might be going Tim Tebow's way right but. But hey, he's Chuck Norris has his back. The '80s action star wrote in his blog that Tebow is the "ultimate clutch player" and that the Jaguars should get him – now. "Tim could help turn that mediocre team into a championship one," Norris wrote. "Tebow works miracles on the field, and his...
Could it be Tebow Time in the Arena Football League? Philadelphia Soul part owner Ron Jaworski says he's serious about his offer to former New York Jets quarterback Tim Tebow to join the AFL team. Jaworski, a former Philadelphia Eagles quarterback, reached out to Tebow a day after the Jets released him in April. Jaworski has yet to hear from Tebow, but expects to eventually...
Former NFL starting quarterback and ESPN NFL analyst Ron Jaworski believes that Tim Tebow's path back to the NFL could go through the Arena Football League. The former Philadelphia Eagles signal-caller has offered Tebow a chance to join the Philadelphia Soul, an AFL team that he is part owner of. When asked about the offer, Jaworski claimed he was serious and that he loved Tebow...
PHILADELPHIA — Could it be Tebow Time in the Arena Football League? Philadelphia Soul part owner Ron Jaworski said Wednesday that he was serious about his offer to former New York Jets quarterback Tim Tebow to join the AFL team. Jaworski, a former Philadelphia Eagles quarterback, reached out to Tebow a day after the Jets released him in April. Jaworski has yet to hear from Tebow...
Legendary badass Chuck Norris believes in Tim Tebow and contends the embattled quarterback deserves a spot in the NFL. After attempting a measly eight passes and 32 runs in the swamps of Jersey, the 25-year-old Tebow was clipped by the New York Jets on April 29. Acquired from the Denver Broncos for a fourth and sixth-round selection in the 2012 draft, the native Floridian was supposed...
Despite being named Forbes' most influential athlete, Tim Tebow remains unemployed with the NFL after being cut by the New York Jets. Before being traded to New York, Tebow lead the Denver Broncos to comebacks of biblical proportions against against San Diego, Chicago, and Minnesota. He orchestrated the Miami Miracle, coming back from a 15-point lead late in the 4th quarter to...
Tim Tebow has friends in high places. You already knew that. But did you realize that Tebow even has martial artist, actor, and all-around badass Chuck Norris on his side? If you didn't know before, you do now. Norris wrote a lengthy essay for News Busters, a site whose mission is to expose and combat "liberal media bias." In the column, Norris called Tebow a "winner" and...
Cade McNown, Tim Couch, Akili Smith -- remember those three quarterbacks from the 1999 NFL Draft?  Of the three, the most hyped and heralded was Akili Smith. The media raved about his athleticism and how he was going to change the Cincinnati Bengals franchise. All the highlights shown of Smith's play was not his arm strength or precision passing, it was a flip into the end...
During the 2012 NFL campaign, Tim Tebow was ripped by several anonymous Jets teammates in the New York Daily News, creating yet another distraction for the team. Tebow may be gone, but history seems to be repeating itself, this time with Mark Sanchez as the target. A Jets player who asked not to be identified said that the feeling in the locker room is that Sanchez had his shot,...
Jets News

Delivered to your inbox

You'll also receive Yardbarker's daily Top 10, featuring the best sports stories from around the web. Customize your newsletter to get articles on your favorite sports and teams. And the best part? It's free!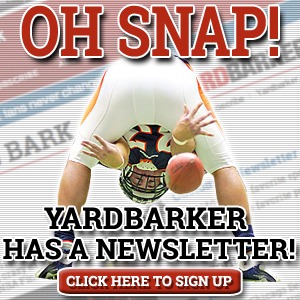 Latest Rumors
Best of Yardbarker

Today's Best Stuff

For Bloggers

Join the Yardbarker Network for more promotion, traffic, and money.

Company Info

Help

What is Yardbarker?

Yardbarker is the largest network of sports blogs and pro athlete blogs on the web. This site is the hub of the Yardbarker Network, where our editors and algorithms curate the best sports content from our network and beyond.