Found June 13, 2013 on isportsweb.com:
Browns fans have high expectations for Richardson in his second season. Hey, Browns fans, here's a quick quiz: How many games did "injury-prone" running back Trent Richardson miss last year in his rookie season? The answer? One, and it was the finale against the Steelers in Pittsburgh, when the Browns fate for the season had been known for weeks. If you want to look back to the preseason and argue that Richardson missed five games, that's your right, but just know that you're being disingenuous and that you've forfeited the right to ever complain about paying regular season prices for preseason tickets. The Browns drafted Trent Richardson with the third overall pick in the 2012 NFL Draft. During his third and final season at Alabama in 2011, Richardson carried the ball 283 times and caught 29 passes for a total of 312 touches in just 13 games. That's an average of 24 touches per game, many of which were against the stout defenses of the Southeastern Conference. That's a lot of wear, even for a beast of a man like Richardson. Last season with the Browns, Richardson continued to be a workhorse. In spite of the arthroscopic knee surgery on August 9 that kept him out of training camp and the preseason, as well as a lingering rib issue that forced him to play through pain during the second half of last year's schedule, the rookie still averaged 21.2 touches in the 15 games he played. That's not an insignificant amount of work, especially for a rookie getting accustomed to the week-to-week intensity of the NFL. More recently, Richardson has suffered from a strained muscle in his lower right leg that led the Browns coaching staff to employ caution and keep him out of the last two weeks of organized team activities. Now many Browns fans, in an exhibit of the fatalism and paranoia that has come to mark supporters of the team (and Cleveland teams in general), have stuck the dreaded "injury-prone" label on the team's young feature back. Some have even begun to question the wisdom of spending such a high draft pick on a running back. This judgment is fundamentally unfair and reflects poorly on the attitude Clevelanders have developed about the Browns. Holding a running back out of non-contact practices in June is not a cause for alarm. In fact, in the NFL, where running backs take such abuse and often have such short shelf lives, it is much closer to an accepted practice than a warning sign. Fans should laud the Browns staff for holding Richardson out of what amounts to meaningless walkthroughs instead of attacking the player for a decision that was out of his hands. "We're being conservative," said new Browns coach Rob Chudzinski. "I'm not concerned. I know he's healthy from all the things from this past season. This is just something we are working through and he'll be fine." The 140 character pundits on Twitter would do well to listen to Chudzinski and withhold judgment until we reach a meaningful point in the NFL calendar. Richardson is also doing his part to dispel the rumors of his fragility. "Injury-prone is not going to be me," he said last week. "What people say about being injury-prone, I think it's just a mindset, and I know that's not me." Richardson also told the media that the strain occurred in practice, although he couldn't remember when. He also downplayed the severity of the strain, reminding everyone that he hadn't even undergone an MRI. Richardson told the media that the team was being cautious and that he would be ready for the beginning of training camp. Some are worried that the strain, which can barely be called an injury at this point, will delay the second-year back's learning of Chudzinski's new offense. Richardson also dismissed these suggestions, saying, "I'm still learning as far as the intangibles I need to know. I know the basic stuff, and I'm still learning every day." In spite of the lack of severity of Richardson's ailment, the Browns should not fail to think about ways they can make life easier for the bruising back. While the Browns offensive line is widely regarded as one of the top units in the league, their fullback situation leaves a lot to be desired. Owen Marecic isn't the answer. Vonta Leach, a punishing blocker cut this week by the Ravens in a cost-saving move, would be a useful pickup. He would come at a cost, but that spending would surely be worth it if it meant more running room for Richardson. The Browns have expressed interest, although Leach has made it known that he would prefer to sign with the Houston Texans. It has also been reported that the Miami Dolphins and New York Giants have interest in the 31 year-old Leach. Signing the fullback, who has had three consecutive All-Pro seasons, would be another way for the Browns to protect their investment in Richardson, just as they are doing now by holding him out of OTAs. Whether or not the Browns pick up Leach or another fullback, fans will have high expectations for Richardson, as they should. This strain should make no difference in those expectations. If Richardson is still being held out or limited once training camp begins at the end of July, then concerns may be justified. But that's a long time from now. For the time being, fans should listen to Richardson's own words about the strain. "Ain't no biggie," he said. "Ain't nothing to worry about." Related Wrath, anger, indignation – Josh Gordon's suspension and its impact on the Cleveland Browns The Cleveland Browns defensive rookies – Is starting a realistic or meaningful goal?
Original Story:
http://feedproxy.google.com/~r/isport...
THE BACKYARD
BEST OF MAXIM
RELATED ARTICLES
Nate Ulrich of the Akron Beacon Journal wrote a detailed article on the state of the Cleveland Browns wide receiver corps on Monday. Although the piece was mostly about the value of recently acquired Davone Bess, it also featured this stand-out quote from quarterback Brandon Weeden on fellow second-year Travis Benjamin: "Travis had at least as many catches if not more than anybody...
Barkevious Mingo was drafted by the Cleveland Browns with the sixth overall pick in the 2013 NFL Draft ad is expected to contend for an outside linebacker job. As the Browns move to a revamped 3-4, Mingo is a key piece in Ray Horton's attacking style defense. In 2012, he played in all 13 games with 10 starts, and earned second team All-SEC honors after recording 38 tackles...
Count Cleveland Browns wide receiver Greg Little among those not enamored with the NFL's new rule that requires all players, save for punters and kickers, to wear thigh and knee pads. Since 1994 players have had the option of wearing the somewhat cumbersome pads, with many NFLers choosing not to wear them, saying the leg protection is uncomfortable and slows them down. Little,...
The Cleveland Browns will hold training camp from July 25 through August 13th, and feature 15 practices open and free to the public, including their annual Family Night on August 3rd, writes Mary Kay Cabot fo the Plain Dealer. The practices will be later in the day, from 4 to 6:30pm at the Berea training facility, expect for Family night, which will start at 6:30pm.
Barkevious Mingo hasn't signed a deal with the Browns just yet, even as he was on hand for the new sign to be placed on what will now be known as FirstEnergy stadium. With the new collective bargaining agreement and rookie wage slotting, it's only a matter of time before Mingo's deal gets done. Still, as some people in front of Mingo and also behind him in the first round have...
Lets not pretend that Josh Gordons two-game suspension at the start of the Browns 2013 season is a minor thing. Its not. Its a pretty big thing. Because it could cost the Browns two wins. Just like Joe Hadens suspension a year ago cost the Browns wins. The two are key players, and their absence matters. In Haden, the Browns missed their best cover corner. In Gordon, they will miss...
The Cleveland Browns are reportedly interested in former Baltimore Ravens fullback Vonta Leach. http://twitter.com/nateulrichabj/status/34547227275829249 Leach was released from the Ravens on June 11 following a season where he graded out as the best lead blocker in football per Pro Football Focus. The move was due to Leach's cap number (roughly $4.3 million) coupled with the replacement...
Always good to catch up with the Browns observations with Nate Ulrich from the Akron Beacon Journal. Here's all that we discussed. How good do you feel not having to talk Tebow? Bill Belichick out to prove he doesn't have to talk about anything. Gregg Popovich and how he just defies everyone to do what he wants. Ray Horton's new attacking scheme and how evident it might or...
Yesterday on College Spun, we showed you some pretty cool motivational workout shirts that the Arizona State football team had made up. Now, it's NC State's turn to showcase wisdom. Frisman Jackson is the wide receivers coach at NC State, and was formerly an NFL receiver for the Cleveland Browns. Today, he tweeted out a picture of a sign that hangs in the football meeting room...
Jimmy Haslam didn't like the penalty that overturned the Browns TD I feel like we've said this every year for a while now, but I can't think of a worse time in Cleveland sports. 1 I'm really not going out of my way to dwell in the negative here. I think there are some good things going on in all three Cleveland sports teams right now. I think the Browns have a decent young...
Browns News

Delivered to your inbox

You'll also receive Yardbarker's daily Top 10, featuring the best sports stories from around the web. Customize your newsletter to get articles on your favorite sports and teams. And the best part? It's free!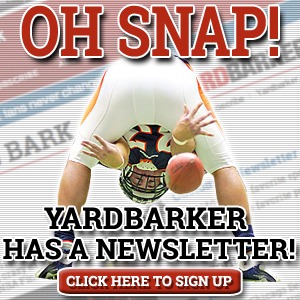 Latest Rumors
The Backyard

Today's Best Stuff

For Bloggers

Join the Yardbarker Network for more promotion, traffic, and money.

Company Info

Help

What is Yardbarker?

Yardbarker is the largest network of sports blogs and pro athlete blogs on the web. This site is the hub of the Yardbarker Network, where our editors and algorithms curate the best sports content from our network and beyond.