Found June 25, 2013 on isportsweb.com:
Cornerback Joe Haden could be on the verge of entering "elite" status in 2013. (Photo credit: Chuck Crow/The Plain Dealer) Since coming into the league in 2010 as the seventh pick of the NFL Draft, Joe Haden has made his presence known throughout the AFC North. Haden started his career off with a stellar rookie campaign that saw him collect six interceptions, and he has consistently proven himself to be the most talented member of the Cleveland Browns defense every year since. Even with the recent signings of defensive studs such as Paul Kruger and Desmond Bryant, Haden still figures to be the most feared defender on the team. With an underwhelming mix of past-their-primes veterans and inexperienced youngsters during Haden's second season, the front seven did little to take the pressure off of the Browns secondary by producing only 32 sacks in 2011. However, Haden and the Browns secondary managed to produce one of the league's best pass defenses, allowing only 2,959 yards to opposing passing games all season (2nd-best in the NFL). Haden's individual statistics were deceiving, as he did not record an interception all season. Part of the reason for this came in the fact that during Haden's second season in the NFL, teams began to stay away from the former Florida Gator as they chose to pick on his aging counterpart Sheldon Brown, instead – a trend that carried over into much of the 2012 season, as well. Haden missed five of the Browns' 16 games in 2012 – four due to suspension and one due to injury. Despite the large amount of time missed, Haden was still able to gather 40 tackles and three interceptions. Haden's absence during those five games was glaringly obvious, as the Browns went 5-6 with him in the lineup and 0-5 without. Inexperienced backups Buster Skrine and Trevin Wade, among others, filled the hole left by Haden's absence, but performed poorly (to put it nicely). Entering the 2013 season, many are expecting Haden to finally be ready to emerge on the national scene. Given his immense talent and strong confidence, it would not be a stretch to predict a Pro Bowl appearance for the fourth-year cornerback. When asked about his expectations for his performance in 2013, Haden replied, "Elite." The obstacles that have prevented Haden from turning the corner from good to elite in previous seasons seem to finally be behind him. Haden has been very forthcoming and apologetic about his use of Adderall, which cost him four games last season via a suspension that was handed down from the league office. He has never had much of an injury history, so last year's oblique injury that cost him one game is hardly worrisome at this point. The one thing that has seemed to consistently be a detriment to Haden in past seasons, though, is the lack of talent around him. Since joining the Browns in 2010, Haden has never been paired with a legitimate shutdown corner that could force opposing passing games to throw his way (sorry, Sheldon). Although safety T.J. Ward – who was drafted by the Browns during the 2010 draft, also – has provided opposing defenses with another threat in the secondary, no other members of the Browns' secondaries in recent years have made much of an impact. Rookie Leon McFadden was a three-time All-Mountain West selection at San Diego St. (Photo credit: Tony Dejak/AP) Rather than spending big money on a top-tier free agent corner or spending a first-round pick on the position during the offseason, the Browns opted to improve the pass rush instead. The acquisitions of Paul Kruger and Desmond Bryant via free agency, as well as the pick up of Barkevious Mingo through the draft, should help Haden and the rest of the Browns secondary quite a bit, as opposing quarterbacks should have less time to throw with the likes of Kruger, Bryant, Mingo, Phil Taylor, Athya Rubin, and Jabaal Sheard providing a fearsome pass rush under new defensive coordinator Ray Horton. As Sheldon Brown exits the starting No.2 cornerback role, though, a giant question mark now exists as to who will fill the corner spot alongside Joe Haden. The newly-acquired Chris Owens has been slated as the front-runner by some, while others believe that Buster Skrine – despite his less-than-stellar performance in 2012 – still has a shot at filling Brown's void. Most would like to see rookie Leon McFadden emerge as the winner of the starting job, as he appears to have the most upside among the three and could form a dynamic cornerback duo with Haden in the years to come. McFadden, who was drafted in the third round by the Browns, was a three-time All-Mountain West selection while dominating Mountain West wideouts at San Diego St. As the season quickly approaches, the Browns are feeling confident about their revamped defense, despite the questions that still remain in the secondary. No one is feeling more confident than Joe Haden, who said recently,"I feel with what I've been through – what I wanted to do last year and I had a setback – this year's going to be my year." If it becomes Joe Haden's year, then it might very well become our year, Browns fans (knock on wood).
Original Story:
http://feedproxy.google.com/~r/isport...
THE BACKYARD
BEST OF MAXIM
RELATED ARTICLES
ANOTHER UGLY STORY
Cleveland Browns rookie Ausar Walcott was charged Tuesday with attempted murder related to an incident when he allegedly punched a man outside a bar.
According to NFL.com's Around the League, the Cleveland Browns have released rookie Ausar Walcott after being arrested and charged with attempted murder. The Browns on Wednesday released linebacker Ausar Walcott, who was charged with attempted murder in New Jersey. — NFL: AroundTheLeague (@NFL_ATL) June 26, 2013 Walcott ended up punching a man at a strip club.  The victim that...
Aaron Hernandez isn't the only player facing severe legal woes. The Record reports that Browns rookie linebacker Ausar Walcott was arrested and charged with attempted murder following an incident that occurred in Passaic, New Jersey last Sunday. Police say the 23-year-old Walcott punched a man in the head outside of The Palace Gentlemen's Club at 3 a.m. The victim, Derrick...
Cleveland Browns' second year wide receiver Josh Gordon is suspended for the first two games of the upcoming season after testing positive for codeine. After the NFL held its 16th annual Rookie Symposium many wondered if Gordon would of had the chance to attend this (he didn't because he was drafted in the summer supplemental draft) it would of helped Gordon learn to avoid mistakes...
According to NorthJersey.com, Cleveland Browns rookie linebacker Ausar Walcott was arrested and charged with attempted murder in Passaic, New Jersey following an early Sunday morning incident. Walcott reportedly punched Derrick Jones in the head outside The Palace Gentleman's Club in Passaic. Jones friends to took him to a hospital where police said he remained in critical...
NEW JERSEY – Cleveland Browns undrafted rookie Ausar Walcott turned himself in to Passaic police Tuesday after he was identified as a suspect in an incident that took place around 3 a.m. on Sunday. Walcott has been charged with attempted murder for allegedly punching a man outside a club in northern New Jersey. Authorities told the Bergen Record newspaper the 23-year-old former...
Former Virginia star and recent Cleveland Browns free agent rookie signee Ausar Walcott has been charged with attempted murder following a fight at a strip club.
Hey, as bad as the Cleveland Browns are, turns out there are other acts their fans want to see even less. And they don't sound too happy about it. The team announced last week the cacellation of a planned July 14 "Fan Kickoff Concert" featuring Bon Jovi , and they did so through a terse, 35-word statement The July 14th Cleveland Browns "Fan Kickoff Concert&quot...
The Cleveland Browns have cut undrafted rookie Ausar Walcott after he was charged with attempted murder. Walcott turned himself into police Tuesday following an incident where he allegedly punched24-year-old Derrick Jones in the head outside of "The Palace Gentlemen's Club" at 3 a.m on Sunday in Passaic, N.J. Walcott, 23, was signed by the Browns as free agent out of Virginia...
Browns News

Delivered to your inbox

You'll also receive Yardbarker's daily Top 10, featuring the best sports stories from around the web. Customize your newsletter to get articles on your favorite sports and teams. And the best part? It's free!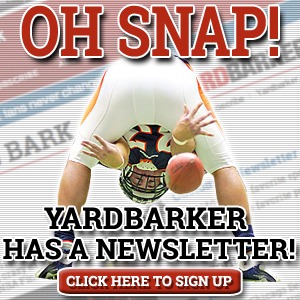 Latest Rumors
Best of Yardbarker

Today's Best Stuff

For Bloggers

Join the Yardbarker Network for more promotion, traffic, and money.

Company Info

Help

What is Yardbarker?

Yardbarker is the largest network of sports blogs and pro athlete blogs on the web. This site is the hub of the Yardbarker Network, where our editors and algorithms curate the best sports content from our network and beyond.