Found September 18, 2013 on isportsweb.com:
Brian Hoyer was the first domino to fall. This morning around 10 AM, the Cleveland Browns announced that Brian Hoyer, their third-string quarterback who was inactive for the team's game last weekend, would start in Minnesota on Sunday in place of Brandon Weeden. Weeden, of course, injured his thumb towards the tail end of the Browns week two loss in Baltimore. In just under two games so far this season, Weeden has thrown the ball an incomprehensible 86 times. He has completed just 47 (54.7%) of those passes for 516 yards and one touchdown for a rating of 62.0. Oh yeah, I almost forgot his three interceptions. Yes, the offensive line has been horrible and the receiving corps still has trouble executing the one skill they are paid for – catching the football – but Weeden's play through two games has still been underwhelming. With Weeden injured, the Browns obviously had to make a decision about who would start in his place. However, the choice to go with Hoyer – he of the one career start and 96 career attempts – was somewhat puzzling. Veteran Jason Campbell has been listed as the backup since training camp, when coach Rob Chudzinski called the competition between him and Weeden close. Campbell came in and gave an uninspiring performance in relief against the Ravens, yet now Hoyer is set to start the Minnesota game. Many cited this decision as a sign that the front office of Joe Banner and Mike Lombardi was throwing in the towel on the 2013 season after two games. However, when the injured Weeden spoke to the media today, he stated that the decision came from Chudzinski, not one of the suits on the top floor in Berea. I actually had no problem with the decision to start Hoyer when it was announced this morning. Jason Campbell has started 72 games over eight-plus years in the NFL. When a team chooses to start him, they're pretty much aware of what they have at this point. Hoyer at least has the potential to surprise Browns fans a tiny bit with solid play. Am I expecting that to be the case? No, of course not. I've learned to guard against optimism when discussing Browns quarterbacks. However, combine the unknown quantity factor with Lombardi and Banner's stated love for Hoyer, and the decision to start him makes sense. Also, the fans will surely give him the Charlie Frye bump because he's a local guy who played his high school ball at St. Ignatius. That's a Cleveland classic. Trent Richardson has donned the brown and orange for the last time. (John Kuntz/The Plain Dealer) That's where this piece would have ended, but recent events have dictated that I reevaluate the Hoyer decision. At 6:19 PM EST, ESPN's Adam Schefter, one of the most respected guys covering the NFL, tweeted that the Browns has traded running back Trent Richardson to the Indianapolis Colts for a 2014 first round pick. And with that one tweet, Schefter instantly changed my opinion of the Hoyer decision. While the official reason given for the trade was that Richardson did not fit into Chudzinski's offense, it was clear that the team had other motives. This trade was a white flag waved high for all to see. Recontextualizing the decision to start Hoyer with this new information, it is clear that the Browns, after just two games, are in full-on tank mode. The front office has declared that, for all intents and purposes, the 2013 season is over. They have not so subtly stolen ticket money from the fans in Cleveland and told them for this season that they should be watching Teddy Bridgewater, Tajh Boyd, Jonny Manziel, and Marcus Mariota on Saturdays instead of heading down to FirstEnergy Stadium to watch Brian Hoyer and Chris Ogbonnaya on Sundays. If only it were that easy for the depraved masses who call themselves Browns fans. I, like so many others, will still be watching this miserable excuse for an NFL team. But, as Banner and Lombardi have implicitly suggested, I'll also be keeping a keen eye on the various college quarterbacks who just might become the Browns savior come next May. Related The Cleveland Browns offensive line
Original Story:
http://feedproxy.google.com/~r/isport...
THE BACKYARD
BEST OF MAXIM
RELATED ARTICLES
I am sorry, ever since Trent Richardson was traded a day ago, people have already labeled the Browns as a lock to get the first overall pick.  Well I disagree, I think the Browns can still win.  Listen, the day before the Browns traded T-Rich, they named Brian Hoyer the starting quarterback for week 3 […]
The Cleveland Browns have sucked for a long time. This much we know. Since they came to the league, they're often mentioned with the Lions, Jets, and Jaguars as being the punching bag of the league. It's easy to crack…Read more →
Browns third-string quarterback Brian Hoyer will start Sunday against Minnesota in place of Brandon Weeden, who sprained his right thumb last week. Cleveland surprisingly decided to go with Hoyer over more experienced backup Jason Campbell. Campbell came in for one series in the fourth quarter against Baltimore after Weeden injured his thumb when he banged it on a teammate's...
Congratulations to you brave Cleveland Browns fans because you have a new starting quarterback! Let's welcome third-string QB Brian Hoyer as the next tackling dummy. Former starter Brandon Weeden sprained his right thumb during Sunday's loss to Baltimore, opening up the vacancy for Hoyer. The 27-year-old made one start for the Cardinals last season after spending the three previous...
The Browns shook up the NFL (and lost, what, 75 percent of its remaining fan base?) when it shipped second-year running back Trent Richardson to Indianapolis for a first rounder in 2014 on Wednesday. But what time will likely forget is the way the day began in Cleveland. Sure, you can find analysis on the fantasy impact of Richardson playing behind Andrew Luck . But got anybody...
Brian Hoyer, starting NFL Cleveland Browns quarterback. Trent Richardson, Indianapolis Colts running back. Say what you like about tanking a season to try and draft a franchise QB. At least it's an ethos. This team wasn't going anywhere with Brandon Weeden, anyway. And even apart from Mike Lombardi's impeccable track record, no one has a clearer direction than Joe Banner, nor...
The details are scarce, but the concerns over Brandon Weeden's injured thumb have forced a change at the quarterback position. Please click here to read this story. The post Brian Hoyer will start at QB for Cleveland Browns against Vikings appeared first on Players View.
Several Browns players expressed shock at the team's decision to trade star running back Trent Richardson. Cleveland dealt Richardson to Indianapolis on Wednesday for a first-round draft pick next year, a move that came on the same day third-string quarterback Brian Hoyer was named this week's starter and wide receiver Greg Little lost his starting job. Linebacker D'...
The Browns' decision to start backup quarterback Brian Hoyer over injured starter Brandon Weeden makes perfect sense to anyone that's observed the Browns over the past couple of seasons. So far in 2013, Weeden has been pretty poor, throwing for three interceptions and only one touchdown. In a young man's sport, it's strange that the Browns' second year quarterback is...
The Cleveland Browns offense is epically bad right now. Prior to their starting quarterback getting hurt and idiotically trading their star running back, the Browns offense sucked. Cleveland only managed to score 16 points in their first two games. Now, Brandon Weeden is injured, which means journeyman Brian Hoyer will get the start for the Browns in Week 3. Since being drafted in...
Browns News

Delivered to your inbox

You'll also receive Yardbarker's daily Top 10, featuring the best sports stories from around the web. Customize your newsletter to get articles on your favorite sports and teams. And the best part? It's free!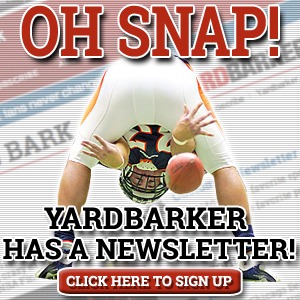 Latest Rumors
Best of Yardbarker

Today's Best Stuff

For Bloggers

Join the Yardbarker Network for more promotion, traffic, and money.

Company Info

Help

What is Yardbarker?

Yardbarker is the largest network of sports blogs and pro athlete blogs on the web. This site is the hub of the Yardbarker Network, where our editors and algorithms curate the best sports content from our network and beyond.