Found December 20, 2012 on Fox Sports Wisconsin:
GREEN BAY, Wis. -- Randall Cobb is only 456 yards away from history. The Packers' talented second-year wide receiver, kick and punt returner has a realistic chance to become the NFL's single-season leader for all-purpose yards. After a career-high 115 receiving yards in Sunday's win over the Chicago Bears, plus 37 kick-return yards, Cobb's season total for all-purpose yards is 2,241. "There are so many great players who have come through (the NFL), and it's definitely an honor to be mentioned in those names, but I'm a championship guy," Cobb said. "I'm worried about a championship. Records can be broken, but you can't take championships away." Last season, New Orleans' Darren Sproles broke the record for all-purpose yards that had been held by Derrick Mason for more than a decade. Sproles finished with 2,696 total yards, the biggest chunk of them (1,089) coming from kickoff returns. He added 710 receiving yards, 603 rushing yards and 294 punt return yards. The vast majority of Cobb's yards have been from kick returns (964) and receiving (892). He also has 253 punt return yards and 132 rushing yards. He's not worried about wearing down while the Packers' other big-name receivers, Greg Jennings and Jordy Nelson, have been in and out of the lineup with injuries all season. "Football wears on you regardless of what position you play," Cobb said. "I've maintained my health for the most part throughout the season, so I'm just trying to finish strong and hopefully be out there for another six weeks and a little relaxation after that. But right now, it's time to grind." Cobb, a second-round pick in 2011, is averaging 160 total yards per game so far this season. If he continues at that pace in Green Bay's final two regular-season games, he'll fall 135 yards shy of Sproles' record. Though Cobb is coming off his two biggest games as a receiver, he hasn't been used in the running game since Dec. 2. When Cobb was being handed the ball more often earlier this season, he produced a 13.2-yard average in his 10 carries. However, Cobb has become more vital to the Packers' passing attack, leading the team in receiving yards for three consecutive games. That has limited him in other areas. "You've got to be smart, too," coach Mike McCarthy said last week. "He has a lot of responsibility how we use him. I don't want to overexpose him." Cobb seems to have cast aside similar concerns, however. Cobb on Sept. 6: "Hopefully, at some point I've validated myself as a receiver where a younger guy can take over that (kick and punt return) role." Cobb this week: "I want to continue to contribute any way I can. As long as the coaches are with it, I'm with it. I want to be on the field as much as I can. I think it would be hard for me (no longer being a returner) because I love being on the field. I love playing football. I understand the reasoning, and maybe at some point it will the best thing for the team or me, but right now I feel like I can handle the duty. As long as coach thinks I can handle it, we'll be fine." Cobb attends meetings with the offense and special teams but said he dedicates 70 percent of his studying time on offensive schemes. In order to become the NFL's all-time leader in all-purpose yards, Cobb will need to have an impact on special teams in the final two games. He had a season-high 156 kick-return yards in Week 12 but hasn't had a game with more than 20 yards on punt returns since Week 9. If Cobb does break the record, it won't be much of a surprise to McCarthy. "Just from the day that Randall Cobb walked through our doors, you knew he was going to be a multiple-dimension-type player," McCarthy said. "He had played quarterback in college (at Kentucky). He understand the football intricacies, getting in and out of concepts. Football, in my opinion, comes very easy to him mentally. "We've always based it on doing as much as we can with him. We really created that in the offseason. The number of things we put in during training camp, and there's a number of things we haven't really got to yet." Cobb has quickly ascended this season as quarterback Aaron Rodgers' new favorite target. Not only does he lead the team in catches and receiving yards by a significant margin, but the 99 passes thrown his way are 18 more than the next-most-targeted Packers receiver. "I think he's an incredible player," Rodgers said. "He conducts himself the right way and he really stands for everything that we want a Packer player to stand for. He's been in the community, he's a good teammate, cares about the game, conducts himself the right way, he's a professional and he's got a chance to really do some incredible things here. "He's a big-time player. He's having a heck of a year." Follow Paul Imig on Twitter.
Original Story:
http://www.foxsportswisconsin.com/12/...
THE BACKYARD
BEST OF MAXIM
RELATED ARTICLES
The Green Bay Packers have decided to bench veteran center Jeff Saturday in favor of Evan Dietrich-Smith, which shouldn't be a surprise since they're a team that's always looking for younger players to make an impact. At the podium Friday, coach Mike McCarthy said Evan Dietrich-Smith would start at center against the Tennessee Titans. And moments later at his locker, five-time...
After wrapping up the division title last week, the Green Bay Packers will look to get closer to getting the number two seed in the NFC when they take on the Tennessee Titans Sunday afternoon. The Packers are heavy favorites in this game and because they still have a lot to play for, they should be giving this game their all. Green Bay's defense should have an easy time slowing...
Green Bay Packers head coach Mike McCarthy thinks that RB James Starks will be ready for the postseason, accordng to Tyler Dunne of the Milwaukee Journal-Sentinel. "That's what the medical staff is telling me," McCarthy said. "Starks' situation is to hopefully get him back for the playoffs. That was a decision that was made a few weeks ago." Starks has a bone bruise...
GREEN BAY, Wis. -- Defensive coordinator Dom Capers made it sound like injured Packers defensive back Charles Woodson would play in the team's regular-season finale next weekend. Woodson wasn't so sure about that.But one thing is certain: Woodson, an eight-time Pro Bowl selection, will miss his eighth consecutive game Sunday with a collarbone injury."I don't feel...
GREEN BAY, Wis. A foot of snow accumulating Thursday and blizzard conditions throughout northern and central Wisconsin will once again give Green Bay Packers fans an opportunity to shovel out Lambeau Field. On Friday morning, by which time the snow is expected to stop falling, the Packers are asking for up to 600 fans (ages 15 and up) to help remove the snow from the stadium. ...
Does center Jeff Saturday regret not following Peyton Manning to Denver now that the Broncos are riding high and he just got benched?  The veteran Pro Bowl center was given the hook on Friday to make way for the emergence of Evan Dietrich-Smith  at that position. Saturday comments on the move came across as diplomatic yet disappointed. Saturday is not the only Packers veteran...
Greg Jennings is not naive and he's not ignoring reality, either. The veteran wide receiver is in the final year of his contract, and has yet to hear from the Green Bay Packers about an extension. Common sense - and Green Bay history - would suggest that means he'll be playing somewhere else next season, a notion Jennings doesn't dispute. But even with the Packers playing...
The Green Bay Packers are looking for help. The NFL's only publicly owned team is asking for as many as 600 people to clear snow from Lambeau Field on Friday. The first big storm of the winter has already dumped 6 inches of snow on northeastern Wisconsin, with up to a foot expected before it tapers off. The Packers host the Tennessee Titans on Sunday. Shovelers need to be at...
The Packers are in the playoffs, they just need some help to get a better slot. The season is coming to a close and I'm sitting at 142-82.  That's over .600 but I can do better.   Here's a look at week 16 Atlanta at Detroit - The Falcons destroyed the Giants last week and silenced a few critics that say they can't win the big game.  I still want to...
Greg Jennings has been Aaron Rodgers' favorite receiver for going on six years now. But the times may be a changing in Green Bay. Jennings has been the Packers' most productive receiver and biggest red zone threat over the past five years, averaging about 70 catches, 1,100 yards and nine touchdowns over that span. But a lingering groin injury this season severely limited his...
Charles Woodson will miss his ninth consecutive game on Sunday but vows he'll be ready, whether it's next week against Minnesota or the playoffs. That and more as the Packers get ready for Tennessee.
NFL News

Delivered to your inbox

You'll also receive Yardbarker's daily Top 10, featuring the best sports stories from around the web. Customize your newsletter to get articles on your favorite sports and teams. And the best part? It's free!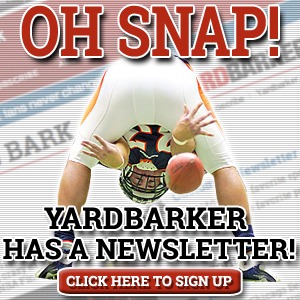 Latest Rumors
The Backyard

Today's Best Stuff

For Bloggers

Join the Yardbarker Network for more promotion, traffic, and money.

Company Info

Help

What is Yardbarker?

Yardbarker is the largest network of sports blogs and pro athlete blogs on the web. This site is the hub of the Yardbarker Network, where our editors and algorithms curate the best sports content from our network and beyond.