With the announcement that Fred Davis out for the year with a torn Achilles, Most fans were excited about the return of Captain Chaos, aka Chris Cooley.  I think they should be excited about the new kid on the block Logan Paulsen. Cooley who was drafted in the 3rd round of the 2004 NFL draft became a cornerstone to the Redskins offense having 6+ TD's in his first 4 seasons and racking up 2,608 yards on 241 receptions. Then came the 2009 season. On October 26, 2009, in a game against the Philadelphia Eagles, Chris Cooley broke his ankle. But Captain Chaos was certain he would come back quickly from this injury Cooley even commented on Twitter that the break may not be as bad as originally thought, and that he could possibly return in as little as four weeks. However Redskins team doctors disagreed and in November, Cooley was officially placed on injured reserve. In 2010 Cooley returned, and seemed to be 100% starting in all 16 games catching 77 balls for 849 yards and 3 touchdowns. However in the last game of the year he injured his left knee requiring arthroscopic surgery in January 2011. During Training camp the next year Cooley was still recovering from the arthroscopic surgery that was done to his left knee, did not participate or play in any of the preseason games. Chris only ended up playing the first 5 weeks of the 2011 season during that time, Cooley became the Washington Redskins' all-time leader in receptions at the tight end position with 422 receptions beating the previous 421 record set by Jerry Smith.  In Week 6 against the Eagles, Cooley broke his finger. Following that game Cooley was placed on IR after his knee was looked at by a team doctor and found out that it would take another four or five weeks before his knee would fully recover. In the beginning of 2012 Chris was released by the Redskins for undisclosed reasons. Now I understand why people love Cooley, he was great when he was healthy and has always been a likable personality on and off the field. But it is now week 8 of the 2012 season, does anyone really believe that Cooley who was a 2 time Pro Bowler can walk in a make an impact? He couldn't even beat out Logan Paulsen or converted wide receiver Niles Paul for a Washington Redskins backupjob before he was released. Lets not forget that after he was released no other team in the NFL picked him up. Why instead of Cooley don't we refocus are attentions on a guy who stepped up after Davis went down. Did we already forget that Logan Paulsen caught 6 balls for 76 yards in 2 quarters in week 7 at the Giants? Logan Paulsen is a worker at 6'5'' 261 Pounds he was signed as an undrafted free agent in 2010.  Paulsen immediately went to work and made the team as a 3rd stringer behind Fred David and Chris Cooley. Through limited action in 2010 he came away with a single touchdown vs. the Buccaneers. Late in the 2011 season, Paulsen was made the starting tight end. Cooley was on IR, and Davis was suspended for smoking weed with Trent Williams. Paulsen stepped up catching 11 receptions turning that into 138 receiving yards. Success always comes when preparation meets opportunity, and I believe that while it is nice to see Cooley back in the burgundy and gold, Logan Paulsen is the one who is hungry and ready to take full advantage of this opportunity and make a name for himself as a starting Tight End in this League.   Note: There is a poll embedded within this post, please visit the site to participate in this post's poll.
Original Story:
http://blogsohardsports.com/redskins/...
MORE FROM YARDBARKER
Redskins News

Delivered to your inbox

You'll also receive Yardbarker's daily Top 10, featuring the best sports stories from around the web. Customize your newsletter to get articles on your favorite sports and teams. And the best part? It's free!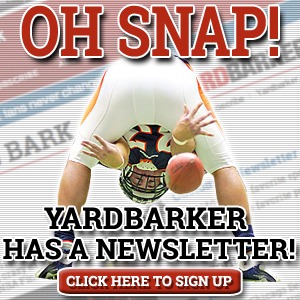 Latest Rumors
Best of Yardbarker

Today's Best Stuff

For Bloggers

Join the Yardbarker Network for more promotion, traffic, and money.

Company Info

Help

What is Yardbarker?

Yardbarker is the largest network of sports blogs and pro athlete blogs on the web. This site is the hub of the Yardbarker Network, where our editors and algorithms curate the best sports content from our network and beyond.