Found September 24, 2013 on Fox Sports Wisconsin:
GREEN BAY, Wis. -- A 1-2 record wasn't what the Green Bay Packers had in mind. But after the Packers' coordinators had reviewed and analyzed the tape of the 34-30 loss to the Cincinnati Bengals, the three of them discussed a few of the game's important topics. Here are three question-and-answer highlights from each coordinator: DEFENSIVE COORDINATOR DOM CAPERS 1. Were there any silver linings you can take from this loss? CAPERS: "I think there's tremendous value because guys, you're going to face adversity in every game, and to me it tells you a lot about the character of your football team how you handle that. You've got to put whatever happened behind you and focus on the next play, and that's overused, but it's so true. You can't let the negative emotions or the positive emotions affect you. You think about the swings during that game yesterday in terms negative-positive-negative. That game there was as many swings as probably any game I've been around, and yet that's why it's frustrating not to come away with the win. But I think our guys know this; a year ago we were sitting here after one of the most frustrating games I've ever been involved with at 1-2, and we turn around and won 10 out of the next 12. A lot of those guys sitting in that room were involved in that. Obviously the young guys haven't, but what I'm hoping is some of these guys that have gained experience over the first three games now coming off this bye week that that experience is going to pay dividends as we start to get into the meat of our schedule." 2. Why did you move Tramon Williams into the nickel role throughout most of this game? CAPERS: "Well, we've worked him there. You know, he had been playing dime the week before, but you saw we ended up blitzing him and he had a sack. He blitzed a couple of times and did a nice job on the run. We put (Davon) House on the field, so we had House and Sam (Shields) outside and Tramon inside. That gives us a pretty good coverage unit in terms of matching up on people, and that can vary week to week based off what receivers you're going against, but this group (the Bengals) had a really good receiving corp. You saw when a couple of times we doubled (A.J.) Green that (Mohamed) Sanu, they'd take the ball to him and their tight ends are good receivers. That young running back, (Giovani) Bernard, he's quick and made some plays for them. A couple of times we had him bottled up and next thing you know he comes out of there. I thought really our front guys did a pretty good job because, at times when we weren't in eight-man fronts, they were audibling and were running the football. They really only broke one of those runs out of there when we were in split safety coverage. Other than that, I thought we did a nice job on the running game." 3. How difficult is it to accept a loss in a game when your defense forced four turnovers? CAPERS: "Well, hey, that's the way these games go. Nothing surprises in this game nowadays. You saw the swings in that game (Sunday) to where you were sitting there after 11 plays, our offense hadn't been on the field and they're up 14-0. And then we turn it around and we go up, we had 30 unanswered points, and then unfortunately, like I say, the second half those two drives that they had we helped them out." SPECIAL TEAMS COORDINATOR SHAWN SLOCUM 1. Do you think Jeremy Ross (who was released Monday afternoon) was rattled by his mistakes against San Francisco? And did that potentially carry over in a negative way? SLOCUM: "I don't know. I don't think he got off to a very good start on kickoff return with what happened in San Francisco this year. He was doing fine on punt returns. (On Sunday), that was a bad play." 2. Do you have Ross' replacement in-house, or will the team have to sign someone? SLOCUM: "I don't know that. We'll have more discussions on that as we go through today and this next week. Fortunately, we've got a bye week and then we'll get into our game plan for Detroit." 3. Could Randall Cobb once again be the full-time returner? Or is Cobb too valuable to the offense to be in that role? SLOCUM: "We haven't discussed that. Our game plan will dictate that." OFFENSIVE COORDINATOR TOM CLEMENTS 1. Was this game a big step back for your pass protection? CLEMENTS: "Well, we knew (the Bengals) were a tough front and we had our moments where it was, the protection wasn't quite how we wanted. It didn't turn out the way we wanted. They get paid well. They're a good front. It was a challenge. We knew that going in. Sometimes they got us, sometimes we got them." 2. What was it like to see Aaron Rodgers have a rare bad game? CLEMENTS: "I think first thing you have to credit (Cincinnati's) defense. They're good. They played us well and we started slowly and Aaron is human. You're used to seeing him near perfect a lot of the time, but he still made some plays, I'm sure especially after watching the film he'd like to have back. That's why you play the game; see what happens." 3. If Eddie Lacy, James Starks and Johnathan Franklin are all healthy, could there be a running back rotation now? CLEMENTS: "It's too early to tell. Obviously, I think James played well before he got hurt. Johnathan played well. Eddie, he's played well. He hasn't had as extended playing time as the other guys because of injury or what happened in San Francisco initially, but we hope all three of them are healthy with whichever way we decide to go." Follow Paul Imig on Twitter
Original Story:
http://www.foxsportswisconsin.com/nfl...
THE BACKYARD
BEST OF MAXIM
RELATED ARTICLES
The Green Bay Packers have yet to say who will replace maligned return man Jeremy Ross. Ross was released this week after a key fumble in the Bengals game that led to an early 14-0 Cincinnati lead. Ross also had a key fumble in the playoffs against the San Francisco 49ers and was averaging a paltry 12.5 yards on kick returns in 2013. While Mike McCarthy says that he would "have...
Green Bay Packers quarterback Aaron Rodgers summed up Sunday's loss to the Cincinnati Bengals in one word: "Frustrating." "Frustrating game. You feel like you gave this one away. I played poorly. The defense played 
Green Bay Packers QB Aaron Rodgers cleared the air on Tuesday, saying that his sideline shouting match with head coach McCarthy is 'over and done with.' In the loss to the Bengals, tempers flared and emotions flew as the two both engaged in many would call a 'heated argument.' It was a strange sight for both usually calm demeanors to go ballistic, but it happens...
It's hard to believe that it was 17 seasons ago that free agent Desmond Howard shocked the football world by making the Packers' final roster out of camp and subsequently sparked the team to a Super Bowl title thanks to a record setting season returning punts that concluded with a Super Bowl MVP trophy.  After a 1-2 start in which the return game not only failed to provide...
When you're a fringe player in the NFL, the career lifespan depends on your ability to make plays and not mistakes.  Jeremy Ross is learning that the hard way today. ESPN.com is reporting that the Green Bay Packers have released wide receiver Jeremy Ross after his first quarter fumble against the Bengals. Mike McCarthy possibly wanting to send a message to his team, sacrificed...
This week, I thought you might enjoy a few fun facts about the New York Giants with your early week 3 pick ups:•The Jets had more penalty yards than the Giants had offensive yards this week.  That's pathetic.•Eli Manning now leads the league in interceptions.  After the Carolina blowout, you have to wonder if Peyton was taking it easy on his little brother last week...
Handing out grades following the Green Bay Packers' 34-30 road loss to the Cincinnati Bengals: Passing Offense: D Remember all those records that Aaron Rodgers broke and tied in the Packers' Week 2 win? Well, Rodgers' performance in the loss at Cincinnati was nothing like that. This was one of the worst games that Rodgers has played in several years. Given how high of...
As the Packers begin going their separate ways for the (very early and much needed) bye week, many are of the opinion that they are a team muddled with question marks. Aaron Rodgers went from having arguably his best performance ever against the Redskins to by far his worst game in several years against the Bengals. Eddie Lacy, the salvation for the much beleaguered running game...
Green Bay Packers Tight End Jermichael Finley after being hit by Bengals Safety George Iloka. When a kiddie pool has more depth than your active roster, it's time for a bye week. My beloved Packers were dropping like flies Sunday as we handed a gift-wrapped victory to the Cincinatti Bengals.  It began with a seemingly accidental yet powerful blow to Jermichael Finley by Bengals...
A few of the NFL's young stars at the quarterback position are starting to find out really quick that they'll turn on you just as fast as they fell in love with you. After a week one start in which he lit up the Green Bay Packers for over 400 yards passing, Colin Kaepernick has come down to young quarterback earth, struggling as a passer, and actually looking young in the process...
The Raiders New Mascot May Get Pillaged at the Black Hole (Pic) Aaron Rodgers or Lloyd Christmas (Meme)
NFL News

Delivered to your inbox

You'll also receive Yardbarker's daily Top 10, featuring the best sports stories from around the web. Customize your newsletter to get articles on your favorite sports and teams. And the best part? It's free!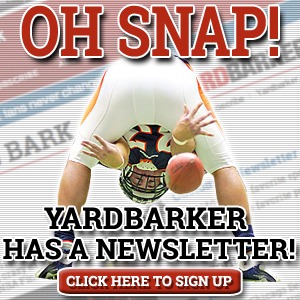 Latest Rumors
The Backyard

Today's Best Stuff

For Bloggers

Join the Yardbarker Network for more promotion, traffic, and money.

Company Info

Help

What is Yardbarker?

Yardbarker is the largest network of sports blogs and pro athlete blogs on the web. This site is the hub of the Yardbarker Network, where our editors and algorithms curate the best sports content from our network and beyond.