Found March 06, 2012 on Fox Sports Southwest:
PLAYERS:
Ken Hamlin
,
Keith Brooking
,
Igor Olshansky
,
Gerald Sensabaugh
,
Kenyon Coleman
,
Abram Elam
,
Tony Romo
,
Demarcus Ware
,
Jason Witten
,
Terence Newman
,
Mike Jenkins
,
Anthony Spencer
,
Scott Wells
,
Chris Myers
,
Orlando Scandrick
,
Carlos Rogers
,
Lardarius Webb
,
Cortland Finnegan
TEAMS:
Indianapolis Colts
,
Dallas Cowboys
,
Green Bay Packers
,
San Francisco 49ers
,
Baltimore Ravens
,
Tennessee Titans
Free Agency is an expensive place to shop. And contrary to the popular belief around the league about the "crazy spending Jerry Jones", since the ground was broken on his new stadium in Arlington, the Cowboys have spent the bulk of their cash on re-signing their own free agents and the art work at the new palace (as well as tv repairs for the most expensive and over-the-top television in history). A quick review of the last five seasons of free agency will show that the Cowboys have not stolen headlines since the purchase of "Bigg", Leonard Davis from Arizona, five years ago this week: 2007: Leonard Davis - 342007 signed a 7-year, 49m contract Ken Hamlin - 3242007 signed a 1-year, 2.5m contract 2008: None 2009: Keith Brooking - 2282009 signed a 3-year, 6m contract Igor Olshansky - 362009 signed a 4-year, 18m contract Gerald Sensabaugh - 392009 signed a 1-year, 1.75m contract 2010: None 2011: Kenyon Coleman - 7302011 signed a 2-year, 3.75m contract Abram Elam - 832011 signed a 1-year, 2.5m contractWhen the signing of Igor Olshansky is the single biggest piece of free agency business that Jones has completed in five years, you know that he is itching to do something splashy in about a week when the window goes up for crazy spending around the league. The Cowboys are not near the top of the league in available cap room, but they are among the short list of teams that think they are not too far from being able to compete. This logic could very well be faulty, but if you consider that the primes of Tony Romo, DeMarcus Ware, Jay Ratliff and Jason Witten are not going to last forever, you can understand an urgency to get this thing figured out in a very short period of time. The Cowboys cannot afford the patient approach without turning over the top of their roster. They will not and should not do that, so pushing some chips toward the middle of the table for the short term seems like a reasonable strategy. As free agency and the draft arrive, it seems obvious to target the gigantic holes on the roster. This team desperately needs help at cornerback, as Terence Newman needs to be replaced, and next year at this time the Cowboys will have to make a decision on the future of Mike Jenkins (if you think the Anthony Spencer dilemma is a difficult one, just wait until we get to the Jenkins debate). They also really need to add interior offensive line and I would always love to upgrade both of the players who surround Jay Ratliff on the defensive line. In a perfect world, I would add a prototypical nose tackle to allow Ratliff freedom to be moved up and down the line on early downs against the run, but I don't think I want to pay someone near the age of 30 to do that, so I would prefer to find that speed bump in the draft where he has his whole career ahead of him (and reasonable paychecks in the short-term, too). But, free agency is where I need to plug at least one of my major needs: cornerback andor guardcenter. If the Cowboys can find a plan where they can get both, then I will absolutely be impressed (assuming they get quality). Back in January, I pledged my regard for Carl Nicks of New Orleans. If you want a breakdown of his skills, make sure you give that a read when you get the chance. Beyond Nicks, who will require around 50 million when it is all said and done, there are a few other options (like Ben Grubbs, Baltimore), but Nicks is about it for elite play at guard. The Cowboys could also look at center, as Green Bay's Scott Wells and Houston's Chris Myers, and both would make a fair amount of sense. But, both are on the wrong side of 30 years old, and therefore I would like to avoid large free agent purchases where you are not considering the long-term future of the core of this team if it can be avoided. However, where I want to spend a lot of time focusing over the next week is figuring out which way the Cowboys should be steering in free agency when it comes to fixing the cornerback position. Here is the current group with ages based on opening day, 2012: NameAgeHtWt2011 SnapsT Newman345'10193829O Scandrick255'10192679M Jenkins275'10190608A Ball276'2197498 This group did not have a very good year by just about any measurement. It should be argued that their job would be significantly easier if the Cowboys had more of a pass rush than Ware and hope, but, that is the job in Dallas for now so the Cowboys have to either figure out how to find pass rushers or better cover guys (or both). The only corner they are married to is Orlando Scandrick on a 5-year, 27m deal that was signed last fall. That is approaching starter money, but since you need 3 corners in this league who will all play a ton of snaps, the Scandrick deal is not terrible. Newman is very likely to be cut loose, but the cap savings will not be substantial given his three years left of bonus money, although the Cowboys can spread it out into 2013 if they cut him after June 1. Ball is an unrestricted free agent is who is not likely to be kept, either. Jenkins expires next season, and the Cowboys cannot be sure he is a guy to spend large amounts of cash on, given his inconsistent play, aversion to contact, and durability issues. That is why addressing this spot cannot be over-stated. It must happen. In fact, if the Cowboys signed a free agent AND used a top draft pick on a corner as well, I would not complain. We will cover the draft more in weeks to come, but let's look at the top CB free agents according to most experts' lists: NameAgeHtWt2011 SnapsB Carr266'02071,030C Finnegan285'101881,142C Rogers316'01921,024L Webb265'10182993 Given familiarity of the NFC East, I have seen enough of Carlos Rogers over the years to scratch him off my list, despite a fantastic year in San Francisco. His age also is something I don't want to continue to concern myself with in the secondary, so that cuts this list to three. Lardarius Webb of Baltimore is another interesting player, but he is simply a restricted free agent and thus comes with some level of matching rights and compensation, so I would prefer to steer clear of a player like that as well, despite his very impressive resume in 2011. That leaves Brandon Carr of Kansas City and Cortland Finnegan of the Tennessee Titans as the two most attractive and obvious choices for the Cowboys. In the remaining days this week, I want to break down both players by watching a few hundred snaps of each from 2011 and see if we can arrive at a consensus on which player is more worth the huge chunk of cash that will be required to get either. You can believe they are both eyeing the 50 million barrier, so the Cowboys need to get this choice right. Let's see if we can do the same in our study of Carr and Finnegan for Thursday and Friday here on the blog.
Original Story:
http://www.foxsportssouthwest.com/03/...
THE BACKYARD
BEST OF MAXIM
RELATED ARTICLES
The Cowboys tried to work out a long-term deal with outside linebacker Anthony Spencer the last few weeks but couldn't complete one, so instead of allowing him to hit the open market, the Cowboys placed the franchise tag on him. Spencer will get a projected $8.8 million in base salary for the 2012 season, barring a sudden change in the franchise tag. The Cowboys will continue...
DALLAS, March 5 – The Dallas Cowboys always make each off-season feel like a rebuilding year and I am sure their faithful expected a whole lot more out of this generation of players. Now comes word that as the team struggles to create cap space, the team has handed the franchise tag to LB Anthony Spencer. His 2012 salary will account for $8.8 million of said cap space. Please...
Between the 1973 and 1985 seasons, the Cowboys faced the Rams eight times in the playoffs. The teams split the series at four games a piece. Here are some quotes related to two of those games. "I just got pushed back. He didn't mark it where I caught it…It's one of those things you have to live with, I guess. You can't change it now." Billy Joe DuPree regarding a reception...
Keith Brooking has been viewed as one of the vocal leaders in the Cowboys locker room since signing a three-year deal with the team in 2006. So to no surprise, Brooking didn't agree with Jason Hatcher's comments about the Cowboys not having any leaders. "It's easy when you're 8-8 and things don't go your way to say we don't have leaders," Brooking...
The Dallas Cowboys have placed their franchise tag on Anthony Spencer to keep the outside linebacker from becoming an unrestricted free agent. With the decision before Monday's deadline for such a move, Spencer will be guaranteed a base salary of about $8.8 million next season. Spencer has started 53 of 76 games in his five seasons with the Cowboys, starting all but one game...
Just hours remain now before the 3pm deadline for the franchise tag to be applied to impending free agents around the national football league. This blog has been a place that has written plenty about the Cowboys' options, and the wisest decision was concluded here long ago that the Cowboys should apply the tag to outside linebacker Anthony Spencer. There is no question that...
IRVING, Texas (AP) -- The Dallas Cowboys have placed their franchise tag on Anthony Spencer to keep the outside linebacker from becoming an unrestricted free agent. With the decision before Monday's deadline for such a move, Spencer will be guaranteed a base salary of about 8.8 million next season. Spencer has started 53 of 76 games in his five seasons with the Cowboys, starting...
According to Jason LaCanfora of the NFL Network, the Dallas Cowboys have placed their franchise tag on linebacker Anthony Spencer. Spencer has been a bit of a disappointment for the Cowboys since he was drafted in the first round of the 2007 draft. But right now he's the best option they have at outside linebacker and the Cowboys will look to get him signed to a multi-year deal...
According to ESPN's Adam Schefter via Evan Silva, the Dallas Cowboys are expected to have a serious interest in acquiring Chiefs cornerback Brandon Carr once he hits the free agent market on March 13th. It's clear that one of the most biggest needs the Cowboys have this offseason is improving their secondary.  It's vital that they upgrade the back end of their defense in order...
Looking to bolster its struggling secondary, the Dallas Cowboys have identified the No. 1 cornerback target on their free agency wishlist.
Hot News for OLB Anthony Spencer
NFL News

Delivered to your inbox

You'll also receive Yardbarker's daily Top 10, featuring the best sports stories from around the web. Customize your newsletter to get articles on your favorite sports and teams. And the best part? It's free!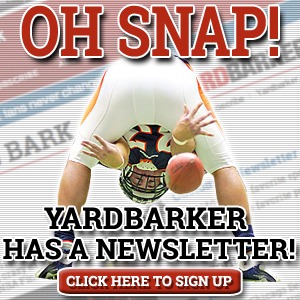 Latest Rumors
The Backyard

Today's Best Stuff

For Bloggers

Join the Yardbarker Network for more promotion, traffic, and money.

Company Info

Help

What is Yardbarker?

Yardbarker is the largest network of sports blogs and pro athlete blogs on the web. This site is the hub of the Yardbarker Network, where our editors and algorithms curate the best sports content from our network and beyond.