Found August 20, 2012 on The Penalty Flag:
Week 2 of the NFL Preseason has passed and for the Washington Redskins it was a roller coster ride of a game as they lost to the Chicago Bears by a score of 33-31. The big story of the game no doubt was the superb play of rookie QB Kirk Cousins in the second half. [...]
Original Story:
http://thepenaltyflagblog.com/kirk-co...
THE BACKYARD
BEST OF MAXIM
RELATED ARTICLES
In today's episode of ESPN First Take, Skip Bayless said that Washington Redskins quarterback Robert Griffin III should actually be backing up the other quarterback they selected in this years draft, Kirk Cousins. If you look at the numbers, Bayless' proclamation may not be as crazy as it may seem. In the two preseason games the Redskins have played, Cousins has put up an impressive...
I have been asked three times today about a certain topic that I was going to avoid because it seems silly to fan the flames of a garbage related situation. But here goes. ESPN's Skip Bayless decided to step onto TV and play the race card in regards to the quarterback situation in Washington. To read this article please click the link below.
Outspoken ESPN reporter Skip Bayless has had a lot to say about the quarterback situation in Washington this offseason and it appears he isn't done with it yet.It started after the NFL draft when the Redskins drafted both Robert Griffin III and Kirk Cousins. Yes, the pick of Cousins raised some questions for the team, most notably whether the team had doubts about RGIII, but to...
ESPN talking head Skip Bayless is paid to say some of the most extreme, ridiculous things possible in order to generate controversy, but he went too far on Monday when he accused Redskins fans (and white and black fans) of racism. Discussing the Redskins quarterback situation, Bayless said white fans would want fourth-round pick Kirk Cousins, who is white, to succeed over first...
A stellar second half in a preseason game isn't changing Kirk Cousins' perspective. The Washington Redskins' other rookie quarterback says these games in August are his ''Super Bowl'' because he knows he'll likely be playing behind Robert Griffin III for the next few years. Fourth-round pick Cousins went 18 for 23 for 264 yards with three touchdowns...
A rookie quarterback put up some great numbers for the Washington Redskins. It wasn't Robert Griffin III. It was fourth-round pick Kirk Cousins, who threw three touchdown passes in Saturday's 33-31 loss to Chicago. Of course, Cousins was playing with backups in the second half and is no threat to overtake Griffin for the starting job. But the No. 2 overall pick could learn...
I am a proponent of the best player should play. Regardless if you are the 1st pick in the draft or Mr. Irrelevant, but when things are equal it makes no sense at all to start a controversy when you have already decided who you are going to start. Robert Griffin III was drafted to start for the Washington Redskins. That is why he takes the 1st team snaps, that is why the offensive...
If anyone was still looking to fabricate for a quarterback controversy for he Washington Redskins, then Kirk Cousins provided plenty of ammo on Saturday night. Cousins turned in one of the most impressive performances of the preseason, completing 18 of 23 passes for 264 yards and three touchdowns against the Chicago Bears. It won't be enough to push Robert Griffin for the starting...
With every day that passes Skip morphs more and more into the Rush Limbaugh of sports. To be honest Rush was fired from ESPN for similar comments about how the "black media" wanted to see Donovan McNabb to succeed. If you really dig deeper into these comments what Skip is saying is worse. On ESPN's First Take this morning, Bayless, who is still irrationally angry about the...
The Washington Redskins have their new starting QB, Robert Griffin III, going through his growing pains, as he faces starting NFL defenses in the preseason. His back-up, Kirk Cousins has looked wonderful playing against 3rd and 4th stringers. QB controversy? Nope. But Skip Bayless is going to create one and he is throwing a huge [...]
I didn't think it was possible, but I was wrong. My opinion of Skip Bayless has somehow sunk even lower. Not surprisingly, it's because of something moronic he said. Via Sarah Kogod of the great D.C. Sports Bog, Bayless said the following today on ESPN's morning show First Take-a-Dump: "Some foolish Redskins fans – fans, foolish, doesn't that go together, right? –...
Redskins News

Delivered to your inbox

You'll also receive Yardbarker's daily Top 10, featuring the best sports stories from around the web. Customize your newsletter to get articles on your favorite sports and teams. And the best part? It's free!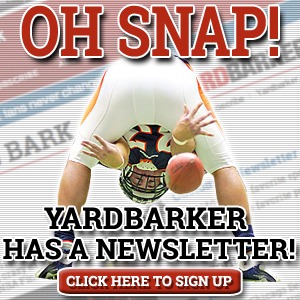 Latest Rumors
Best of Yardbarker

Today's Best Stuff

For Bloggers

Join the Yardbarker Network for more promotion, traffic, and money.

Company Info

Help

What is Yardbarker?

Yardbarker is the largest network of sports blogs and pro athlete blogs on the web. This site is the hub of the Yardbarker Network, where our editors and algorithms curate the best sports content from our network and beyond.